News
Technology
Trending
Two new shades of the Flagship Champion HUAWEI P30 Pro and the elegant new watch GT2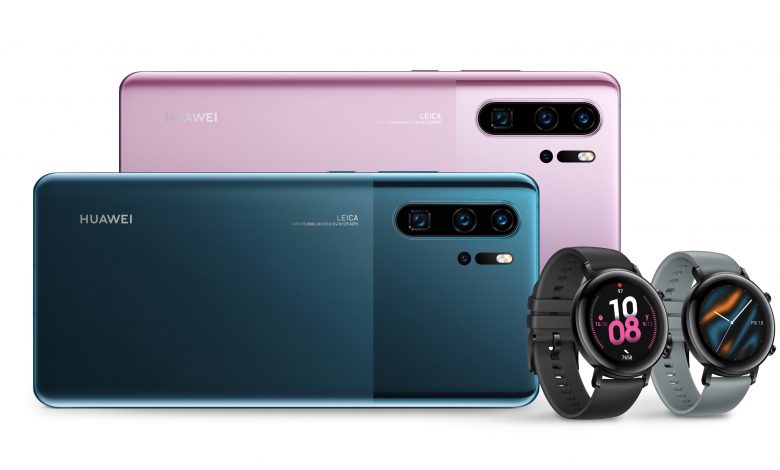 Follow Asdaf News on

Newsgate360 – Riyadh- The holiday season is fast approaching and with it comes parties, family get-togethers, and many special moments. Whether you are at the office celebration or on an evening out with friends, the new versions of the HUAWEI P30 Pro smartphone and WATCH GT2 42mm are sure to make you the center of attention.
By adding bold new color schemes to the popular HUAWEI P30 Pro line and introducing the new HUAWEI WATCH GT 2 42mm, Huawei is offering consumers greater choice. The latest version of HUAWEI P30 Pro features stunning new Mystic Blue and Misty Lavender colors and means it is still the ultimate flagship smartphone while the minimalist design of the WATCH GT 2 42mm is a perfect fit for any wrist.
 HUAWEI P30 Pro still the ultimate choice for flagship smartphone,
By introducing the new Mystic Blue and Misty Lavender colors, Huawei delivers a deep reflective experience to the HUAWEI P30 Pro.The new color variants of the HUAWEI P30 Pro bring the powerful Leica Quad Camera System as other phones in the series. This includes a 40MP super-sensing lens, a 20MP super wide-angle lens, an 8MP super zoom lens, and a ToF lens. It makes taking professional-grade images a breeze even at night, thanks to advanced AI. A 50X zoom feature, dual-view video and powerful performance make it a breeze to use. The features do not stop there. The super night selfie brings the best out of you at night with a high image sensing portrait algorithm to brighten and beautify faces in low light while the AI-powered HUAWEI Vlog, makes editing videos effortless and you can even add effects to your creations.
The new EMUI10* interface brings an intelligent living experience to your handset with the multi-screen collaboration function** that allows seamless connection between Windows PCs and Android phones. You can drag and drop photos into Word documents and you can share different files both ways between the desktop and your smartphone. The unique dark mode is a further addition to EMUI10* and adds soft dark light to protect eyes from bright light, while the interface uses a magazine inspired design for improved navigation.
*EMUI 10 available with update
**Available on certain HUAWEI phones and HUAWEI Matebooks only
HUAWEI WATCH GT 2 42mm – A new compact classic and a perfect health companionHuawei's newest 42mm offering has a minimalist bezel-less vision design for a stunning full flat view and vibrant display through an all-in-one 3D curved glass surface.More than a timepiece, the HUAWEI WATCH GT 2 42mm is designed to be the user's constant health companion. Boasting features like TruSeen 3.5, which monitors heart rates in real-time 24 hours a day. TruSleep 2.0 aims to give you a good night's sleep by analyzing sleep quality with AI technology. TruRelax monitors stress levels via heart rate variability and alerts the user to get up and move around if they have been sitting for a certain period of time.The smartwatch also helps you push yourself beyond your limits with a water resistance level of 5ATM along with 15 workout modes including elliptical and rowing. Add in music playback and you will never miss out on your favorite tunes. The low power consumption of the Kirin A1 chipset allows one week of battery life on a single charge.
Although the year is coming to an end the innovation from Huawei continues with the new shades of the HUAWEI P30 Pro and HUAWEI WATCH GT 2 42mm.
Price and availability
The new shades of the HUAWEI P30 Pro, Mystic Blue and Misty Lavender, are available for a price of 2599 SAR, and The HUAWEI WATCH GT 2 42mm is available for a price of 699 SAR at Huawei Flagship Store in Riyadh Park, Huawei E-shop, and several authorized retailers in Saudi Arabia.