Life Style
News
Variety
Trending
Dubai Shopping Festival 25th Edition marked with Concerts, Prizes, Raffles and More Surprises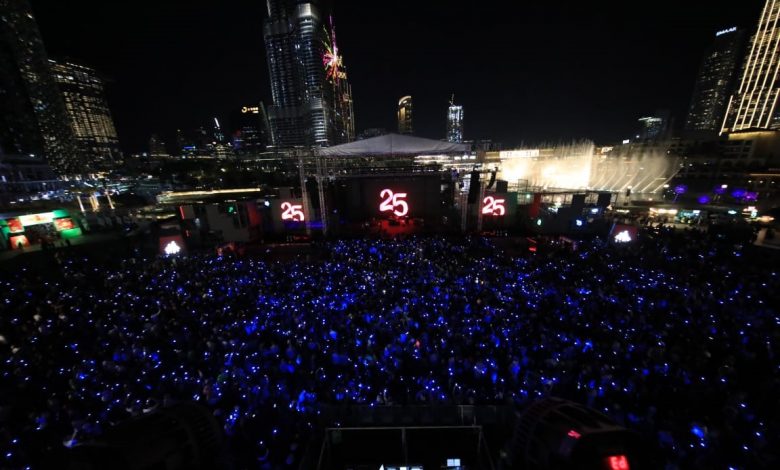 Follow Asdaf News on

Newsgate360 – Dubai – The 25th edition of Dubai Shopping Festival (DSF) launched on Thursday with Grand Opening event at Burj Park with five top artists' acts performing for free. Cheb Khaled, Sherine Abdel Wahab and Hussain Al Jassmi.
During his tour with the media representatives at Alseef district, Ahmed Al Khaja CEO of Dubai Festivals and Retail Establishment at the Department of Tourism and Commerce Marketing said: "We are always pleased to see people's engagement with the activations. we are here at alseef, the district that shows how Dubai started.
Especially, this year's festive we have diverse activities. Here at Alseef district in Dubai creek the focus is on heritage, other activities highlight the future, Dubai is always the city for creativity. There are 6 different locations for functions at Hatta, Al Rigga, Al Khawaneej, Al Seef and City Walk. The signature Market Outside The Box (MOTB) will also return for its seventh edition at Burj Park, Downtown Dubai.
"In 2019 we had 247 days of activities and in 2020 there are 248 activities' days. Here we can see different activations and of course we work with private sector. During the festival we highlight the activities that are already there in Dubai, from heritage districts to the present & future. While Alseef represents the fifties & sixties in Dubai, Al Rigga represents the nineties.
"In addition, Future Street will be launched on January 2 where you will all see the future of Dubai showing the latest technologies and a new spectrum of Dubai. It will show what you expect to see in the coming 10 years." Al Khaja said during his visit to Al Rigga
British pop star and former One Direction member Liam Payne, and singer songwriter Jorja Smith performed on Friday 27.
Dubai Shopping festival starts on Thursday 26 December 2019 until Saturday 1 February 2020, to run for 38 days. Other concerts celebrate the launch include Pakistani artist Rahat Fateh Ali Khan and a hologram concert of the late Egyptian singer Umm Kulthum at Dubai Opera.
Impressive fireworks show took over the skies of Dubai on the first day of DSF across five different locations at the same time including The Beach, Al Seef, La Mer, Dubai Festival City Mall and Dubai Creek.
Incredible 12 Hour Sale of up to 90 per cent off major brands in Majid Al Futtaim Malls.
The first time ever, 'Yalla DSF presented by Club Apparel'; an interactive and innovative game available in English, Arabic, Mandarin and Russian played on Android and iOS devices. In collaboration with Apparel Group as the exclusive retail partner, Yalla DSF will give players a chance to win exclusive prizes that are instantly redeemable.
Dubai Festival City Mall hosts the LEGO Festival where children and adults interact with 11 zones each celebrating a different Lego brand.
Home Centre, customers who spend AED 500 at the Mall of Emirates store will be in for a chance to win an entire home makeover. 25 winners will be selected in total between 5 January and 29 January 2020.
With the online food application Zomato, DSF will present over 1,000 restaurants that will provide 25 per cent off in-dining experiences for those who have a Zomato Gold membership, which will also be at 25 per cent off the membership fee.
 DSF is well known for incredible prizes but the 25th edition is full of even more chances to win. From cars to cash to Skywards Miles and reward points, the Nissan Grand Raffle will give away one of five car models every day.
Gargash Motors and General Trading will also be offering the New GAC GS7 as a prize for DSF shoppers. At Meraas locations, when spending AED 100, customers will receive a raffle ticket to be one of the daily 25 winners who receive an AED 1,000 gift card to spend at Boxpark, The Outlet Village, City Walk, La Mer, Al Seef, Bluewaters or The Beach.
At the DSF Gold Raffle, those who purchase an online raffle coupon for AED 750 will enter a draw for a chance to win 2.5 kilograms in gold which comes in a DSF-branded gold bar at the end of the festival.
 Music fans can rejoice as a series of concerts take place throughout DSF. Egyptian singers Yara and Mohammad Hamaki will take the stage at The Pointe on 17 January.
Globally renowned artist Amr Diab will perform on 24 January at Dubai Media City.
Joining the exciting line-up are Mohamed Ramadan and Saad Lamjarred, who will be performing live at the Dubai World Trade Centre on 10 January.
 With more than 1,000 brands participating across close to 4,000 outlets, shoppers and deal-hunters will find offers of up to 75 per cent off across the city.
Starting from 2 January until 26 January 2020, there will be an exclusive deal at an exclusive retailer in a specific mall which will only be announced 24 hours in advance DSF Surprises. From 2 to 26 January 2020, shopaholics are encouraged to keep DSF on their radar to discover daily surprise deals over 25 days. Deals are announced 24 hours in advance for one brand at one location.
The 25th edition of Dubai Shopping Festival is supported by strategic partners including: Emirates Airline, Emaar Malls, Majid Al Futtaim Properties, Meraas, Nakheel, Mercato, Al Futtaim, AW Rostamani Group, Dubai Duty-Free, Enoc and Etisalat with key partners including RAK Bank and Jumbo Electronics.
For more information, please visit www.mydsf.ae or @DSFSocial and #MyDSF for the latest news, information and events.