News
Trending
EMAAR WELCOMES TRIUMPHANT AL HILAL FOOTBALL CLUB TO DUBAI
Emaar celebrated the 2019 AFC Champions League winners at an exclusive event held under the iconic Burj Khalifa in Downtown Dubai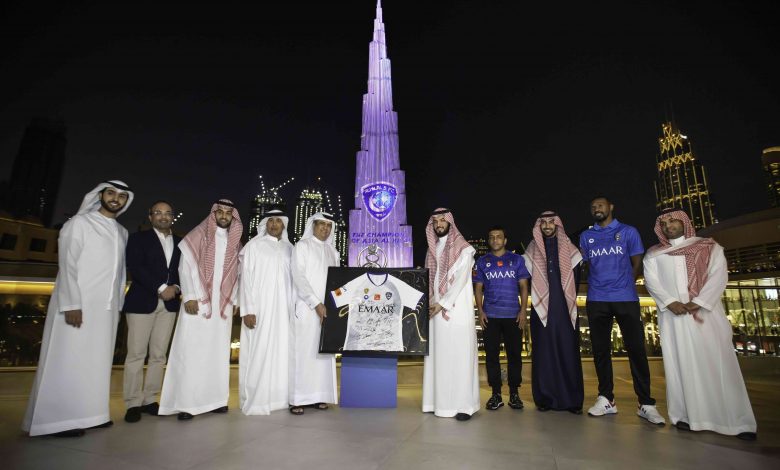 Follow Asdaf News on

Newsgate360 – Dubai – Emaar Properties held an exclusive celebration to honour the Al Hilal Football Club for winning the prestigious 2019 AFC Champions League. The Saudi Arabian team, which has been sponsored by Emaar since June 2019, was crowned club champions of Asia in November after beating Japan's Urawa Red Diamonds 3-0 aggregate over a two-leg final.
To celebrate the victory, Emaar hosted an intimate event featuring Al Hilal's players and management. A group of select die-hard fans and Emaar signature customers from Saudi Arabia were also invited to the prestigious event. Attendees captured photos with the AFC trophy and were invited to mingle with their favourite players at Zeta Lounge in the Address Downtown Hotel, Downtown Dubai.
"Emaar is delighted to be the strategic partner of Al Hilal during the team's victorious AFC Champions League campaign," said Mr. Ahmad Thani Rashed Al Matrooshi, Managing Director of Emaar Properties. "It was fantastic to welcome the team to Downtown Dubai and to celebrate their success together. This occasion presented a great opportunity for our distinguished customers to meet some of the AFC cup heroes and to see the trophy in-person. We are proud of this partnership and look forward celebrating Al Hilal's continued success in the future."
Highlights of the evening included a group photoshoot with the AFC Champions League trophy and a Burj Khalifa animation show. The gathering of more than fifty guests included President of the Al Hilal Football club Fahad Bin Saad bin Nafal, who commented on the celebration, saying: "We're thrilled to be in Downtown Dubai, celebrating the AFC Championship with our partners at Emaar. With the backdrop of Burj Khalifa, this occasion was made even more memorable and we are grateful for Emaar's ongoing support."
In June 2019, Emaar and Al Hilal signed a 5-year strategic partnership agreement. For more information about Emaar visit www.emaar.com; and to learn more about Al Hilal visit https://alhilal.com/.