Variety
Trending
Mark Evans and His Team Travel More Than 700 Kilometers in Desert Heart to Reach Shoubra Palace in Taif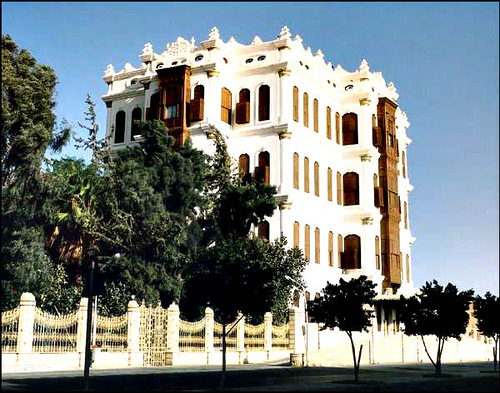 Follow Asdaf News on

Taif – Asdaf News:
Mark Evans, a British adventurer, and his team traveled more than 700 kilometers over the desert over nearly 13 straight days to reach the historic Shoubra Palace in the Saudi governorate of Taif.
They were pleased with the original architectural art, geometric shapes and decorations above its walls, as well as the lighting that was created to illuminate the corridors in a way that hangs from the horizon, and they expressed their delight as they toured the courtyard of the palace and the horse stable, next to which there are places for palace services such as rooms for cooking, perfumery, sewing, goldsmithing, catering, and the centralized call control.
Taif's Shoubra Palace, whose design was influenced by a palace built in Cairo, Egypt's Shoubra area at the time, took two continuous months to construct in 1323 Hijri (1905).
Islamic architecture in the form of arches, columns, ruashin, doors, windows, and ceilings was designed using elements from traditional Hejaz region architecture as well as Islamic and Roman architectural styles.
The palace has two entrances—the main one is on the western side and the secondary entrance is on the eastern side—and has about 150 apartments.
It also features a great hall with a double staircase made of alabaster that leads to the two suites on the upper floor, which comprise rooms of varied proportions, as well as four identical facades that are separated by columns made of light and stone.
As for the Palace  windows and door, they are made of wood and artistically decorated.
During the late King Abdulaziz's reign, the palace served as the location of the administration of the Kingdom of Saudi Arabia until it relocated to Taif in the summer. Shoubra Palace served as the Ministry of Defense and Aviation's headquarters throughout the late King Faisal's reign before being transformed into an antiques and historical museum in 1408 Hijri (1987).