Variety
Trending
Tuwaiq Sculpture 2023 hosts workshops and talks
Learn more about the art of sculpture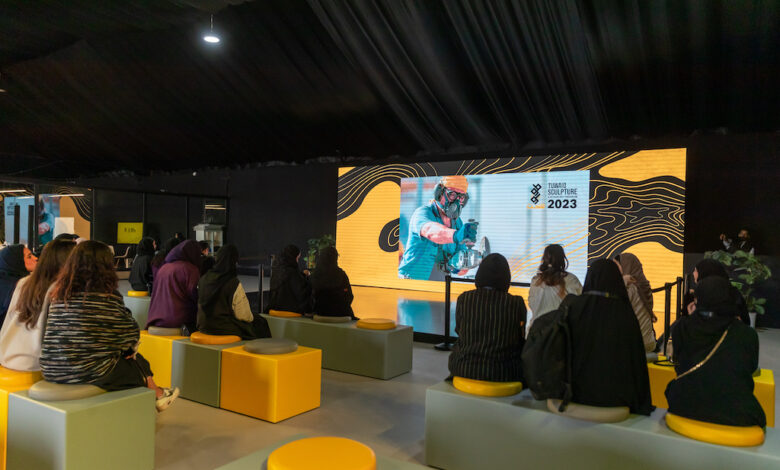 Follow Asdaf News on

 Riyadh – Asdaf News: The live sculpture event "Tuwaiq Sculpture 2023" is currently taking place at Durrat Al Riyadh, featuring the work of 30 artists from 20 different nations. Visitors can observe art in action and the creative process firsthand, and from February 5 to February 10, 2023, the finished works will be on display at an exhibition.
The annual sculpture symposium was established in 2019 as a part of Riyadh Art, one of the biggest public art programs in the world at the moment. Riyadh Art aims to transform the capital into a "gallery without walls" by displaying more than 1,000 works of art there. The sculptures made during Tuwaiq Sculpture will become a permanent fixture in Riyadh, enhancing the city's historic core and enhancing the cultural landscape in the Saudi capital. Over 90 well-known sculptors from around the world, including those in the current edition, and thousands of people have participated in the symposium thus far.
Durrat Al Riyadh and JAX District have been hosting a vigorous public program of educational tours, workshops, and discussions during the current edition of Tuwaiq Sculpture, all of which aim to advance knowledge of sculpture and three-dimensional art. For the last four weeks of Tuwaiq Sculpture 2023, we've chosen 8 workshops and presentations to take place. There are options to learn more conventional art forms like woodcarving and more contemporary methods of clay sculpture. In addition, panel discussions in Arabic and English will address important issues pertaining to the sculpture, from its history to its significance in contemporary art, and will be moderated by artists and specialists in the fields of art, urban design, and heritage.
Foundations of Sculpting
Artist Thamer Aljohani and the Catalyst V creative team will conduct a series of workshops over the course of two days to instruct participants in the fundamentals of sculpting human anatomy. Each workshop will concentrate on a certain aspect of the human face, dissecting it into the components of the eyes, nose, lips, and ears. As a starting point, Aljohani will use Michelangelo's David, and participants will study the sculpture's forms and incorporate them into their own works of art.