Travel
Trending
Folly By Nick and Scott the Premier European Restaurant Experience in Dubai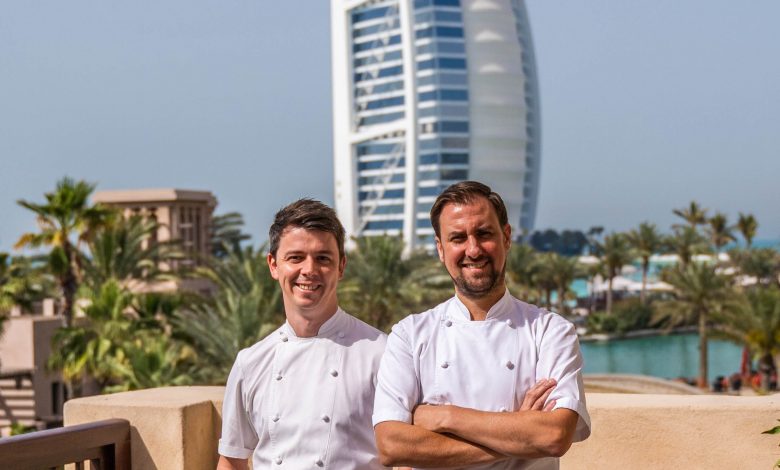 Follow Asdaf News on

You are taking care of the very fine details of all what you do. It was my remark that I could not go without telling Nick
Dubai – Asdaf News:
By: Samar Yahya
I was invited to Folly by their public relations director Amanda Simpson who is known by her professionalism and I came to know her earlier when she was managing another client. We tried to arrange the visit weeks or even months earlier but it did not work, till I got the chance to visit Folly by Nick & Scott.
Nick Alvis & Scott Price both worked for the global renowned Chef Gordon Ramsay for fifteen years in the three main cities of London, Paris, and Dubai, till they decided to launch their own restaurant in 2011.
Ambiance
Frankly speaking, I was enthralled by the place; from the location in Souk Madinat Jumeriah -the busy and active destination with all kinds of activities -to the entrance that is like a subway leading up to slim stairs. Once you reach the restaurant itself, you see a unique ambiance with the uncovered brick walls and the traditional dark wood tables and chairs.
Amanda was awaiting me sitting at the Kitchen Bar, which was an exciting idea to directly overlook the open kitchen as both Nick and Scott received me while they work in the kitchen and prepare for the dinner that was selectively chosen.
Everyone in the kitchen was very live and vigorous and from my seat on the kitchen bar I was observing everyone working and the word that came to my mind was an 'active beehive', moving in a very organized way.
The seating area is expanded to two more outdoor sites, but unfortunately the outdoor areas are limited to the wintertime to avoid the heat and humidity of weather. The Garden Terrace and Lounge which is just outside the restaurant. It has fantastic views and the feeling of garden. Where as, The Rooftop that is another amazing destination by itself, is a level up the restaurant and the garden terrace with direct views to Burj Al Arab and Arabian Gulf. I am sure that the sunset view would be incredibly scenic at Folly's rooftop.
The Menu
We had a menu prepared by Nick and Scott who welcomed me and Nick came to explain and talk to us with every dish served.
As a beginning, we had Mocktail of Berry and Mint and lime that topped up with cranberry juice and soda and was a real quench of thirst after my long day out.
For all the served dishes Amanda and myself applied the "Sharing is Caring" technique. They served us two dishes at a time and we shared together.
Side dish was Potato with curry and mint.

Also we were served
Crispy hen's egg, pancetta and maple syrup.
Portobello mushroom, shallot and tarragon
Then we had
Veal belly confit, broccoli and horseradish

Lamb saddle with whipped  pine nuts and salsa
While eating, the restaurant manager refilled the Mocktail all the time, till I had to say not to add more, please.
As for desserts, they were all inimitable and exceptional and perfectly fit my taste of medium sugar
Blood orange and chocolate
Chocolate root ginger and milk
Rhubarb and custard
I believe that the menu needs separate review to write about each dish in details. All the dishes were truly delicious, tasty and yummy but what I liked most was the Lamb saddle with whipped pine nuts and salsa, it was one of the best and most delicious lamb dishes I had for a long time.
We were privileged by the restaurant manager and waiters who were very friendly making sure that everything is going well all the time.
Restaurant Opening Hours:
Lunch Sunday to Thursday 12 PM to 2:30 PM
Friday Brunch – 1:30 PM to 4:30 PM (495 DHS for 2)
Dinner daily from 7 PM to 11 PM
Happy Hour daily 4 PM to 8 PM
The restaurant is not limited to lunch, dinner and Friday brunch, however it hosts indoor and outdoor weddings, business meetings, family and social gatherings.
Folly by Nick and Scott is winner of:
What's on Chef of the year 2017
Caterer Awards 2018
Best Luxury restaurant with European cuisine 2018
Time Out Dubai Restaurant Awards for:
Best Bar with a View
Best European Restaurant
I can comfortably say that it was an interesting experience that you should not miss if you are a resident of Dubai or even a visitor on business or leisure trip.
Folly by Nick and Scott is very well known among the British community in Dubai but not very common for many others. I wish everyone in Dubai would have the chance to visit, soon.
For reservation:
Online reservations are Open
OR you can email reservations@folly.ae
OR call +971 (0)4 4308535