Variety
Trending
GACA celebrates the trainees graduation of the fifth batch of the "future leaders" program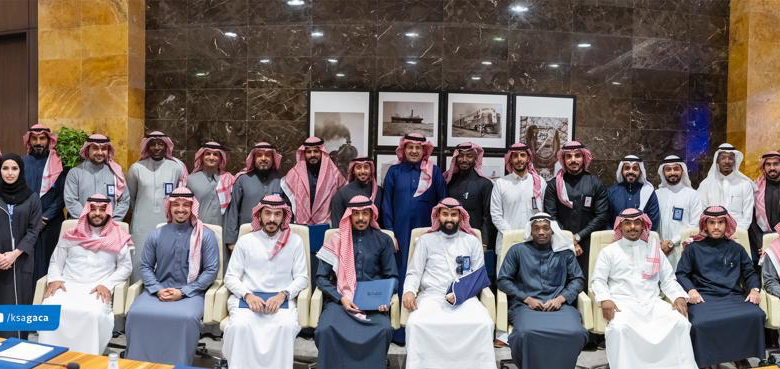 Follow Asdaf News on

Newsgate360 – Riyadh: The General Authority of Civil Aviation (GACA) celebrated today, at GACA headquarters in the capital city of Riyadh, the graduation of the fifth batch of future leaders 2019, under the patronage of His Excellency the President of GACA and in the presence of the Assistant to the President for Support Services, Mr. Jamal Al-Fuwaires.
The program aims to refine and qualify the trainees according to the highest standards, and obtain training for them in the best centers and training institutes to gain experience and skills needed, in order to apply them in their field of work in the various sectors of the GACA.
The Director General of Human Resources, Mr. Abdulaziz Al-Awad, explained in a speech read for the occasion, that the graduates showed high skills and competencies after they acquired the required experiences and were able to develop their skills through the prepared program. He noted that GACA worked on training and qualifying the distinct holders of bachelors and master degrees in the specialized and administrative fields. He went on to say that GACA was keen to present several initiatives to develop an atmosphere of belonging and achieve the desired strategy.
He stated that the "Future Leaders" program comes within those initiatives that aim to develop human resources in at GACA and give the youth of this country a full opportunity after training and qualifying them scientifically according to high-level standards. The effort was to invest in their energies, and provide them with the necessary expertise and develop their capabilities. He pointed out that graduates have obtained theoretical, as well as on-the-job training, and they were continuously monitored and evaluated at every stage of the program.
At the end of the ceremony, His Excellency the President of GACA, Mr. Abdulhadi Al Mansouri, honored the graduates and handed them certificates for passing the program, after which a group photos were taken with GACA's President.
It is worth noting, that GACA started to implement the "Future Leaders" program in 2015, and many distinguished trainees graduated from the program in their specialized and administrative fields, and during the same period they managed to take leadership positions in airport management and other sectors at GACA.
Furthermore, GACA has allocated the previous batch (the fourth batch) entirely to the female cadres in order to enable Saudi women to raise their participation rate in the labor market and create equal job opportunities for the people of this country.