Variety
Trending
More than 163,000 Saudis visited Abu Dhabi in 2019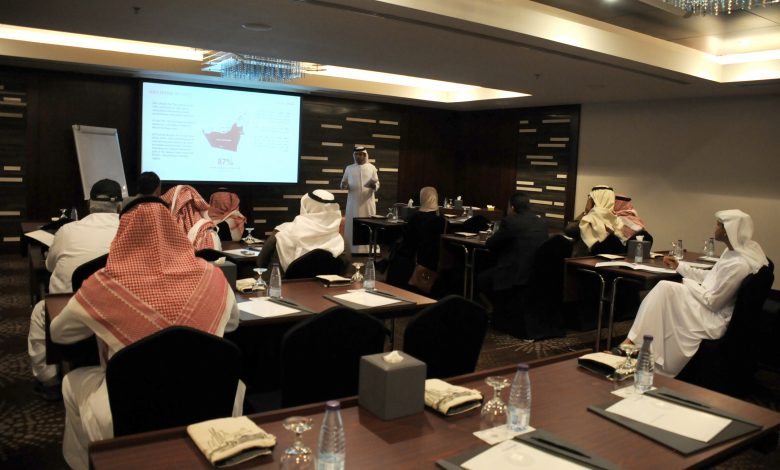 Follow Asdaf News on

By: Samar Yahya
Newsgate360 – Riyadh: Department of Culture and Tourism – Abu Dhabi (DCT Abu Dhabi) held two workshops in Riyadh, Jeddah and Dammam organised and held in partnership with Etihad Airways, and Experience Hub.
The workshops were aimed at Saudi media and travel trade professionals and served to highlight Abu Dhabi's efforts in catering to Saudi travellers. The sessions also helped attendees gain a better understanding of the UAE capital's vast portfolio of attractions and offerings, which cover everything from luxury, leisure and entertainment, to culture and sports.
Abu Dhabi had successfully attracted more than 163,000 visitors from Saudi Arabia in 2019. DCT Abu Dhabi has redoubled its efforts to attract even more visitors to the UAE capital in 2020 with a series of promotional workshops in key Saudi Arabian cities.
"We have successfully hosted a total of five workshops in three days in Saudi Arabia, including two media workshops and three travel trade workshops," said Nabeel M. Al Zarouni, Regional Promotions Manager, Middle East and Africa, at DCT Abu Dhabi.
"The media workshops focussed on familiarising media with Abu Dhabi as a destination and getting local reporters excited about what the emirate has to offer. The travel trade workshops, on the other hand, acted as a stakeholder engagement exercise through which we hope to encourage more local businesses to work alongside the Department of Culture and Tourism – Abu Dhabi in a way that benefits both the businesses and the destination.
"Saudi Arabia is the seventh largest source market for tourism in Abu Dhabi. Hence, it is a top priority at DCT Abu Dhabi to continue to provide Saudi travellers with the best standards of service and luxury and to appeal to them through an array of exciting new attractions and events."
Liam Findlay, General Manager, Experience Hub said: "Participating alongside our partners at DCT Abu Dhabi to promote Yas Island in Saudi Arabia only underscores Experience Hub's evergreen approach to continuously connect the world with our one-of-a-kind destination. Workshops such as these ensure that Saudi travel partners and trade media stay in the know about Yas Island's latest developments. More importantly, such initiatives allow us to stay engaged with our partners so that we can provide them with the support they need to grow their own product offering to Saudi holidaymakers."
As part of Ghadan 21, the economic accelerator initiative introduced by the Abu Dhabi government in 2019, DCT Abu Dhabi has introduced a number of strategic initiatives to boost tourism in the UAE capital. These include the reduction of tourism and municipality fees at Abu Dhabi hotels from 10% to 5.5%, and the introduction of incentive programmes such as Advantage Abu Dhabi, which aims to encourage global IP owners to bring their events to the emirate by providing them with comprehensive support.
With these initiatives, DCT Abu Dhabi has also been able to attract several exciting new events and attractions to the capital, including Abu Dhabi Showdown Week, with the UFC 242 fight as its central showpiece, the World of Nickelodeon and globally acclaimed Nickelodeon Kids Choice Awards, Vidcon Abu Dhabi, and the first Middle East edition of international EDM sensation Ultra Music Festival which will take place in the UAE capital in March. New attractions announced in the emirate include CLYMB, the world's largest climbing wall and indoor skydiving facility, which opened in November 2019, Jubail Mangrove Park, a stunning natural park that opened this year on the recently developed Jubail Island, and Etihad Arena, an 18,000 capacity facility that is set to open on Yas Island this year.