Variety
Trending
The First European Food Festival Kicks off in Riyadh on Thursday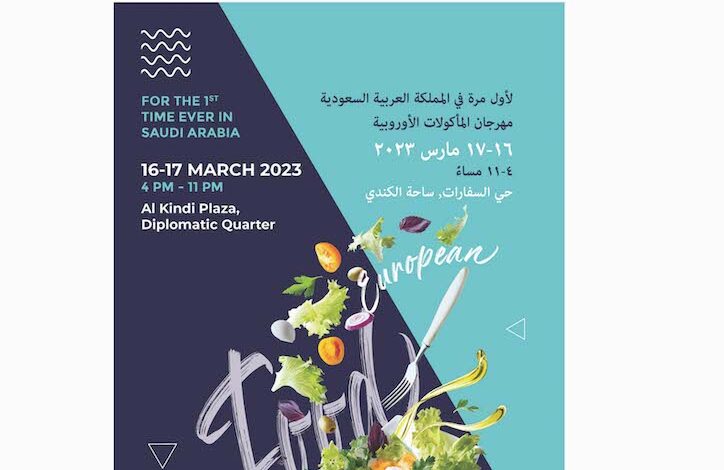 Follow Asdaf News on

Riyadh – Asdaf News:
The first-ever European Food Festival in Saudi Arabia will take place on March 16–17, organized by the Delegation of the European Union in Riyadh, in collaboration with the Embassies of EU Member States, the Saudi Culinary Arts Commission, and the Diplomatic Quarter Office in Riyadh.
The event, which is open to the public and runs from 4 PM to 11 PM on both days, will take place at Al-Kindi Plaza in Riyadh's Diplomatic Quarter.
The Festival will showcase dishes and specialties from many European nations, giving Saudi audiences the chance to experience the variety of European cuisine. Food from several European nations, including Belgium, Czech Republic, Denmark, France, Germany, Greece, Italy, Netherlands, Portugal, and Spain, will be offered by the merchants taking part in this special event.
The event is ideal for the whole family since in addition to enjoying delectable food, guests will also have access to live music, entertainment, and unique kid-friendly activities. The Saudi Arabian Chefs' Association, which organizes and sponsors the event, will also provide some thrilling live cooking competitions with well-known Saudi chefs who will produce delectable dishes using European ingredients.
H.E. Patrick Simonnet, EU Ambassador to the Kingdom of Saudi Arabia, said: "The European Food Festival aims to celebrate the rich culinary heritage of Europe and showcase the diversity of our continent's gastronomy. We hope this inaugural event will deepen our cooperation with the people of Saudi Arabia and provide a platform for cultural exchange between Europe and the Kingdom. And what better way to do it than through our shared love for food."
Some well-known Saudi Arabian eateries, bakeries, and brands, including Eataly, Chez Bruno, Cova, L'Olivo, Crepe House, and Lecomptoir Lounge, are among the event's culinary partners. Several of the top bakeries in the area, like Dolce Ragusa, Eric Kayser, Fareen, Aur, La Grenier à Pain, Breddy, and Ah Deer Bakery, are all taking part in the festival. The event will also feature some of the distinctive delicacies from the talented chefs from the Radisson Blu, Hilton, Hyatt Regency Riyadh Olaya, and Intercontinental Hotels. Dutch Stroopwafels, DAVA Farms, Loacker, Green Coke, Delta Coffee, Rootura La Vie Claire, an organic supermarket, and Friesland Campina will all be offering their best-selling goods.
The well-known coffee shop and juice bar Joe & the Juice will also be present at the event. Moreover, KLM Royal Dutch Airlines will conduct a raffle for attendees to win complimentary tickets. The Culinary Arts Commission will also provide samples of Saudi coffee for participants to try.
The food and beverages at the European Food Festival are only available for purchase using cards, making it a cashless event. To ensure easy access to the Diplomatic Quarter, interested participants are urged to register online at the event's website.
Please visit  http://eufoodfest.com to register and for more information on the Festival.