News
Trending
Saudi Venture Capital Invests $7.5 Million in Endeavor Catalyst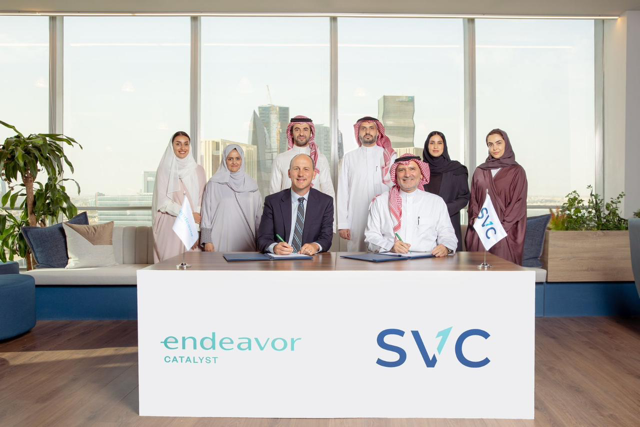 Follow Asdaf News on

Riyadh –  Asdaf News:
Saudi Venture Capital (SVC) recently disclosed its $7.5 million investment in Endeavour Catalyst IV, the investment arm of Endeavour Global. The fund's primary investment strategy will be in early- and late-stage entrepreneurs.
Dr. Nabeel Koshak, CEO and board member of SVC, said: "The investment in Endeavor Catalyst IV Fund is a result of the recent support from the SME Bank to increase the investment capital of SVC, leading to a total investment capital of $1.6 billion. The investment is also part of SVC's Investment in Funds Program, which is a continuation of the company's series of investments and an implementation of its strategy related to developing and sustaining financing for startups and SMEs across all stages."
Allen Taylor, Managing Partner at Endeavour Catalystcommented: "We are delighted to extend our collaboration with SVC, building upon the accomplishments achieved through Endeavor Catalyst III. My team and I are eager to contribute to the Kingdom's growth, and it's a pleasure to return to Riyadh. The city is truly buzzing with an entrepreneurial spirit!"
Lateefa Alwallan, Managing Director of Endeavor Saudi Arabia, added: "This investment not only fuels the growth of startups and small to medium-sized enterprises within the Kingdom but also empowers the development and long-term sustainability of Endeavor Saudi Arabia's transformational programs & services. Endeavor distinguishes itself as a guiding force that scales up high-impact entrepreneurs by supporting and investing in them and provides a platform to pay it forward."
The signing ceremony was attended by Mr. Abdulrahman Mansour, acting CEO of the SME Bank, Nora Alsarhan, Chief Investment Officer, and Haifa Bahaian, Chief Legal Officer at SVC. Endeavor Saudi Arabia's Chairman of the Board, Mussab Al-Muhaidib, and the Managing Director, Lateefa Al-Waalan, were also present at this event.
Founded in 2018, SVC is a government investment firm that is a division of the SME Bank. SVC plans to spend $1.6 billion through investments in funds and co-investments in businesses in order to promote and maintain finance for startups and SMEs from pre-Seed to pre-IPO. SVC made investments in 38 funds, which made 1,257 deals in 674 firms.