Variety
Trending
Exciting Performances and Activities at European Food Festival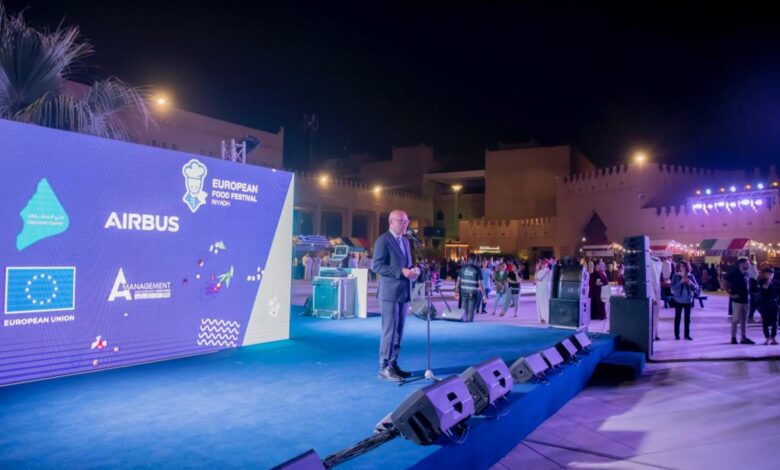 Follow Asdaf News on

Riyadh – Asdaf News:
By: Samar Yahya
HE Mr. Jaap Ora charge' d' affairs of European Union Delegation to Saudi Arabia inaugurated the first ever European Food Festival held in Saudi Arabia, here on Thursday.
In his welcome speech, Ora expressed his pleasure thanked all European diplomats, Mayada Badr, CEO of Culinary Arts Commission, partners, participants and all attendees.
"The idea for such a Festival was born out of the mutual love of Europeans and Saudis for good food as well as our desire to highlight the rich variety of European food items and cuisines on offer in Saudi Arabia.  Nations are sharing their culinary culture with each other. Those coming to Saudi Arabia from abroad, admire the Saudi culinary traditions, and your great hospitality. Tonight we invite you to be travelers visiting Europe, to experience  the richness of European cuisines from all corners of our continent – showcasing Europe's diversity with the EU being a family of 27 Member States." Ora said.
Ora paid special thanks to partners topped by the Saudi Culinary Arts Commission, especially Badr and her team for the generous support to this initiative and for bringing a Saudi element namely the Saudi coffee to the event.
Ora's appreciation went aslo to Zahi Eid and his team from the DQ Office for offering the great location, Kindi Plaza, and for the close cooperation and great support. In addition Ora also paid his gratitude to Embassies of the EU Member States, with whom they have worked very closely to prepare this event.
The President of the Saudi Arabian Chefs Association Yasser Jad who is the creative mind behind the European Food Chef's Challenge received also Ora's thanks.
Ora's appreciations went also to sponsors of the European Food Chef's Challenge sponsors, Airbus and the event management company, A Management.
Ora also announced the coming two events by the Eurpoean Union Delegation in Saudi Arabia, namely; Europe Month which starts on 9 May and also the 2nd European Film Festival which is taking place in the month of June.
European Food Festival Program:
The program of Thursday, the first day of the European Food Festival included DJ Roy, Oud performance, Also the event MC visited participating restaurants and interviewed them on the different kinds of food and bakeries that they serve during the Food Festival. This was followed by a live performance by 'Pam and Brain' where the audience enjoyed the English and Arabic songs sung by Pam. 'The Duo' performance was another interesting one, before DJ Roy takes the finale.
On Friday, the second and last day of the European Food Festival, gates was open at 4:00 pm, with DJ Roy long music list, the event MC also had the opportunity to visit and talk to restaurants, bakeries participants. '`music House' performance, 'Flamenco' and Almanta, then DJ Roy as a closure.