Variety
Trending
A step-by-step manual for reducing food waste
How to Minimize Food Waste With Three Low-Cost Nudges Unveiled During ne'ma Voices Forum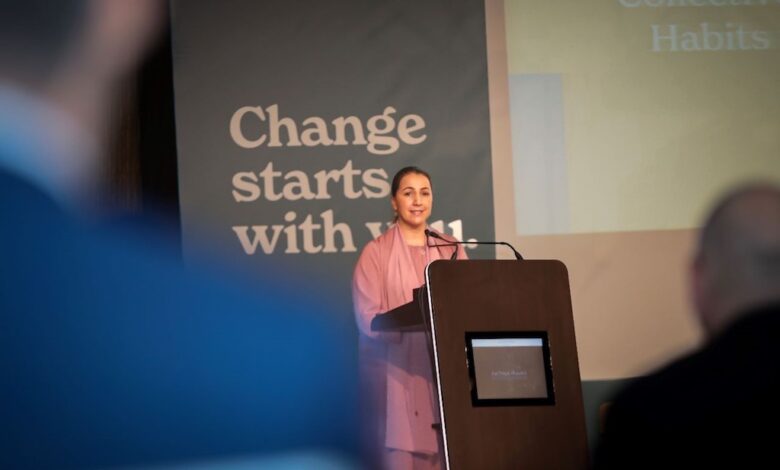 Follow Asdaf News on

Abu Dhabi – Asdaf News:
During the ne'ma Voices Forum, a practical manual for canteens and buffet restaurants, How to Minimize Food Waste With Three Low-Cost Nudges was officially unveiled by Mariam bint Mohammed Almheiri, Minister of Climate Change and the Environment.
The announcement is a key step in ne'ma's ongoing efforts to connect with various business sectors and individuals in order to achieve the 2030 target of reducing food loss and waste by 50%.
The Guide focuses on three "nudges" that the hospitality industry can employ to raise public awareness of initiatives to reduce food loss and waste and promote positive behavioral changes. These include visual portion displays for diners to show how much food they are ordering and help them make more sustainable food decisions; messaging about food loss and waste designed with the assistance of behavioral scientists to encourage diners to reduce their plate waste; and the introduction of a transparent bin and tracker to serve as a visual reminder of the impact of food waste on daily life.
Commenting on the announcement, Almheiri said, "The vision for food loss and waste reduction requires partnerships and long-lasting solutions to meet our goal for a reduction by 50 percent in 2030. Our commitment to a more sustainable future, exemplified by the ne'ma goal and today's MoUs, are a significant step forward. I thank all who are helping shape this nation towards a better tomorrow. 2023 is the Year of Sustainability, the UAE is working towards its commitment to climate action, as we prepare to host COP28 – a COP of action."
Speaking on the practical guide for canteens and buffet restaurants, Almheiri added, "The guide tackles a larger societal issue of food wastage while dining out, by motivating people to make considered choices in ordering or wasting unconsumed food. By applying the measures to the hospitality sector, we are building on current momentum through collective efforts. With the use of innovation and technology we can transform our food systems into more sustainable ones."