News
Trending
روح_الدوري# (The League's spirit): Combining the love of football with humor on Twitter
91 million Tweets around the 2019-20 Saudi Professional League season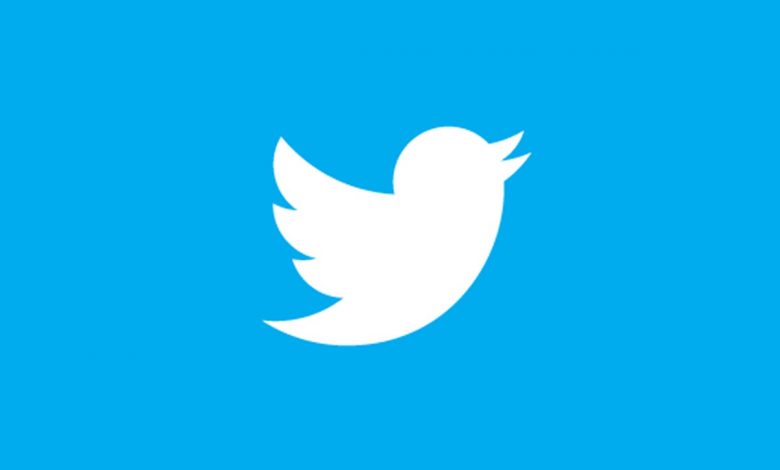 Follow Asdaf News on

Dubai –


:
According to recent research by Twitter, football is the most popular sport on the platform in Saudi Arabia, with fans taking to the platform to celebrate heart-pounding victories, watch live tournament analysis, or cheer for their teams. In fact, there were 91 million Tweets around the 2019-20 Saudi Professional League (SPL) season.
As the much anticipated 2020-21 season of SPL kicked off, a campaign took place on Twitter to celebrate the return of football in a light-hearted way. Rolled out across three days, a group of Saudi comedians showcased the humorous side of football; Hatoon Al Kadi (@HatoonKadi), Ibrahim Alhajjaj (@Barmz_alHajjaj), Mohammed Alqahtani (@MohmdQhtani), and Nawaf Shobaili (@nshobaili).
Launched on Monday 19th October under the hashtag روح_الدوري# (The League's Spirit), the first day of the campaign saw Twitter's account in the Middle East (@TwitterMENA) invite the comedians to share their takes on their best SPL commentary moments. These were shared through voice Tweets, which add a more human experience to conversations and allowed the comedians to add their own personal style to the commentary. Currently being tested with people on iOS, everyone on Twitter is able to hear voice Tweets and reply to them, regardless if the feature is available to them or not.
"Fans have always turned to Twitter to be part of the action in real time. We're seeing the passion and energy of the football stadium now surging online. Twitter is where fans, players, experts and leagues weigh in with a range of viewpoints. With humor being a key element of Twitter conversation in Saudi, the روح_الدوري# campaign brought levity to a much anticipated event in the Kingdom." said Kinda Ibrahim, Director of Media Partnerships, Middle East and North Africa, Twitter.
https://twitter.com/MohmdQhtani/status/1318227186269196296
https://twitter.com/HatoonKadi/status/1318223875419836421
https://twitter.com/Barmz_alHajjaj/status/1318225223179788288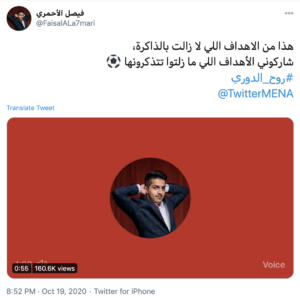 https://twitter.com/FaisalALa7mari/status/1318233575259541505
The focus of the second day of the campaign was around the much talked about Video Assistant Referee (VAR) technology. Throughout the last SPL season alone, there were more than 160,000 Tweets around VAR. The comedians created their own VAR moments through humorous video content shared on the platform. These illustrated real life scenarios of where VAR could come in handy, like to settle a challenge between friends, or to find out who really spilled the popcorn.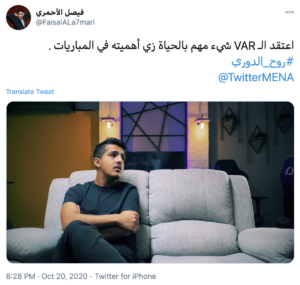 https://twitter.com/FaisalALa7mari/status/1318589849159479297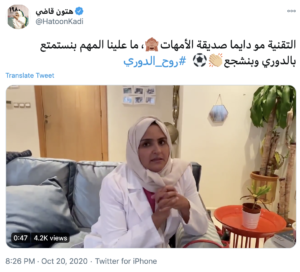 https://twitter.com/HatoonKadi/status/1318589481440653314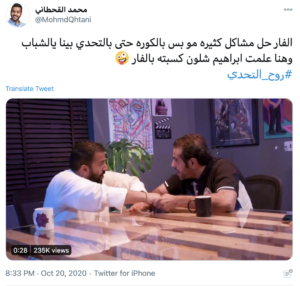 https://twitter.com/MohmdQhtani/status/1318591266083475458
The final day of the campaign will highlight some feel good football Tweets, through the participation of the comedians and the general public.
It's worth noting that the 2020 research done by GroupM in Saudi Arabia concluded that 73% of people on Twitter are football fans, and 85% of them use Twitter to follow along while watching a game on TV. The respondents also said that they use Twitter to follow the official accounts of players (27%), to check out the latest video clips (38%) and to view pre-match news and post-match analysis (28%).