News
Trending
WINNERS OF "SHOP WITH AL SAIF" INITIATIVE ANNOUNCED
AED 125,000 WORTH OF CASH PRIZES AND COUPONS GIVEN OUT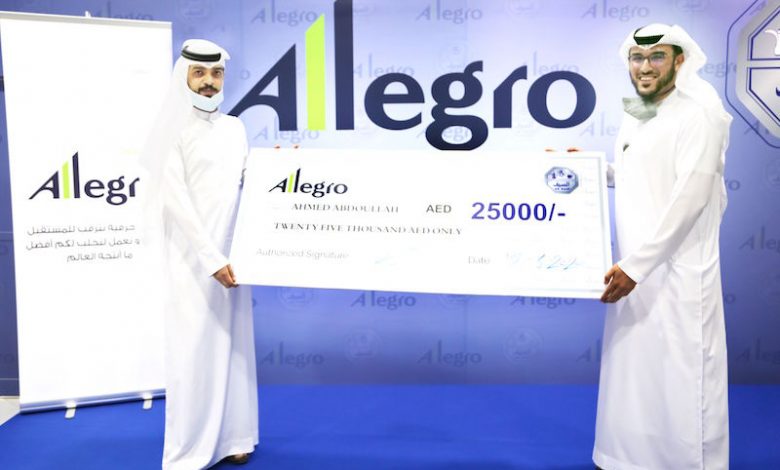 Follow Asdaf News on

UAE –
:
Being a proud contributor to the UAE and Dubai economy, Allegro General Trading Company (member of Mohammed Bin Rashid Establishment for SME development) has announced the winners of the "Shop with Al Saif" Initiative with AED 25,000 cash prize going to Emirati winner Ahmed Abdoullah. The campaign initiated by Al Saif, a premium Arabic kitchenware brand distributed Allegro, saw a total of 10 winners receiving prizes worth AED 125,000. The campaign ran from 7 July until 31 July 2020 and was aimed at offering consumers the best deals with exciting returns in the pre-Eid Al Adha period.
The winners from the UAE were identified through a lucky draw by the Dubai Economic Department officer Mr. Mohammed Hassan. The prize giving ceremony of the cash cheque and other prizes to the winners was held instore at Al Saif's flagship outlet Nad Al Hammar on 9 August 2020.
Al Harith Hamed Al Qassim, Chairman and Managing Director, Allegro Trading Company said, "I would like to congratulate all the lucky winners. Al Saif underscores our endeavour to enable customers to extract value from their purchase while providing a great shopping experience. This campaign was an extension of that thought, and I am delighted that we could play a small part in giving happiness to our patrons and winners. Al Saif embodies the core values of Allegro and offers high quality household utensils and electrical appliances in addition to providing traditional Arabic kitchenware across the GCC aimed to enhance the cook and serve experience thereby providing a good life to the UAE community."
Shoppers were eligible for participating in the raffle draw on making a minimum purchase worth AED 1000 between the campaign period – 7 July until 31 July 2020.
 On behalf of Ahmed Abdoullah, the winner of AED 25000 cash, his son Hazaa Al-Naqbi received the award. Ahmed conveyed his happiness and gratitude to Allegro Trading Company for initiating such a campaign. He also expressed his pride that Allegro is a company with a hundred percent Emirati management and wished for its continued progress.
Allegro General Trading Company brings in 20 diverse and exceptionally superior quality international brands to the UAE that improves the overall lifestyle of the consumers.
"We always strive to create initiatives that support the vision of HH Sheikh Mohammed bin Rashid Al Maktoum. We are committed to making our customers happy and create opportunities that supports economic and industry growth. The "Shop with Al Saif" campaign offering high-value prize, highlights market growth and consumer confidence that drive economic stronghold. Dubai is really working out well in coming out of this covid19 phase and during this period we support the government and people through boosting up of business and bring about a change towards a positive life," concluded Al Harith.