News
Technology
Trending
Umm Al-Qura University champions distance learning with Cisco
More than 700,000 meeting minutes and 13,000 virtual meetings and events delivered digitally using Webex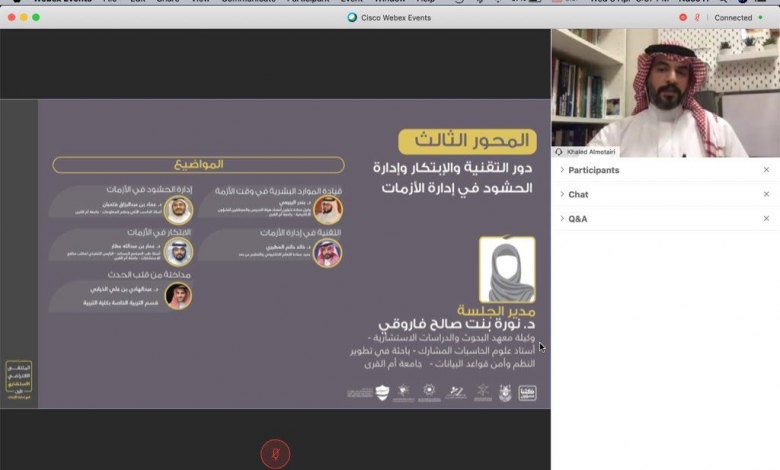 Follow Asdaf News on

Riyadh –
:
Umm Al-Qura University, one of Saudi Arabia's largest educational institutions, has deployed Cisco's most advanced collaboration software, Webex for Education, to enable distance learning for over 100,000 participants across its 36 colleges. The successful implementation has enabled Umm Al-Qura University to empower students and provide them with uninterrupted education and services, despite the disruption caused by COVID-19.
Using the conference platform capabilities of Webex for Education, Umm Al-Qura has facilitated around 700,000 meeting minutes and more than 13,000 virtual meetings and events, supporting 120,000 students, teaching staff, faculty, and other participants.
Umm Al-Qura has utilized Webex's features and capabilities to replicate a wide range of its usual lessons, services and other activities, via the digital platform, to ensure that students continue to benefit from the full educational offering that the university provides. For example, Webex meetings enabled over 225 students to conduct and discuss their graduate research projects with HD video, audio and screen sharing. Webex training enabled educators to create an exceptionally rich and interactive classroom experience during the Quran recitation sessions. Furthermore, the Personal Meeting feature enabled counsellors to contribute to the students' development and learning.
"Umm Al-Qura University is a pioneering educational institution that has always prioritized technological advancement to revolutionize education services in the Kingdom and deliver high quality education to Saudi students. Through this successful implementation of Cisco's Webex solution, we have been able to stay on track to ensure that our educational offerings remain engaging and give educators the tools they need to create a focused and modern learning environment," said Khalid Al-Mutairi the Dean of e-Learning and Distance Education and Vice President of Digital Transformation at Umm Al-Qura University.
In addition, Umm Al-Qura was able to hold its major annual events virtually, using the conference platform capabilities of Webex Events. Over 3,000 participants attended Umm Al-Qura's Annual Contest for Memorization of the Holy Quran, while the Crisis Management Forum brought together a number of high-level experts to discuss effective crisis management in different areas and industries.
Commenting on this innovative use of technology, Salman Abdulghani Faqeeh, Managing Director, Cisco Saudi Arabia said: "Umm Al-Qura University's achievements in providing continuous education and support to its students illustrates a clear commitment to learning and innovation, especially in a time where there is so much pressure placed on educational entities to deliver. We at Cisco are very pleased that our solutions for the Education sector are able to support Umm Al-Qura, and other educational institutions in the Kingdom so that they can continue to educate a large number of students remotely, and help teachers securely deliver learning to students of all ages anytime, anywhere, and on any device."