Technology
Trending
Twitter launches gaming wellness campaign in Saudi Arabia
New research: 54% of Saudis on Twitter interested in gaming agree that video games help develop better decision-making and problem-solving skills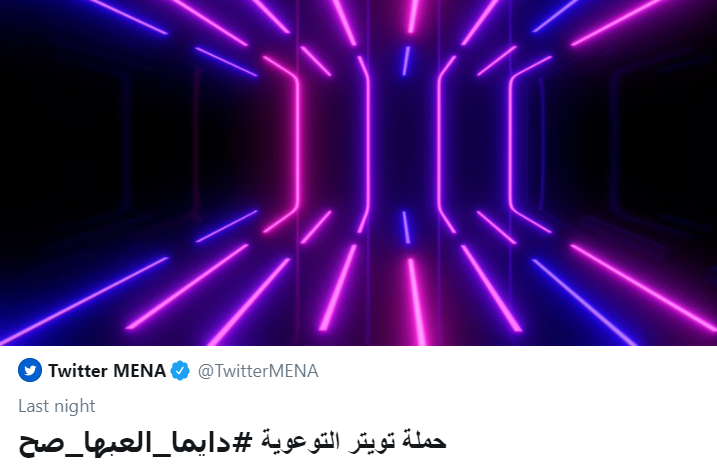 Follow Asdaf News on

Newsgate360 – Saudi Arabia: Twitter has launched the دايما_العبها_صح# (Always play it right) , an awareness campaign centered around wellness in gaming in Saudi Arabia. The campaign aims to highlight the importance of physical and mental wellness within the gaming community during a period when many are spending the vast majority of their time at home. Moreover discussing the significance of maintaining a healthy and balanced lifestyle amongst gaming enthusiasts in the MENA region.
Gaming continues to be a key topic on the platform, in 2019 there were over 1.2 billion Tweets about gaming, up nearly 20% year on year. In fact, last year gaming hashtags were amongst the most used hashtags in Saudi Arabia. Groupm recently launched new research surrounding people on Twitter with an interest in gaming. Compiled following an online survey across Saudi Arabia, the research unveiled key insights into respondents behaviors and opinions. A key finding revealed that the top reasons the respondents use Twitter is to keep up to date with new game releases, to find reviews of new games, to find tips and tricks, and to keep up to date with gaming news. The survey also revealed that 86% of the respondents game at home, and on average, most spend between 30 minutes to an hour in a single sitting when playing video games, with 53% agreeing that video games are a good way to relax and unwind.
"While gaming has been a key conversation on Twitter in recent years, we wanted to tackle the issues of wellness in the digital arena. By raising public awareness of the tactics gamers can implement in relation to their overall wellness, we hope people can engage in healthy conversations surrounding their interests and support each other, especially in times of uncertainty." said Kinda Ibrahim, Director of Partnerships, MENA, Twitter. "In light of the current global situation, as social distancing becomes the norm, there was no better time to enhance our focus on the wellbeing of people," Ibrahim added.
To tackle this, Twitter has partnered with six prominent regional gamers: Saad Alsmari (@Saad_Alsmari), Jafar Almousa (@MrJafarSmith), Amer Nsoohy (@Nsoo7y), Yousef Hennawi (@Bo3omar22), Abdulaziz Samily (@AzizSamily), and Ahmed Owsari (@Ahmedowsari) who kicked off the campaign on Sunday. Following the launch, the gamers will take on the first phase of the campaign: an exciting, physical challenge, which will see four gamers take on a BoxVR challenge, while two compete in a push-up challenge. The first phase will kick off at 7.30pm KSA tonight, 6 April.
The physical challenge will be followed with a Twitter chat which, along with the gamers, will welcome professor and consultant psychiatrist, Dr. Meshal Alaqeel (@AlaqeelMe) to discuss wellness in the world of gaming. Hosted by True Gaming (@TrueGaming), the chat will take place under the hashtag دايما_العبها_صح#at 8pm KSA on Tuesday, 7 April.
Dr. Meshal Alaqeel (@AlaqeelMe), professor and consultant psychiatrist, said of the campaign: "There are both positive and negative impacts to be found within gaming, with balance and commitment to ensure the positives outweigh the negatives. Gaming should not be viewed through a black and white lens. Studies have found that video games help improve attention, alertness and often aid with dyslexia. Gaming has also been used as a tool to develop fine motor skills and reaction times. It is fantastic to see initiatives such as this, that encourage people to pay attention to their psychological well-being when gaming, and raise awareness amongst a community with a large audience on Twitter, especially in the Kingdom."
Groupm's research found that 54% of the respondents in Saudi Arabia agreed that video games help develop better decision-making and problem-solving skills, while 58% touted the social aspect of gaming, revealing to generally play video games with other online players. Additionally, 52% of the respondents stated that they followed other accounts interested in gaming on Twitter, further demonstrating the social community connecting with one another on the platform.
Commenting on the campaign, Saad Alsmari, founder of Multicreators and gaming content creator said : "The openness of Twitter has brought the gaming community in the region together as we have some of the best conversations around gaming online. Gaming is a social experience, especially when playing multiplayer games. We hope that we can inspire our fellow gamers to focus on healthy gaming especially during this time."
To join the conversation, people can post their questions and share personal tips and tricks in the public Q&A by including the hashtag دايما_العبها_صح# next to their Tweets, during or after the session.