Variety
Trending
Travel industry prepares to do business at WTM "Virtual"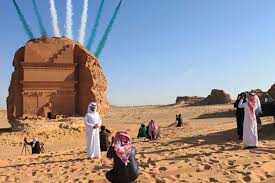 Follow Asdaf News on

Riyadh –


:
Fateen Obaid
Travel and tourism professionals from around the world will reconnect today (Monday, 9th November 2020) for the first day of a three-day virtual event for the international tourism community.
Final preparations are being made for the online event which includes the Travel Forward Virtual and International Tourism & Investment Conference (ITIC).
The conference sessions will also host top politicians, leading academics, health experts and the world's media, as the travel industry plans for recovery in 2021.WTM Senior Director Simon Press said:
 "The travel and tourism industry is facing its worst crisis in living memory, so WTM Virtual will provide a crucial platform for planning the bounce-back, reconnecting with business partners, forging new connections, and learning about the best way forward." 
The Euromonitor International report, to be launched tomorrow at WTM Virtual, will explain why global tourism will take between three and five years to recover from Covid-19.
Called 'Accelerating Travel Innovations after Coronavirus', the study will also reveal how the travel industry is innovating in order to survive the devastating impact of the pandemic.
The International Tourism & Investment Conference (ITIC) will have the mission statement of 'Invest, Finance & Rebuild the Travel & Tourism Industry'.
It will feature a ministerial panel on Monday, 9 November and a summit with industry bosses, politicians and experts on Tuesday, 10 November.
The Responsible Tourism Programme takes place across two days, with eight conference sessions featuring authoritative speakers from the private and public sectors.