Technology
Trending
Tawakkalna, the Official App from SDAIA.. Now Available On HUAWEI AppGallery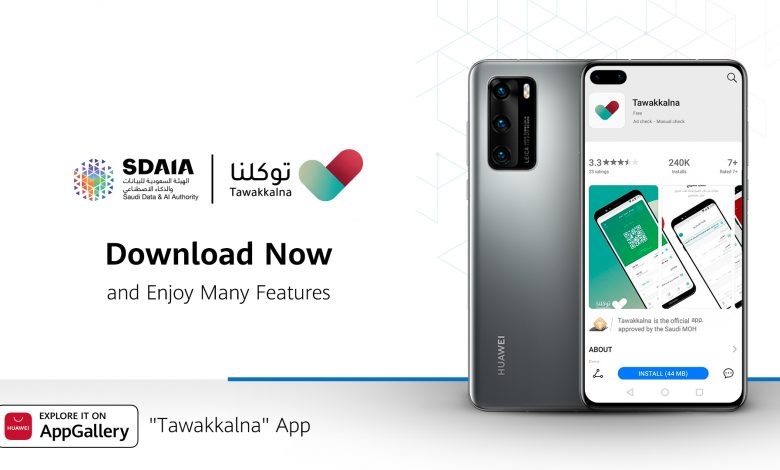 Follow Asdaf News on

Riyadh –
:
Tawakkalna, the official app from the Saudi Data and Artificial Intelligence Authority (SDAIA), is now available on the HUAWEI AppGallery.
With availability through the HUAWEI AppGallery, users of Huawei smart devices can now access vital information and services to support the Kingdom's efforts to contain the pandemic.
The Tawakkalna app, which was developed by the National Information Center, SDAIA's operational arm, provides the latest information and live updates about the status of pandemic infections in the Kingdom. Tawakkalana helps in the early detection of possible infections once users show coronavirus symptoms.
During the curfew period, the app enabled citizens and residents to apply for movement permits electronically, and to follow-up on their permit requests.
Now, as the Kingdom cautiously returns to normal life, installing the Tawakkalna app on a Huawei smart device, will help in this phase by providing new services such as showing Users' health condition and other services. Users can also receive notifications if they are near to an area that is currently under quarantine restriction, or that has reported a high number of infections, helping to protect citizens and residents. Users can also report suspected infectious cases through the app.
The HUAWEI AppGallery is the official marketplace for apps created for HUAWEI smart devices. Since its launch in 2011, the AppGallery has become one of the top three apps marketplaces in the world, HUAWEI AppGallery connects more than 600 million monthly active users throughout more than 170 countries and regions to Huawei's smart and innovative ecosystem.
The HUAWEI AppGallery provides a wide range of innovative apps that have been optimized for Huawei's hardware and software. Users can download a wide range of apps across different content categories, including apps that have been developed specifically for the Saudi market.
Apps in the HUAWEI AppGallery also apply controls to protect user's privacy and security while providing them with a unique and smart experience.
The Tawakkalna app is available to download from the HUAWEI AppGallery now.