Variety
Trending
Saudi painter and sculptor "Alia Aldiqs" gathers female painters
47 female painters from 36 countries in "Synergy"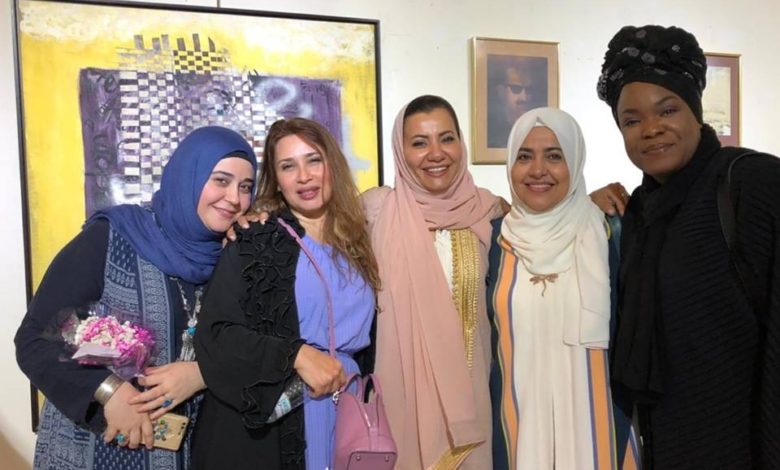 Follow Asdaf News on

Riyadh –


:
By: Fateen Obaid 
Art platforms usually gather stars for a short period of time, but the case is totally different for the president of synergy the Saudi painter and sculptor, Alia Aldiqs. She gathered during the previous four years, 47 female painters and sculptors from 36 countries.
"Those female painters and sculptors have various religions, colors, languages and believes, even though, through synergy all have one entity in common, that is the language of art, Aldiqs said. 
Art can purify the relations between humans and countries or communities. Also, it can erase hatred and plant blossoms of happiness and acceptance instead.
Within four years, we managed to form this team, which is the only painting female team specialized in painting and sculpturing in the Middle East from various nationalities", Aldigs added.
We will be happy to accept more distinguished newcomers from other nationalities both in painting and sculpturing. Our team has its own refreshment after Corona virus, we set plans to start soon.
Personally, I started currently my attempts in sculpturing participation of catalyst team. The step comes after many years in painting. I think sculpting usually work with male artists, because it needs physical power. I start the challenge of sculpturing to explore its secrets as I did before with painting.
Using the hammer and chisel   for accurate limitation to create the shapes is a new wonderful and stunning experience, which remind us of famous stars in this field around the world.
Our target is to be 100 female painters and sculptors during the five coming years, in line with the Saudi vision 2030, and we welcome any influential female artist in the world, who believe in our themes, to join us, the president of synergy added.
We are proud that we cross borders between countries, far away from politics, religions, passports and racism. Colors, brush, chisel and paintings are the vocal point among all of us.
The synergy team message is to prompt peace, love, understanding, promising and thrilling life for the new generations. The future should be without depression or suffering.
We solute each other and the visitors also greet us in different languages, with big laughing and smiles. The human mosaic that we built  through   "synergy" enable us to be one unit.
Sometimes all of us participate in drawing one very big art piece within minutes. I think such creative experience is unique all over the world.