Variety
Trending
Next-Gen Ranger Raptor's Bold Design Captures Raptor Family DNA
A behind-the-scenes look at the process to create the most powerful Ranger Raptor ever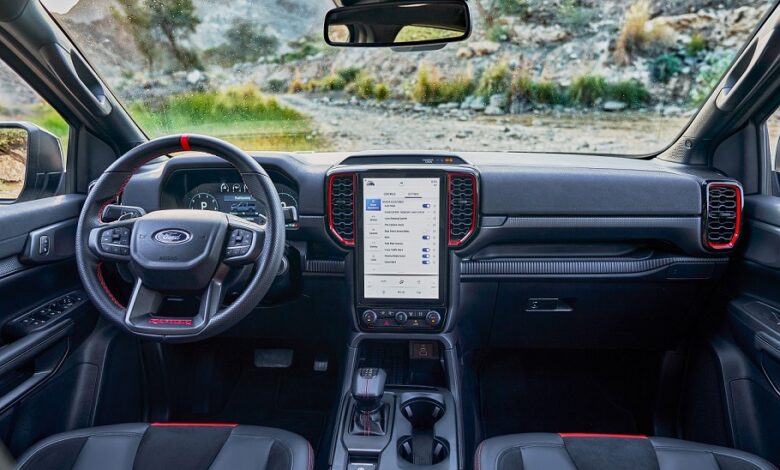 Follow Asdaf News on

Dubai – Asdaf News:
Discover in 90 seconds what it takes to create Ford's most potent Ranger yet, the next-generation Ranger Raptor, by taking a peek behind the curtain at Ford Design.
thousands of kilograms of clay, hundreds of liters of paint, and hundreds of sketches. When we think of new vehicles, we imagine them being constructed on enormous assembly lines by sophisticated machinery, but the process actually starts with artisans.
Pedro Simões, Marketing Director at Ford Middle East, said, "With its status as the world's fastest mid-size pickup, off-roading and automotive fans are well aware of the Next-Gen Ranger Raptor's blend of exhilarating desert-racing power, built on raw power, smart technology, and mechanical and technical precision. However, as our experts detail below, a lot of work has gone into ensuring the Next-Gen Ranger Raptor's design complements its Ford Performance features – inside and out."
Like everything else, the next-generation Ranger Raptor's design started with a brief. The design's framework is established by this brief, which also validates the design's inspiration and essential elements.
Once the creative brief is locked, the designers begin sketching and it "always starts with a pencil and paper," said Dave Dewitt, exterior design manager, Ranger Raptor. Once the sketches are approved, "and there are hundreds of them," according to Dewitt, the digital design team recreates them virtually as both a master reference document and to feed into the next step, clay modelling.
Using more than 4000kg of clay, skilled sculptors first use machines to carve out 1/3 scale models, followed by full-size models, before adding the finishing touches. The clay design is "frozen" after receiving the design chiefs' approval. Additionally, life-size versions of seats, consoles, and steering wheels are sculpted by clay modelers.
While the clay modelers are at work, the color and materials team begins choosing the textiles, textures, and colors to further emphasize the next-generation Ranger Raptor's appearance and feel while adhering to the vehicle's design DNA. The Raptor's cabin is designed to feel like a cockpit while also being as functional as possible.
While the various teams are working on the interior and exterior the design engineering team goes beneath the surface to ensure the good looks are more than just skin deep.
The end result, after lots of hard work, much of it hand built by a team of talented creatives and craftspeople, is the next-gen Ranger Raptor.
Performance at a glance
The next-gen Ranger Raptor wraps its performance chassis in a bold and aggressive exterior that not only takes Ranger to the next level, but screams Ford Performance and clearly links it to the rest of the Raptor family.
Raptor vehicles are the pinnacle of off-road performance and while each model has its own personality they need to contain Raptor-family design cues. These include bold F-O-R-D lettering stretching across the blacked-out grille with Matrix LED headlights that stretch fender to fender, durable steel front and rear bumpers built for rigorous off-roading, high-strength steel bash plate, functional hood and side vents, and wide fenders.
Ranger Raptor contains all of those elements and further differentiates itself from next-gen Ranger with a pumped hood dome hinting at the power underneath, twin exhaust tips tucked up high to avoid obstacles, and precision grey accents.
Performance-oriented interior
According to Nick Eterovic, interior design manager, Ranger Raptor, the interior of the Ranger Raptor had to provide customer with the confidence to unlock the high-performance capability of the next-gen Raptor.
"Our design team had to deliver a commanding cabin with the function of a high-performance off-road race truck with the comfort and convenience of a modern sports car," said Eterovic.
Ranger Raptor's cabin is as expressive as the exterior with Ford Performance Code Orange splashes throughout. Covering the instrument panel and the top of the door panels is Terra Suede which is soft yet tough and easy to clean. It's matte finish reduces glare and adds to the premium, performance vibe of the interior.
A new premium-grade leather steering wheel with a thick rim, thumb rests distinguished by an orange marker on the top of the rim, and magnesium paddles for manual gear shifts give owners a dominating cockpit feel. Owners of the Ranger Raptor can choose between Normal, Sport, and Bajai settings for the steering, suspension, and exhaust (you can also select Quiet to ensure you stay on the good side of your neighbours).