Technology
Trending
Lenovo™ Legion Launches Gaming PCs to New Levels with Innovative Coldfront 2.0
Cooler thermals, extended battery life, TrueStrike keyboard upgrades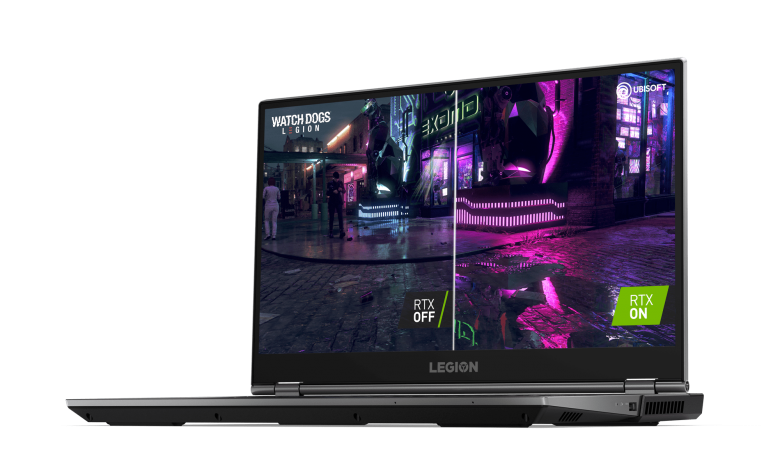 Follow Asdaf News on

Newsgate360 – Riyadh: They're here. The latest wave of Lenovo Legion PCs has made landfall, equipping gamers with a smarter class of gear from our unique brand of uncompromised engineering and industrial design, and delivering the edge needed to dominate today's virtual battle arenas and esports stadiums. Representing a leap in the modern gameplay experience, the new Lenovo Legion generation is now fitted with gamer-inspired improvements such as our beloved keyboard technologies now in the Lenovo Legion TrueStrike keyboard; the advanced thermal efficiencies of Lenovo Legion Coldfront 2.0; battery lifespans that have been extended via Hybrid Mode, NVIDIA® Advanced Optimus11 and Rapid Charge Pro14; as well as the world-class immersive displays optimized by Dolby Vision® and OverDrive Support with optional 240Hz refresh rates for near-instantaneous in-game responses at under 1ms.
Powering this exciting new suite of advancements is the latest 10th Gen Intel® Core™ H-Series or AMD Ryzen™ 4000 Series mobile processors, and up to the recently announced NVIDIA GeForce® GTX 1650 Ti and RTX 2080 SUPER™ GPUs with Max-Q Design. With higher clock speeds and new levels of realism, the next-gen Lenovo Legion gaming PC portfolio is even more stylish on the outside and savage on the inside.
The 2020 lineup features the Lenovo Legion 7i, Lenovo Legion 5i1, the Lenovo Legion 5, Lenovo Legion 5Pi and the Lenovo IdeaPad™ Gaming 3i1 for entry-level gaming. Two new towers that serve as stylish centerpieces in any setup are the Lenovo Legion Tower 5i1 and IdeaCentre™ Gaming 5i1. These new gaming PCs deliver on all fronts with polished aesthetics and high-octane hardware, software, services, and payload performance features for a high-performance, immersive experience.
Ascending Fresh Plateaus in Gaming
This latest Lenovo Legion cohort offers a game-changing suite of features that take users to a higher realm of performance. We've further optimized refined technologies such as the Lenovo Legion TrueStrike Keyboard, for instance, for professional gameplay and typing productivity. Inspired by Lenovo's distinguished pedigree of keyboards characterized by snappy actuation, satisfying click-feel and superior key travel via its second transition curve design, the Lenovo Legion TrueStrike keyboards offer a gaming experience that's touch sensitive and tangible. 100 percent anti-ghosting, sub-millisecond response times and 'soft-landing' switches that mimic deep keystrokes at the same force actuation level also combine to achieve uncanny precision.
And now, gamers can wring every ounce of performance out of their rigs through the next-generation thermal efficiencies of the Lenovo Legion Coldfront 2.0. Marking a new era in thermal management, Coldfront 2.0 represents an improved synergy of hardware and software that promotes better airflow, lower system temperatures, while keeping your Lenovo Legion device cool, quiet and slim. The advanced system now features Dual Burn support, which pushes the CPU and GPU to their in-game limits so that gamers can experience more predictable FPS (frames per second) without the need for thermal throttling. Meanwhile, these Lenovo Legion devices stay cool to the touch despite sustaining top speeds via an optimal cooling system design of tactically placed heat sinks that dissipate more heat away from the motherboard. Also integrated into the Lenovo Legion 7i is a Vapor Chamber Cooling System to dispel heat as dual liquid crystal polymer fan systems cycle air with chilling efficiency. Finally, a multipoint sensor array works to cool down key components in anticipation of intense gameplay for a cooler and quieter experience.
Equally as important for gamers is battery, and that's where Lenovo Legion truly over-indexes, integrating smarter power features to boost battery life and execute whisper-quiet operation. As part of Lenovo Vantage software, Hybrid Mode prolongs battery life by letting users manually disable their dedicated graphical processor when it's not needed. Advanced Optimus11, designed in collaboration with NVIDIA for select devices, also boosts battery life considerably by dynamically switching from the Integrated Graphic Processing Unit (iGPU) for more battery life, to the discrete NVIDIA GPU (dGPU) for higher FPS. Lenovo Q-Control 3.0 also lets users switch between three system voltage and fan speeds (Quiet, Balanced, Performance). Other power-enhancing features include Rapid Charge Pro (from 0 to 50 percent battery in 30 minutes)14 and battery sip feature (instinctively releases power in small doses for more battery life consistency).
And as always, Lenovo Legion machines excel at capturing real-world immersion through its brilliant displays. This generation of Lenovo Legion makes the most of your display panel's capabilities through Dolby Vision, which offers deeper blacks and brighter whites without washing out color and contrast, while up to 240hz refresh rates at under 1ms response times are engineered for ultra-smooth cinematics without screen tearing or stuttering. New Lenovo Legion laptops with at least 300 nits of panel brightness or more can now achieve High Dynamic Range (HDR), so that even dramatic shadowed scenes in games and movies with high levels of black tones will show up vividly with more depth and dimension. Combined with 100 percent sRGB color accuracy, this results in truly life-like pictures.
Once again, Lenovo delivers a level of performance and immersion that keeps it the industry's PC leader.2 All these new Lenovo Legion laptops offer up to the latest 10th Gen Intel Core H-Series mobile processors for powerful performance. And for the first time in one of our gaming laptops, players can also opt for premium, high-performance AMD Ryzen 4000 H-Series Mobile Processors in the Lenovo Legion 5.3
 What Gamers Want: Through the Lenovo Legion community, our gaming research panel and influencer councils, gaming enthusiasts tell us they still want even more immersive experiences. Before crafting our next-generation products, Lenovo engineers, designers and user experience teams dug deep into user insights derived from years of research and surveys to deliver more advanced, high-performance machines built to last through the night, and well into the future.
Among the thousands of global players surveyed by Lenovo, nearly half responded that they used their gaming PCs for everyday computing as well as gaming.4 Better graphics, processors and memory options still secured top spots on their must-have list.4 A key conclusion was that how people game, with whom, on how many devices, and for how long, all factored heavily when choosing a PC. 4
These insights reaffirm that the hardware design cannot shout 'gamer' when people are taking their gaming laptops to work and beyond for activities like creating content, enjoying their favorite streams on Twitch™ or their favorite Apex Legends™ top plays compilation videos on YouTube™. When they do manage to squeeze in some hardcore gaming time with friends, it's crucial that the experience in those precious playing hours blows them away. No matter the form factor, Lenovo has got gamers covered with powerhouse Windows 10 PCs that are packed with customer-inspired innovations, including better keyboards, more processor choices, larger one-piece trackpad and improved webcam placement—all supported by smarter thermals to keep things cool when the competition heats up.
 The Machine that Rules – Lenovo Legion 7i Laptop
Ideal for avid gamers who prioritize competitive play, there's no better test of gaming engineering than on the new, premium Lenovo Legion 7i. Precision-crafted to showcase breathtaking visuals on its 15-inch Full HD display (1920 x 1080) with 100 percent Adobe sRGB color accuracy, this laptop has VESA® DisplayHDR™ 400 for a higher level of precise detail.
Featuring an all-metal exterior and available in a sleek Slate Grey hue, this portable laptop at just 2.1 kg (4.62 lbs) packs serious punch with supercharged power, thanks to its up to 10th Gen Intel Core i9 H-Series overclocked mobile processors. Multitasking, streaming, and content creating are made even easier with ample storage of up to 1TB PCIe SSD8 and up to 32GB DDR4 memory.
Offered with up to 240Hz smooth refresh rates enabling response times under 1ms via OverDrive and NVIDIA G-SYNC™ technology, you'll keep up with all the action of graphically intensive AAA titles. Get up to NVIDIA GeForce RTX 2080 SUPER GPU with Max-Q Design for ray tracing in-game, engineered to improve lighting and reflection effects for an incredible level of realism. Then dive into the rich contrasting colors from Dolby Vision on an ultra-vivid display while Dolby Atmos Speaker System sound creates an immersive experience.
The more powerful 80WHr battery on the Lenovo Legion 7i is enhanced by a battery-sipping energy release feature for a more consistent battery life of up to 8 hours,9 while a slimmer power adapter10 keeps things moving and flexible. Power up to 50 percent in just 30 minutes with the Rapid Charge Pro capabilities.14
Keyboard feel and layout make a huge difference in competitive gaming too. Our optimized solution, the Lenovo Legion TrueStrike keyboard, is inspired by Lenovo's heritage in innovative keyboard technologies. The Lenovo Legion TrueStrike keyboard has 100 percent anti-ghosting, sub-millisecond response times, and soft-landing switches resulting in hair-trigger accuracy and the feel of superior key travel via its second transition curve design—allowing you to actually feel a more tactile gaming experience.
Go for the flagship Lenovo Legion 7i that has the ability to illuminate keys in over 16 million color combinations with Corsair® iCUE® system lighting. Or opt for either the new Lenovo Legion 5i1 or Lenovo Legion 5 laptop for a deep key travel of up to 1.5mm and optional 4-zone RGB lighting effects. Keyboards on all Lenovo Legion laptops are coated to resist abrasion and the wear-and-tear from oily fingertips. They feature full-sized keys and a number pad, plus a larger one-piece trackpad, full-sized arrow keys, and dedicated media keys.
Pro-tuned Performance: Soup up in-game performance even more with improved Lenovo Q-Control 3.0, now available on the new Lenovo Legion 7i, 5Pi, 5i1, and 5 laptops and on the Lenovo Legion Tower 5i1 desktop. Upshift to Performance Mode to turbo-charge past the competition with higher CPU voltage and higher FPS. Then, while streaming eSports highlight reels, downshift into Quiet Mode to lower battery drain and fan noise, or set it and forget it by enabling Balanced Mode for automatic adjustments based on which apps are open.
Lenovo Legion Coldfront 2.0 also boosts performance with the integrated Vapor Chamber and updated thermal sensor array. A dual fan system of 73 liquid-crystal polymer fan blades enhances four dedicated thermal channels to cycle air at top speeds. Dual Burn Support also pushes the CPU and GPU together for max performance in-game.
Whether they're gaming or not, end-users seek might and mobility from their machines. While at work or in class, users can also leverage their PC's Lenovo Vantage software to manually disable their dedicated graphics card or G-SYNC via Hybrid Mode for a bump in battery life on the go. Still not satisfied with the cumbersome reboot experience required by users to enact this signal change to their processors, Lenovo engineers worked with the team at NVIDIA to develop a more seamless, automatic way for gamers to better manage their integrated graphics through Advanced Optimus.11
Select Lenovo Legion gaming PCs will be first to feature the new Advanced Optimus,11 which draws on physical components of your dedicated NVIDIA graphics card to intuitively detect which of your system's graphics sources is best suited to power the application open on your screen. Whether playing a high-demanding game or being productive at work, Advanced Optimus11 switches back and forth from integrated (for light workloads) and discrete graphics to dramatically extend battery life9 and without the added hassle of a reboot for max framerates when gaming.
Style and Muscle – Lenovo Legion 5Pi, 5i1, 5 Laptops, and Tower 5i1 Desktop
Whether you need a portable gaming laptop with great battery life or the unrivaled horsepower of a desktop, the best PC for you is the one that offers the most immersive gaming experience for your needs and budget.
For a mainstream gaming laptop that doesn't skimp on performance options, the Lenovo Legion 5Pi is built with gaming dominance in mind. At up to 500 nits brightness, the 15-inch Full HD IPS display has an optional 240Hz refresh rate and the amazing clarity that comes with optional VESA DisplayHDR 400 and Dolby Vision.
This beast of a laptop with up to 10th Gen Intel Core i7 H-Series mobile processor and optional NVIDIA GeForce RTX 2060 GPU has Lenovo Legion TrueStrike keyboard for 100 percent anti-ghosting, as well as dedicated media keys and a number pad to make video editing and setting macros even easier.
With faster Intel® Wi-Fi 612, the Lenovo Legion 5Pi is ideal for eSports streamers at under an inch thin and weighing 2.5 kg (5.5 lbs) for portability. With enough storage (up to 1TB PCIe SSD8) and memory options for even the most serious gamers, its minimalist design with white-lit "Y" logo and chassis in a subtle Iron Grey hue will make you look great while winning eSports events. With flowing sound around you, Dolby Atmos13 together with Harman Kardon® speakers make for an immersive audio experience.
The Lenovo Legion 5Pi offers up to an 80WHr battery for up to 8 hours of battery life.9 With Rapid Charge Pro capabilities, just use the slim power adapter10 to recharge from zero to up to 50 percent battery life in 30 minutes.14
The Lenovo Legion 5i1 and Lenovo Legion 5 are our mainstream Windows 10 gaming laptops offering players several configuration options and next-level NVIDIA GeForce graphics. Choose between two sizes (15-inch and 17-inch) with up to the latest 10th Gen Intel Core H-Series mobile processors on the Lenovo Legion 5i1. And introducing the first Lenovo Legion laptop with AMD Ryzen 4000 H-Series Mobile Processors, the Lenovo Legion 5.
The 15-inch Full HD IPS display model with Intel CPU and up to GeForce RTX 2060 GPU for fast clock speeds is powerful enough to handle the latest action-filled titles with an optional, lightning-fast 240Hz refresh rate and VESA DisplayHDR 400 with Dolby Vision.
The Lenovo Legion 5i1's 15-inch display is up to 500 nits. Both sizes come with up to 16GB DDR4 memory, 1TB PCIe SSD storage8 and 100 percent anti-ghosting with Lenovo Legion TrueStrike keyboard and optional 4-zone RGB system lighting. The 17-inch size option is available with up to 144Hz refresh rate and weighs 2.98 kg (6.56 lbs), while the 15-inch laptop weighs 2.5 kg (5.5 lbs).
The 15-inch Lenovo Legion 5 is available with up to AMD Ryzen 7 4800H-Series Mobile Processors. Providing up to NVIDIA GeForce RTX 2060 discrete graphics, you can get a smooth 144Hz refresh rate to reduce screen tearing and in-game lag.
All models across the Lenovo Legion 5i1 and 5 families support faster Wi-Fi 612 and Dolby Atmos,13 and are available in a Phantom Black hue with up to 8 hours of battery life9 and Rapid Charge Pro.14
Lenovo Legion Tower 5i1 is the high-performance gaming tower that's well-suited for the avid gamer who wants a high-performance home battle station. Push system performance to the highest settings, while staying quieter and cooler during cinematic gaming experiences with the tower's optional liquid-cooling system. It's optimally built for overclocked system performance—ideal for those heated marathon sessions.
Get up to NVIDIA GeForce RTX 2080 SUPER GPU for ultrafast frame rates with over 4K resolution15 at an accessible price point. With cool blue LED lighting, optional RGB internal lighting and its chassis in a Phantom Black hue, gamers can choose to showcase their personality and high-power internals with transparent side panels.
Available with up to Intel Core processors, the new tower features an upgraded Lenovo Legion Coldfront 2.0 cooling system. Its improved thermals have a 150-watt CPU cooler and larger intake fans, letting air circulate faster throughout its airy 28-liter volume interior. The Lenovo Legion Tower 5 will offer the elite performance of AMD Ryzen desktop processors for the most demanding gamers as an option later this year.21
The new Lenovo Legion PCs have smarter thermal efficiencies. Next generation, whisper-quiet Lenovo Legion Coldfront 2.0 thermals encompass a complex system of inner-working hardware and software that allow for better airflow and lower system temperatures.
An integrated 2mm (on the Lenovo Legion 7i) Vapor Chamber Cooling System works to dissipate heat while a series of coated blades inside the enhanced Dual Liquid-Crystal Polymer Fan System turn to cycle air through Quad-Channels at top speeds. These technologies work in tandem with up to a 6-point thermal sensor array to quickly predict incoming thermal requirements to cool key components in advance for quieter and better performing gaming sessions.
 Top Performance, Lower Temperatures: In the past, hard-core gaming sessions meant that thermal flexibility was key as the system could not reliably support the increased thermal throttling required for peak performance—your processor slowed down to protect itself from high temperatures inside the motherboard and fans spun-up, making clock rate virtually unpredictable. That's where Dual Burn comes in. As an added benefit to Lenovo Legion's updated thermals, this feature pushes the CPU and GPU together to squeeze more performance while staying quieter and cooler than in previous generations.
Ready, Set, Play – IdeaPad Gaming 3i1 and IdeaCentre Gaming 5i1
So, you're ready to take the leap from amateur games to more intensive battle royale play. If you're still using an all-purpose device for gaming, you could be missing out on better graphics and processors without proper gaming gear.
Players who want to level up without breaking the bank can rely on Lenovo for a selection of reliable gaming devices to give them a competitive edge, such as the new IdeaPad Gaming 3i1 laptop and the IdeaCentre Gaming 5i1, the new home battle station with flare and horsepower.
Designed to eliminate screen stuttering, slow game loads, and blistering keyboards, the 15-inch IdeaPad Gaming 3i1 laptop with optional 120Hz refresh rate features an up to 10th Gen Intel Core i7 H-Series mobile processor. The IdeaPad Gaming 3 will offer AMD Ryzen mobile processors as an option later this year.21 High-octane gaming sessions on this new laptop can last longer than before, supported by improved thermals with an extra heat pipe dedicated to the discrete GPU in its thermal array, plus dual thermal vents for better airflow.
The clear sound from speakers powered by Dolby Audio™ complements an up to 15-inch Full HD (1920 x 1080) IPS display with slim bezel design. For even more bang for your buck, choose from an optional 120Hz refresh rate and up to NVIDIA GeForce GTX 1650 Ti GPU for a truly elevated experience.
This PC stands tall amongst your gaming circle outfitted with Lenovo Q-Control 3.0 for performance mode switching and up to 8 hours of battery life9 with Rapid Charge.16 Available in two eye-catching colors, iridescent Chameleon Blue or Onyx Black,17 and weighing only 2.2 kg (4.85 lbs) for portability, the IdeaPad Gaming 3i1 features a blue backlit keyboard with 1.5mm key travel, a one-piece precision trackpad, a full-sized number pad, large arrow keys, and dedicated media keys for the win.
The new purpose-built IdeaCentre Gaming 5i1 sports cool blue ambient lighting at the front and is equipped with notable performance features, such as up to Intel Core processors and up to NVIDIA GeForce RTX 2060 GPU. Sleeker than before and available in an iridescent Chameleon Blue hue, the improved thermals on this tower can both cool the system and hush fan noise under heavy gaming loads. The IdeaCentre Gaming 5 will offer AMD Ryzen desktop processors as an option later this year.21
The pure expandability of this tower will grow along with your gaming needs. Rich, powerful sound from Dolby Audio is supported.18 With ample port selection on the IdeaCentre Gaming 5i1, connecting to peripherals is a snap—so why not match one of our high-performance gaming towers with a great monitor made for gaming like the recently unveiled Lenovo Legion Y25-25 Gaming Monitor.
 Build Your Arsenal with our Accessories and Visuals
Professional players at the highest level must be able to perform hundreds of actions within a minute. Only a purpose-built monitor and peripherals engineered for exceptionally smooth gameplay can keep up with such savagery. Check out the ones unveiled at CES earlier this year.
The Lenovo Legion Y25-25 Gaming Monitor features a near-edgeless 24.5-inch Full HD IPS anti-glare panel display with refresh rates as high as 240Hz.
A gamer's mouse is their most valuable battle weapon and for players wanting to live that wireless life without losing their edge, may we suggest the Lenovo Legion M600 Wireless Gaming Mouse. Featuring an extra-long battery life up to 200 playing hours19 and energetic 1000Hz polling rate that dramatically lessens latency for lightning-fast reaction times.
Focus on the score, not the battery with Rapid Charge USB-C port on the wireless Lenovo Legion M600 mouse.
Or get a leg up with the ultra-precision of up to 8,000 DPI with adjustable sensor tracking and solid 1000Hz polling rate of the Lenovo Legion M300 RGB Gaming Mouse. Its smarter design offers competitive performance for right- or left-handed gamers that's easy on the wallet, wrist, and grip—regardless if the gamer prefers the palm or the claw grip.
Need to make sure that combo is going to land? The accurate and now available Lenovo Legion K300 RGB Gaming Keyboard20 with anti-ghosting and up to programmable 24 keys will help you pull it off. Integral to any core gamer's toolkit, this light and full-size keyboard has a clean minimalist design, curved , and customizable five-zone RGB illumination and lighting effects. It's fully adaptable, with programmable keys with great travel for up to 20 million keypresses for long-lasting durability. It's designed to be water-resistant too, so players can keep the mayhem in the game (and not on their desk).
 Pricing and Availability21
The Lenovo Legion 5 will be available from a starting price of SAR 4,499 this June.
The Lenovo Legion 7 will be available from a starting price of SAR 7,699 this June.