News
Trending
Italy and the UAE Webinar: COVID-19 – where do we stand with tracing, therapy and a vaccine?
Follow Asdaf News on

Abu Dhabi –


:
As part of the InnovItalyUAE initiative, the Embassy of Italy to the UAE, in collaboration with Khalifa University of Science and Technology and the Dubai Future Foundation, will hold a webinar on Wednesday 4 November, with experts from Italy and the UAE exchanging information and experiences in the fight against the pandemic.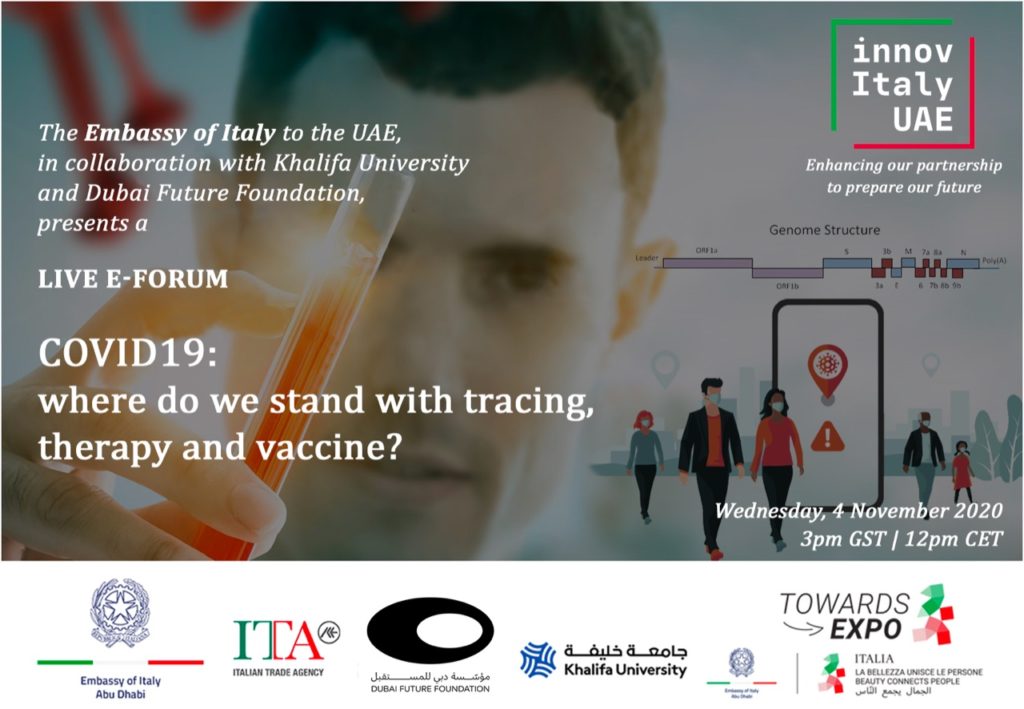 The webinar will be divided in three sessions. The first session will be focused on the in-depth study of new therapeutic solutions adopted or under study in the two countries. It will be attended by the renowned Prof. Rino Rappuoli from the Imperial College London and the University of Siena, as well as Head of External Research and Development at GSK Vaccini, and Dr. Habiba Al Safar, Director of the Khalifa University Biotechnology Centre.
The second session is dedicated to the use of tests as a tool to track infections and prevent their spread. Prof. Andrea Crisanti, Director of Microbiology and Virology at the University of Padua and Prof. Ernesto Damiani, Senior Director of the Institute of Artificial Intelligence and Intelligent Systems at Khalifa University, will provide an overview on the Italian and the UAE experiences respectively.
The third session will compare the steps taken by the two countries in the research and testing of vaccines against COVID-19, with input by Dr. Massimo Scaccabarozzi, President of Farmindustria; Dr. Antonella Folgori, CEO of Reithera Srl, and Dr. Nawal Al Kaabi, Chairman of the Infection Control Committee of the Abu Dhabi Health Authority.
In this session, Dr. Andrea Beccari, Head of Research and Development Platforms and Services at Dompé Farmaceutici SpA and coordinator of the project, and Dr. Cristina Silvano of the Milan Politecnico will present the Italian supercomputing platform project EXscalate (EXaSCale smArt pLatform Against paThogEns). Finally, the Research Institute of New York University in Abu Dhabi will discuss the results of the saliva tests for the rapid detection of COVID-19, which could soon be used in UAE schools.
His Excellency Nicola Lener, Ambassador of Italy to the UAE, will make the opening remarks and the session will be moderated by Dr. Massimo Cristaldi, Italian physician and member of the Abu Dhabi Anti-Covid-19 Committee.