Variety
Trending
INJAZ Al-Arab Launches its First Virtual Innovation Camp Challenge for the MENA
"INJAZ Beyond Borders" in Partnership with Citi Foundation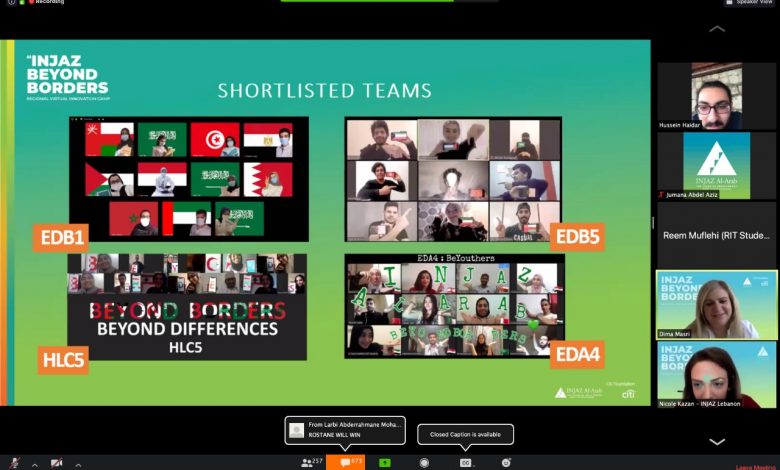 Follow Asdaf News on

Newsgate360 – Riyadh: INJAZ Al-Arab/ JA MENA launched its first virtual Innovation Camp Challenge, INJAZ Beyond Borders, supported by Citi Foundation on April 16th, 2020. INJAZ Beyond Borders Challenge is built around proposing solutions to gaps and weaknesses exposed by the COVID-19 crisis in Education, Healthcare and Technology. The challenge aims to pave the way to how technology can accelerate digital education by reaching more youth across the MENA region.
The challenge received more than 350 applicants from 13 MENA countries. A total of 20 teams and 280 youth participants were selected between the ages of 18 and 24 to take part in the competition on Zoom. INJAZ Beyond Borders falls under JA Worldwide #KeepLearning global initiative that aims to engage 300 students, volunteers, and INJAZ team members in a twist through well-known innovation camps that are complete with business challenges, jury, presentations & awards.
INJAZ Beyond Borders was kicked off with a welcoming note from Carmen Haddad, Vice Chair of Citi Middle East and Akef Aqrabawi, CEO of INJAZ Al-Arab who also served on the main judging panel along with Savas Cizmeci from Citi.
Four teams in total won the camp challenge where EDA4 – BeYouthers and EDB1 won the Education track and HLC3 – Team Homies and HLD5 – Beyond Differences won the Health track. The Education track tackled challenges on improving the delivery and increasing access of educational content during crises through technological means and providing more flexible integrated systems that allows learning to go uninterrupted. The healthcare track tackled challenges in how to better and rapidly equip the healthcare community in fighting COVID-19 as well as how to facilitate access to COVID-A-19 medical data for researchers to understand the virus and find ways to protect, treat & manage the disease & its effects.
Commenting on the successful virtual challenge, INJAZ Al-Arab CEO, Akef Aqrabawi said, "INJAZ Beyond Borders proves how ready our youth in the MENA region and well equipped with the tools, skills, and solutions for the global challenges and crises we face. Our #KeepLearning initiative provides these talented teams with a pedestal for their winning tech inspired COVID-19 ideas. They've provided solutions that rely on technology, governmental actions, gamification, partnerships, and customized programs that can elevate the education and healthcare community in times of crises. In partnership with Citi Foundation, this initiative was made possible to reach hundreds of youth in MENA."  
Carmen Haddad, Vice Chair of Citi Middle East said, Education, healthcare, and technology are increasing in demand and evolving more than ever during the global COVID-19 pandemic. With the world and the MENA region connected online, it is our youth that can help shape and provide solid solutions in times of sudden challenges and crisis.  As the world around us continues to evolve, in response to COVID-19, we at Citi, continue to support our clients, our employees, our community partners and especially the youth in the region.
Citi recently announced that Citi and the Citi Foundation have committed over $65 million to date in support of COVID-19-related community relief efforts around the world, including nearly $36 million in charitable contributions from Citi and nearly $30 million in grants from the Citi Foundation.
The successful online innovation challenge and event brought together volunteers and teams from across the MENA region on Zoom to develop solutions and address and support the education and healthcare systems that could be hindered during the COVID-19 pandemic. INJAZ Beyond Borders proved how technology, knowledge, and the youth can disrupt various sectors and can prepare for future challenges.