Technology
Trending
Huawei Chief Security Officer commends the progress in Saudi Arabia
Huawei works in Saudi Arabia for 2 decades with no major security breaches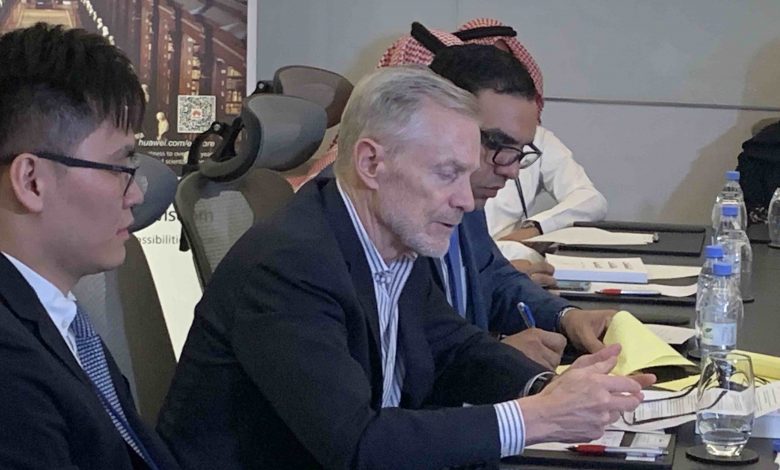 Follow Asdaf News on

By Samar Yahya
Newsgate360 – Riyadh: During his 4th visit to the kingdom, Andy Purdy Huawei's Chief Security Officer in the US met with the media on the sideline of attending the Global Cybersecurity Forum in Riyadh.
Purdy said: "Experts from around the world have come to this great forum, and I think people are really impressed by the opportunity to exchange views and talk about the path forward. It is very exciting for us to be able to participate in this discussion."
Purdy identified Security as a journey, not a destination. "It's very exciting to see the progress that has been made in the region and in the Kingdom. I think of Saudi Vision 2030 as a nationwide plan to move forward." Purdy said
On Huawei in Saudi Arabia for two decades and if there were ever major security breaches, Purdy said that: "Up to my knowledge there were no major security breaches and partnering with operators, we have been working successfully guarantee the communication networks for the last 15 years with zero accidents and zero interruptions in the Hajj seasons."
He also spoke about how inspirational it was to meet two young Saudi women one a lawyer and the other working in cyber security and to see how enthusiastic they were on cybersecurity.
He also spoke about how there is no conversation between US government and Huawei while the chance of conversation was given to other telecom companies like Nokia and Ericsson. He attributed the no-conversation status to the geopolitical issue, US–China trade task among others.
On the procedures Huawei is taking to gain more confidence of clients, Purdy said: "We have our internal development procedures for the development of individual products, and procedures to make sure the security is built-in. Representatives from the government and public sector are welcome to come and see those procedures. In addition and before the products leave Huawei they are tested in our independent cybersecurity lab where we use independent tools tat we pay 3rd parties for, to test our products, in addition to using open source tools and Huawei propriety tools. The results are available for customers to compare with any other tests.
"We also invite customers to suggest other tests as no one test finds all vulnerability. By contract we can guarantee that we have tested the most significant vulnerabilities before the products are shipped. Those high processes and procedures they should provide a high level of assurance and transparency." Purdy said
"Seeing the progress that the government has made here by standing up for strategy, working internally across government departments, and collaborating with the private sector, it moves the Kingdom on a very strong path to greater cybersecurity and greater transparency. It has been very impressive." Purdy added
"At Huawei, part of what we do is work with governments, private companies, universities, and other experts to bring technology to local societies and citizens. For the last 20 years, we have been in Saudi Arabia doing exactly that." Purdy concluded