Technology
Trending
How video doorbells make contactless deliveries safer
Follow Asdaf News on



By Mohammad Meraj Hoda
Contactless deliveries have assumed paramount importance following COVID-19. As cases rise again, Mohammad Meraj Hoda, Vice President of Business Development – Middle East & Africa at Ring gives us a look at how video doorbells improve all-round safety
With the number of coronavirus cases continuing to rise in the UAE, we need to continue safeguarding ourselves and our families. In addition to regular disinfection, handwashing, and social distancing, minimizing close contact with others will go a long way to help reduce our risk, even at our own front doors.
Over the past few months, we've all come to rely on home deliveries for numerous items – from groceries and food delivery to bank documents and online retail therapy. To open the door for each delivery is to expose ourselves to a new transmission risk, but thankfully for UAE residents, there are some quick solutions to hand.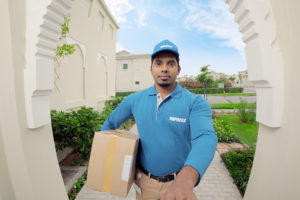 Video doorbells, such as those available from Ring, are one such tech-savvy option. When used in combination with delivery apps, they allow customers to accept an order and even communicate with the delivery agent – all without opening the front door.
Check who's at the door, even from the office: With video doorbells, you instantly receive a message on your phone when someone is at your door. Swipe the notification on your device and you can see the visitor live – from wherever you are.. The Ring Video Doorbell 3, for example, offers full HD1080p for high-resolution video over a full range of 180 degrees. Better yet, because it comes with motion detection, you'll be alerted before the doorbell is even rung.
Talk to your visitors effortlessly: The most advanced video doorbells offer enhanced remote communication with visitors from anywhere. So, whether you're relaxing by your apartment's pool or if you're stuck in traffic a few minutes away from home during the evening commute, you can see, hear, and speak with the delivery driver without any extra effort. This means that by using your Ring Video Doorbell you can let the delivery driver know you will soon be there or ask them to leave the package with your neighbor. With such advanced technology, the person outside your front door need not ever know that you're not at home.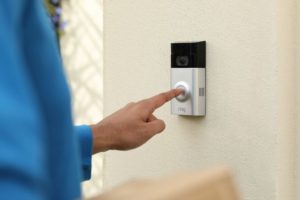 Get deliveries left at the door: Video doorbells offer two-way communication, it's easy enough to instruct delivery drivers to leave packages and parcels outside the front door – even when you are at home but can't get to the door. If you need to pay for a package, such as a food item, you should be able to do so via the vendor's app. Such measures are particularly important in view of the enhanced national safety regulations due to COVID-19. It's easy enough to wait a few minutes until the courier has left to pick up your package – but remember to sanitize the surfaces first, in line with medical recommendations.
Round-the-clock security: Video doorbells that are retailed in the Middle East can both livestream and record footage, which is then stored in the cloud. This means that any activity around your property results in an immediate notification directly to your smartphone. Such activity can then be verified remotely, from anywhere. In addition, Ring Video Doorbells also come with an added Linked Devices function, that allows users to link their doorbell to compatible Ring Cams for an integrated, whole-home security system.
Connect to your smart home: You will rest easy knowing your video doorbell connects to the wide array of smart devices within your home ecosystem. Smart doorbells typically slip easily into these existing setups, allowing you to network all your devices from a single access point. The Ring Door View Cam, for example, connects to different networks, such as Amazon Alexa, putting you in control at all times. And that's the best situation to be in, wherever you are.
In addition to a host of security benefits, video doorbells also offer a number of clever advantages when it comes to contactless deliveries and physical distancing. Most important is the peace of mind that a regular doorbell and peephole simply can't match.