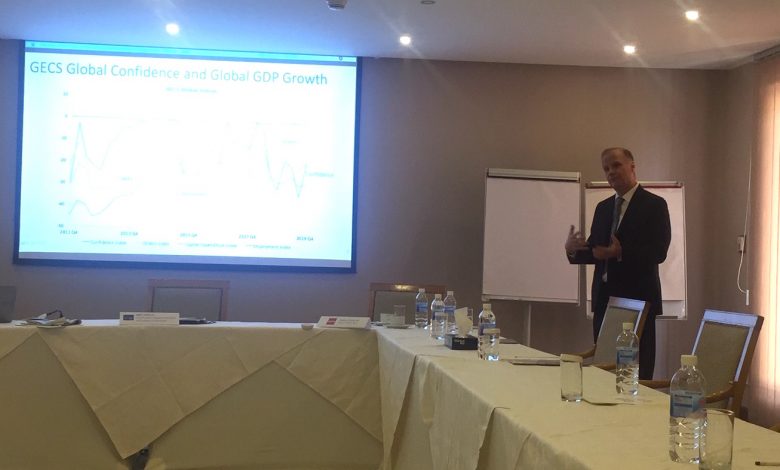 Follow Asdaf News on

Newsgate360 – Riyadh: Institute of Management Accountants IMA® and the Association of Chartered Certified Accountants ACCA, unveiled results of the latest Global Economic Conditions Survey (GECS) of Q4 2019, here on Monday.
Raef Lawson, vice president of research and policy, Ph.D., CMA, CPA, IMA discussed some of the main insights uncovered in the report and how these will impact the region in the coming months.
On Saudi Arabia, Lawson explained that Saudi Arabia is making considerable efforts to diversify economy away from the oil sector by strengthening its non-oil private sectors and as per Saudi finance minister Mohammed Al Jadaan, Saudi economy is projected to expand 2.3per cent in 2020.
The kingdom expects non-oil GDP growth to accelerate next year after increasing 2.5 per cent in the first half of this year. The World Bank predicted 2.2 per cent growth in 2020.
As Saudi Arabia crude oil exports to China is 47% in 2019, the impact of the coronavirus on oil prices and demand will significantly affect 1Q in 2020 growth in KSA.
The global confidence bounced back in Q4 to around its level in mid-2019, recovering from its lowest level in almost eight years in Q3. Global orders, which tends to be less volatile than confidence, declined in some areas (e.g., UK and Middle East) and increased in others (e.g., Africa and Central and Eastern Europe). Notably and for the first time since Q2 2018, the US orders index increased.
Downside risks persist, notably in relation to US-China trade tensions but a global recession is not likely given continued resilience in consumer spending.
The impact of coronavirus as the first case of the coronavirus was reported Dec. 8 and the disease spreads. The director-general of the World Health Organization WHO called the coronavirus outbreak 'unprecedented' and declared a global public-health emergency"
While, now 11,221 individuals in mainland China and a global total of 11,374 have been confirmed to have the new coronavirus, the Global economic impact of coronavirus could cost China's economy $60 billion this quarter and the global interconnected economy would be $160 billion.
GECS is the largest regular economic survey of accountants around the world, released on a quarterly basis. It is the largest in both the number of respondents and the range of economic variables it monitors.
The GECS is regarded as a good predictor of GDP growth. Its correlations with the VIX, or "fear," index are well established. It is a trusted source for gauging the overall performance of the global economy.