Variety
Trending
GACA: Over 750,000 passengers passed through the kingdom's airports during the resumption of domestic flights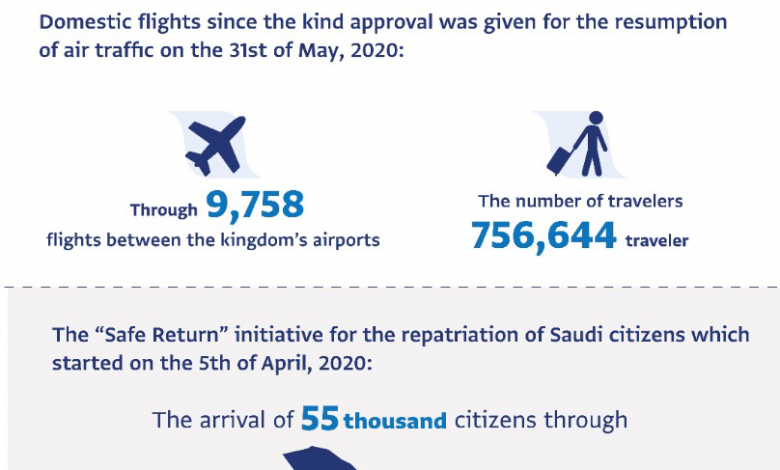 Follow Asdaf News on

Riyadh –
:
The General Authority of Civil Aviation (GACA) revealed the number of travelers and flights that passed through the Kingdom's airports after the issuance of the kind approval for the resumption of domestic flights, which started on Sunday, the 31st of May, 2020 through national air carriers. The recorded official statistics issued by GACA today, where the number of travelers who passed through the Kingdom's airports during the period from May 31st to June 30th exceeded (756,644) thousand passengers who departed through (9,558) thousand flights from the Kingdom's airports.
GACA has gradually resumed domestic flights, with the aim of ensuring a safe travel journey for travelers through the kingdom's airports. All the necessary preventive and health measures has been taken, in cooperation with the Ministry of Health and relevant government agencies within airport facilities. GACA is working in coordination with airports and air carriers and companies operating in the civil aviation sector to meet the local market demand.
Meanwhile, GACA revealed the arrival of more than (55) thousand men and women on board Saudi Arabian Airlines fleet arriving at the Kingdom's airports through the safe return plan for the repatriation of citizens in various stages, which began on the 5th of April with the participation of a number of government agencies, that included, (the Ministry of Foreign Affairs, Ministry of Health, Ministry of Tourism, the Ministry of Interior, and the General Authority for Civil Aviation). GACA has harnessed its capabilities and taken all procedures and measures at the Kingdom's international airports (King Khalid International Airport in Riyadh, King Abdulaziz International Airport in Jeddah, King Fahd International Airport in Dammam, Prince Mohammed bin Abdulaziz International Airport in Madinah, Prince Nayef bin Abdulaziz International Airport in Al-Qassim and Hail International Airport), where GACA and in cooperation with the relevant government agencies, has scheduled flights for citizens return plan and distributed flight times, in coordination with the national carrier (Saudi Arabian Airlines).
It is worth noting that GACA enjoys a significant and continuous support from the Custodian of the Two Holy Mosques King Salman bin Abdulaziz Al Saud (may God protect him) and His Royal Highness Prince Mohammed bin Salman bin Abdulaziz, Crown Prince, Deputy Prime Minister and Minister of Defense (may God protect him). GACA has taken many preventive and health measures during this novel coronavirus pandemic and has applied the highest safety standards in the kingdom's aviation sector based on its legislative role. The General Authority of Civil Aviation has verified the safety of the operational ongoing of airlines, air navigational services, airports and ground services providers and made sure they conform to the highest international standards and ensured their work readiness around the clock.