News
Trending
Education For Employment (EFE) and Citi Foundation Link Saudi Youth to Jobs
EFE-Citi Foundation partnership with EFE in Saudi Arabia to support Saudi Vision 2030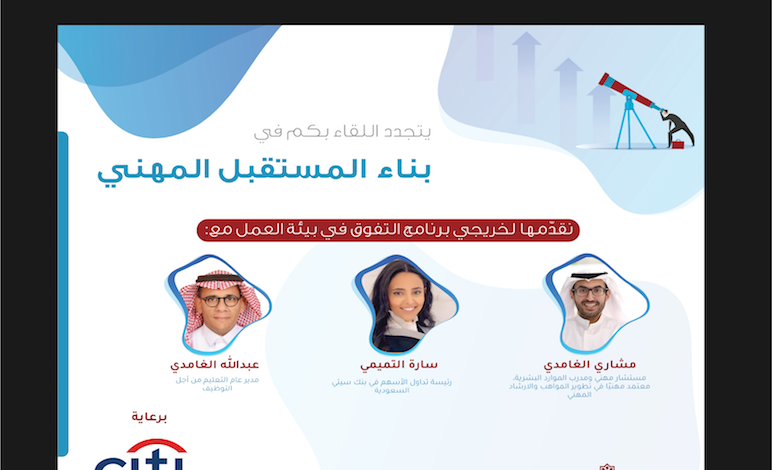 Follow Asdaf News on

Riyadh –


:
In continued support to Saudi Vision 2030's mission of empowering youth with opportunities, the Citi Foundation and Education For Employment (EFE) in Saudi Arabia partnered together for the 3rd year to continue the momentum in creating economic opportunities for unemployed Saudi youth in 2020. With Citi Foundation's support, EFE in Saudi Arabia launched its flagship "Work Readiness Program" to nurture and inspire 88 young Saudi with skills to succeed on the job and in life.
"We're thrilled to see that our partnership with EFE is helping Saudi women and men become work-ready and secure jobs that will enable them to contribute to the Kingdom's economy,'' said Carmen Haddad, Citi Country Officer-Saudi Arabia. ''The EFE partnership falls within Citi Foundation's efforts to reach 500,000 youth globally and to help the next generation to move closer towards their career goals and sustainable futures. As young people continue to face high rates of unemployment in the Middle East and North Africa, it is an economic imperative that businesses open their doors and invest in developing the skills of young people." 
With Citi's support, EFE in Saudi Arabia was able to conduct an online workshop for the graduates to upscale their interpersonal skills in the workplace, and provide them a set of skills that would enhance their career to build a more successful future. The workshop hosted career development professional Executive who participated in this event and shared his experience with EFE alumni's. Also, Sara Altamimi From Citi Saudi joined the event that was held online with more than 40 participants.
Atheer Altamimi, a graduate of the program, is grateful to have been part of the program, saying "Every day of the training was unique and special, I would learn something different and add on to my skills. Now I know as a fact that having a job means you could build your own identity especially when you feel secured and find a place that encourages you to bring out the best in yourself."
Abdullah Alghamdi, EFE-Saudi CEO, added: "We are very pleased to partner with the Citi Foundation to bring this effort to Saudi Arabia to enable Saudi youth reach their potential and compete in growing sectors and contribute to Saudi vision 2030. We look forward to the continuous partnership between EFE-Saudi and the Citi Foundation. The skills that Saudi youth acquired in this program are based on the proven model that has enabled the EFE Network to connect over 100,000 graduates to the world of work in nine countries across the Middle East and North Africa. This work has become more important than ever due to the changing landscape due to COVID-19"
 The "Workplace Readiness" program is designed to highlight various aspects of the employment search journey and includes modules on effective communication, emotional intelligence, time management and interpersonal skills to meet Saudi employer expectations and overcome the challenges of adjusting to the work environment. With COVID-19, a digital skills component was also introduced to equip youth with 21 century skills.," explains Amr Abdallah, Director of Gulf Programs at EFE-Global. 
The activities in Saudi Arabia is part of a regional Citi-EFE Global partnership in alignment with the Citi Foundation's Pathways to Progress global approach that prepares youth with career readiness skills and opportunities to thrive in today's economy. Now entering its seventh year, the Citi-EFE Global partnership provides training and economic opportunities to unemployed youth in Morocco, Tunisia, and, for the second time, in Saudi Arabia and the UAE. In 2020 alone, the partnership will impact 650 youth, nearly doubling the impact achieved in the partnership's first five years. Beyond providing direct program support to EFE, the Citi Foundation has played a unique and crucial role in enhancing the efficacy of the EFE Network by supporting EFE's systems and outreach.