News
Trending
Delivery Hero and Mastercard forge largest partnership  
The deal to transform the digital payments and financial services landscape for 20 million consumers, riders and restaurants in MENA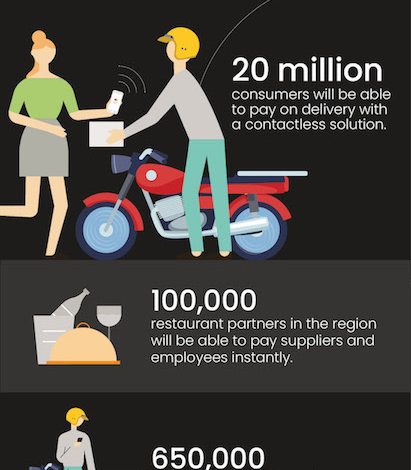 Follow Asdaf News on

Riyadh –
:
Delivery Hero SE, the world's leading local delivery platform, has partnered with Mastercard to fully digitize its payment chain within its ecosystem across all their brands in the Middle East and North Africa (MENA). By enabling secure digital payments, this will lead to superior consumer experience and financial security for consumers, riders and restaurants, spearheading growth of digital inclusion across the region and additionally drive operational efficiencies across Delivery Hero's platforms.
Operating in the region with brands including talabat, Hungerstation and Zomato, the global food network will leverage Mastercard's expertise as a preferred technology provider to drive digital transformation for consumers, delivery riders and restaurant partners. The initiative spans the UAE, Saudi Arabia (KSA), Qatar, Kuwait, Oman, Bahrain, Jordan and Egypt through brands including talabat, HungerStation, Zomato.
For over 20 million consumers who order food online through Delivery Hero's apps, the partnership means being able to pay on delivery with a contactless solution in addition to having the option of paying through a digital wallet for their food orders. The wallet solution will enable consumers to make secure digital payments for orders and bring in a range of additional exciting rewards and offers. The outbreak of COVID-19 has increased the importance of digital payments significantly. Within the first half year of 2020, the share of orders paid online grew by over 40% in MEA.
The partnership will see the launch of a virtual card solution, through which over 650,000 delivery riders in the region will be able to receive instant access to their earnings, through their mobile devices, providing near real-time earnings disbursements for the first time. The riders will be able to make everyday purchases in store and online, as well as enjoy additional unprecedented access to financial services and lifestyle discounts.
Additionally, over 100,000 restaurant partners in the MENA region will be able to quickly and securely settle payments of orders through Delivery Hero's regional brands. The restaurants will also be able to make supplier purchases, pay employee salaries and transfer payments. The solution will displace the need for cash and deliver a faster and secure way to pay within their value chain. The transformation towards digital financial services also plays a crucial role in supporting local businesses and accelerating their recovery from COVID-19.
"Our strategic partnership with Delivery Hero is a remarkable milestone, as we collaborate to transform numerous pillars of their ecosystem into digital. For Mastercard, this means consumers and business owners being able to pay safely and securely, delivery riders receiving access to financial services for the first time, thus driving greater financial inclusion and innovation across the region. As a trusted payments technology provider, we are committed to enabling our partners in their digital transformation journey and boosting the digital economy," said Amnah Ajmal, Executive Vice-President for Market Development, MEA, Mastercard.
Orkhan Abdullayev, Vice President Fintech, Delivery Hero, said: "At Delivery Hero, innovation is part of our DNA. Our Fintech team is constantly pushing industry standards to drive our ambition to deliver amazing experiences to our customers, restaurants and riders. Working alongside a strong and reliable partner like Mastercard in our MENA region ensures that we can shape the future of Fintech together."