News
Trending
AbbVie recognized as the best pharmaceutical company to work for in Saudi Arabia for the 6th consecutive year
AbbVie has repeatedly won this accolade since it began operations in the Kingdom six years ago.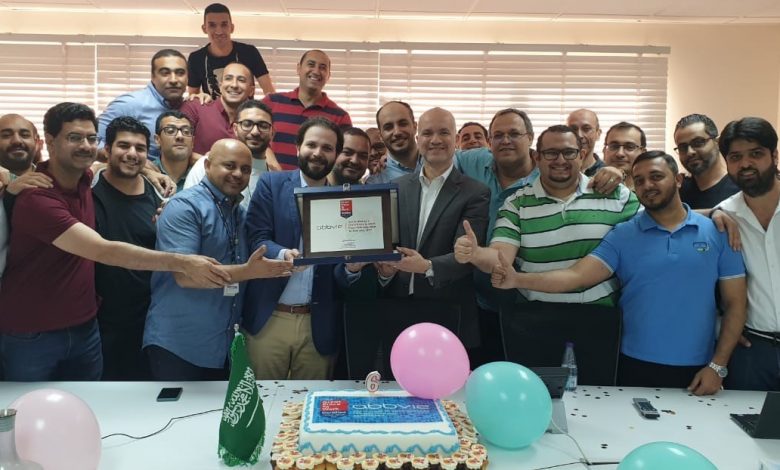 Follow Asdaf News on

Newsgate360 – Riyadh: AbbVie, a research-based global biopharmaceutical company, has today announced that it has been declared the top pharmaceutical company to work for in Saudi Arabia by Great Place to Work® for the 6th consecutive year.
Ashraf Daoud, general manager of AbbVie in Saudi Arabia, said, "Being recognized by Great Place to Work for six consecutive years is truly unprecedented and a shining example of the amazing group of exceptional people we have at AbbVie. I am incredibly grateful to be able to work alongside a team of dedicated professionals who tirelessly work together with a spirit of collaboration, mutual respect, enthusiasm, and who inspire and encourage each other every day to make a remarkable impact on people's lives, even when faced with the current pandemic. This prestigious award gives us even more motivation and resolve to elevate our work standards, focus on core priorities of instilling a healthy, high-performing workplace culture and environment, as well as developing local talent throughout 2020 and beyond."
As a global leader in the biopharmaceuticals industry, AbbVie has a broad portfolio of market leading medicines for the treatment of the world's most complex and serious diseases.
Khaled Fageha, human resources director at AbbVie, commented, "At AbbVie, we aim to create a thriving workplace culture by engaging with our employees in the most meaningful ways. We are always looking at the best ways to build upon our work environment to inspire innovation, personal development, inclusion and collaboration. By guaranteeing our employees are motivated, satisfied and happy in the workplace, they are more engaged which, ultimately, benefits their performance and increases employee retention."
AbbVie is playing a major role in upskilling local Saudi talent in order to inspire them to join the private pharmaceutical sector, highlighting its support towards the Government's localization goals and this has been seen a rise in the percentage of Saudi nationals across various functions in the pharmaceutical industry, AbbVie's on-going efforts in this area is supporting the Kingdom's goals to upskill current and aspiring Saudi pharmacists, as outlined in Vision 2030,"
"The rate of Saudization at AbbVie has increased by 30% over the past 2 years, especially in the product specialist role, which reached up to 70% of the current workforce working in this role," said Khaled Fageha. "Inspiring women to work in various fields across the pharmaceutical sector is a top priority at AbbVie and already we are seeing this bear fruit following an increase of 25% in female employment during the past year."
Enas Al-Mohammadi, a Saudi pharmacist who was recently hired as a product specialist after AbbVie's annual training program, said: "AbbVie boasts a dynamic and positive working culture, and it has been a terrific experience being part of a global pharmaceutical company. I have continued to learn and grow during my time here, and I am extremely proud to be able to help the lives of patients in our local Saudi community, especially during the pandemic."
Employee testimonials
Farooq Saeed said "I have been at AbbVie since it started here in the Kingdom six years ago. It is always enjoyable coming to work each day because of the incredible team spirit at the office, and everyone is encouraged to reach their full potential."
Ahmed Ghobara said: "I love that giving back to communities is a big part of our culture at AbbVie. AbbVie always puts its communities first. We are encouraged to take the time out of our busy days to volunteer and make a real difference in people's lives."
"At AbbVie, everyone is supportive of one another; we really feel like family! The management at AbbVie provide us with opportunities to learn new skills and build upon our capabilities. Since joining AbbVie, my career has significantly progressed." said Ahmed Baqazi