News
Trending
Two decades of the Hyundai Santa Fe: Evolution of an Automotive Icon
Significant enhancements to this iconic model are coming soon, including new electrified powertrain variants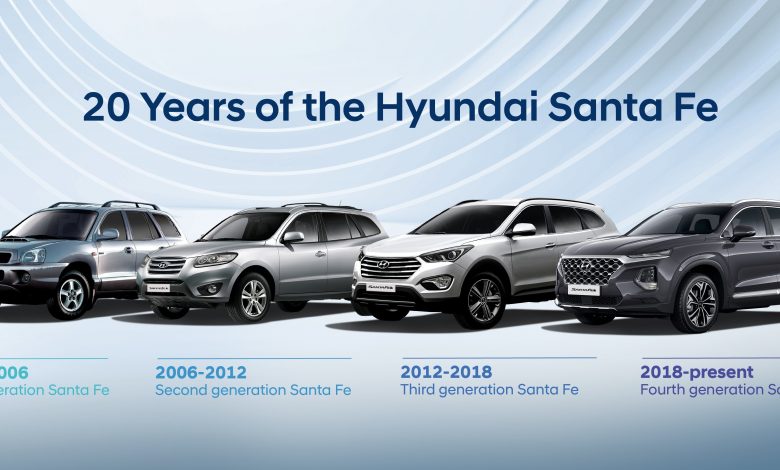 Follow Asdaf News on

Newsgate360 – Dubai: Hyundai Motor is celebrating the 20th anniversary of the launch of Santa Fe, the popular car which helped position the company as one of the pioneers in the global SUV market. Since its launch in the year 2000, the Santa Fe has become an icon for the brand, and Hyundai is taking a look back at how its first SUV has evolved over the years.
Having entered dealerships in the Middle East and Africa (MEA) markets in 2012, Santa Fe is now in its fourth generation having undergone significant evolution in its design, safety and technology over the years, often leading the way as a flagship for new features. This summer, Hyundai will launch an enhanced version of the current generation with new electrified powertrains and major design updates.
Following its launch two decades years ago, Santa Fe quickly became one of Hyundai's most popular models. Named after a city in the South western U.S., it was the company's first SUV, and played an important role in establishing Hyundai in the SUV segment. The Santa Fe has its own logo showing the model name and a sun, while its name has been carried over to future generations, continuing its heritage.  Over the past 20 years, Hyundai has sold more than 5,260,000 units of Santa Fe globally with over 167,000 units being sold in MEA.  Bang Sun Jeong, Hyundai's Vice President of Middle East and Africa said: "The Santa Fe was Hyundai's first SUV, and it is one of our longest-running model lines, making it a key model not only globally, but also in MEA" Santa Fe has won a few accolades over the years in the region including the "Best Mid-Size Family SUV 2019" by PR Arabia National Auto Award 2018/2019. Jeong added: "For Hyundai it is an automotive icon which continues to evolve in terms of design, technology, roominess and comfort. With this latest evolution, Santa Fe maintains its status as a flagship model in our broad SUV portfolio, and further underlines our heritage in SUVs while also moving the game forward with its innovation and electrification."
First-generation Santa Fe (2000-2006): the original best-seller
Hyundai introduced the Santa Fe to European audiences for the first time at the 2000 Geneva Motor Show. In 2001, not long after the first model was produced Hyundai had to ramp up production due to the overwhelming demand in the US.
In 2003, in response to customer demand for even more driving performance, Hyundai upgraded Santa Fe with a more powerful engine and a computer-controlled four-wheel drive system.
Second-generation Santa Fe (2006-2012): more power, more space, and an updated safety system
The second-generation Santa Fe was launched at the North American International Motor Show in January 2006. It featured a new 2.2-liter diesel-powered engine and an updated 2.7-liter gasoline-powered V6. The second-generation Santa Fe offered a series of extensive safety upgrades, which continued Hyundai's leadership in standardising the industry's most effective technologies. Electronic Stability Control (ESC), an anti-lock braking system (ABS), side-curtain airbags for all seating rows, a tyre pressure monitor, and active front head restraints now came as standard..
Third-generation Santa Fe (2012-2018): enhanced safety and improved connectivity
The third-generation Santa Fe was a big step forward for Hyundai, as it offered even greater comfort and quality, re-tuned engines and improved efficiency. It also boasted a refreshed unibody crossover platform.  Hyundai reinforced its commitment to providing its customers with class-leading safety features which included a premium braking package, which contained four-wheel disc brakes, an Anti-Lock Braking System (ABS) including Brake Assist and Electronic Brake-force Distribution (EBD).
Fourth-generation Santa Fe (2018-present): SmartSense safety features and a bold new design
Building on the success of its previous generations, in 2018 Hyundai introduced the fourth-generation Santa Fe. Its premium feeling is illustrated by its prestigious appearance, while it is equipped with the most advanced technology as well as best-in-class safety features and exceptional roominess.
Equipped with Hyundai's latest SmartSense technology, the fourth-generation Santa Fe is among the safest in its class, and it received the maximum five-star safety rating from Euro NCAP.
It also offers Hyundai's in-house developed and industry-first Rear Occupant Alert, which uses an ultrasonic sensor to detect the movement of children or pets on the rear seat and alert the driver when leaving the car.
Another safety feature is Rear Cross-Traffic Collision-Avoidance Assist, which scans a 180-degree area behind the vehicle, warning the driver and applying the brakes if necessary to avoid collisions.
The All-New Santa Fe features HTRAC, Hyundai's advanced four-wheel drive system with an enhanced torque application depending on wheel grip and the speed of vehicle. The continuing improvements the Santa Fe has undergone over the past two decades demonstrate Hyundai's commitment to developing quality products with the latest features for its customers. Further details on the enhanced fourth generation will be revealed in the near future.