News
Trending
Twitter celebrates 90 #SaudiNationalDay
The Saudi flag emoji was Tweeted 27 million times since last September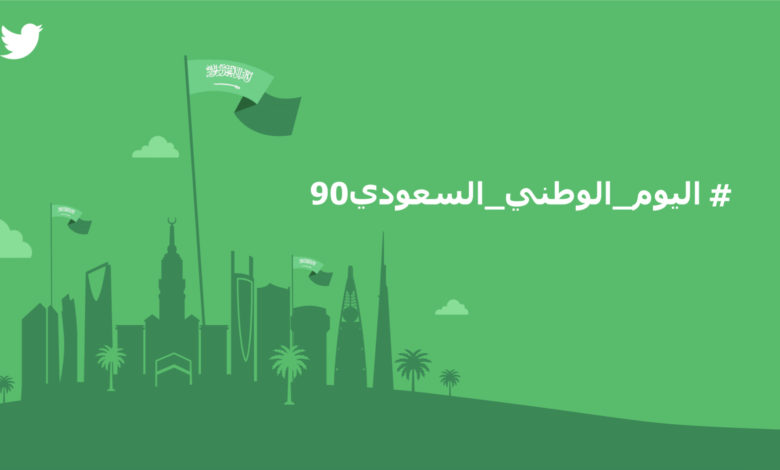 Follow Asdaf News on

Riyadh –


:
One of the highlights of Saudi Arabia's social calendar, #SaudiNationalDay is synonymous with country-wide celebrations of the country's culture, heritage and achievements. To mark the annual milestone, people also take to Twitter to share their excitement. In fact, the Saudi flag emoji was Tweeted 27 million times worldwide since last September.
With current circumstances changing the way people celebrate, and in light of the Kingdom's 90th celebration, Twitter launched a 90 minute trivia quiz via its account in the region; @TwitterMENA. Launched the evening before Saudi National Day under the hashtag 90اليوم_الوطني_السعودي#, the virtual celebration challenged people on their knowledge about the Kingdom, from historical moments and culinary arts, to hidden gems and sporting prowess.
https://twitter.com/TwitterMENA/status/130845143248872653
Twitter teamed up with a series of Saudi experts, covering a wide range of sectors, including travel, food, history, entertainment, education and sports. The experts, which included Abdullah Al Jumah (@AAlJumah), Abdulaziz Alyami (@azeez000a), Dr. Bandar Alghamiz (@BAlghmaiz), Bader Al Fouzan (@B_alfouzan), Malk Alsulaimy (@ARCH1993), and Abdulelah Alfares (@AbdulelahAlfars), also supported the campaign by sharing hints and insights about the topics.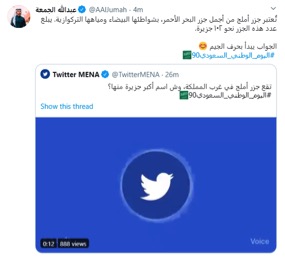 https://twitter.com/AAlJumah/status/1308458037695451136
https://twitter.com/azeez000a/status/1308466269742665728
https://twitter.com/BAlghmaiz/status/1308469192744730625
In addition, Twitter has created an emoji of the Saudi flag that is triggered whenever the following hashtags are Tweeted throughout the month of September:
اليوم_الوطني_السعودي#
2020اليوم_الوطني_السعودي#
90اليوم_الوطني_السعودي#
السعودية#
#SaudiNationalDay
#SaudiNationalDay2020
#SaudiNationalDay90
A dedicated event page in both Arabic and English will also be launched, providing people with real-time updates on activities, including videos and Moments (collections of Tweets). The event page will be accessible through either the Twitter Explore section or on top of people's timelines, for those who already engage with the #SaudiNationalDay's content on Twitter. Alternatively, people can find the page by typing 'Saudi National Day'' or 'اليوم الوطني السعودي' in Twitter 'search'.