Variety
Trending
The Assembly Takes Over the Jameel Arts Centre for Two Weeks
From October 30 to November 16, 2020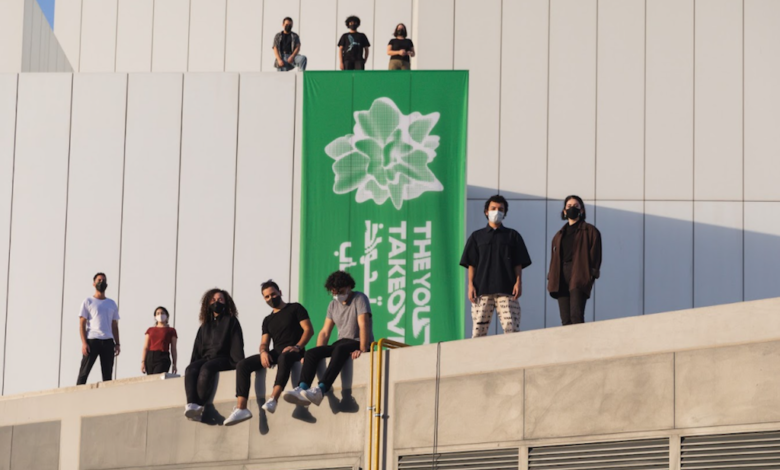 Follow Asdaf News on

Dubai –


:
We, The Assembly, a collective of UAE-based artists and creatives (aged 18-24) announce that the youth are taking over the Jameel Arts Centre for two weeks, starting October 30, 2020. Over the past year we've developed ideas around our chosen theme of 'Reassigning Value', and selected and curated works by our peers – we're now ready to invite the public to come to the Jameel to see our exhibitions and engage with us via a series of virtual and real lifeevents, workshops and performances. Our theme is timely: we are exploring ways in which we are re-interpreting values across disciplines and reimagining the ever-changing complexities of our environment(s).
We — Aliyah Alawadhi, Ashay Bhave, Saad Boujane, Tala Khalil, Dina Khatib, Mohammad Mhaisen, Arthur de Oliveira, Daniel H. Rey and Tasnim Tinawi — commit today and through this Takeover to presenting original programming by and for the UAE youth, working with and under the guidance of Art Jameel. We believe that the works selected to be shown at the Jameel Arts Centre, side by side with their ongoing exhibitions, are part of a collective breakthrough; a recalibration of what it means to move and act in the world, maintain identity and shoulder adversity. We believe that in the face of informational and obligational overload, coupled with a downgrade in mobility, these works and our actions will describe our extended mental and sensory faculties, and the ways in which we are adapting to an accelerated, rapidly-maturing concept of responsibility.
This year, against all odds and challenges, we worked together to curate and produce immersive installations and site-specific works by 25 upcoming UAE-based artists and creatives. We created several activations featuring commissioned artists from the emerging local and regional milieu, and encapsulated our work in our blog Verticals.
The moment you enter the Jameel Arts Centre, you will experience works that respond to 9 curatorial prompts, in all corners of the Jameel, around it, outside it – in corridors, staircases and in-between spaces.
Our newly-commissioned installations intermingle with existing exhibitions, sharing space with Lawrence Abu Hamdan, Taysir Batniji, Lubna Chowdhary, Maryam Al Dabbagh, Hassan Khan, Michael Rakowitz, Larissa Sansour, and Conrad Shawcross.
We encourage you, frequent and new followers of the Jameel Arts Centre, in addition to our fellow students, creatives and aspiring change-makers, to experience this Takeover in all its forms, both physically at the Jameel, and online through our extensive public programme.
 We intend to sing the courage in our work, and vow to magnify our role as members of the bold youth that will instigate change. The Influence of our form and colour now becomes clear. A green building, a green screen and a much greener future.
-The Assembly
Interventions: Throughout the Centre, and for two weeks, visitors will have the opportunity to enjoy digital, audiovisual and artwork interventions and works by: Hassana Arif, Ahmad Geaissa & Boula Rami, Simran Gvalani & Kristina Kiseleva, Mohamed Khalid, , Khawla Al Marzooqi, Jad Moura, Malaika Munshi, , Talal Al Najjar, Gopika Praveen, Zuhoor Al Sayegh, Sree, Luis Carlos Soto Ruiz, Sari Al Taher, UT-R Studio, Mariam Alzayani & Nasser Alzayani.
The interventions include the works, created by artists and creatives, and each commissioned/curated by members of the Assembly; 'self-commissions' are by the Assembly members themselves.
When at the Jameel, visitors are encouraged to scan the QR codes next to each intervention for further information on the artists and the works displayed.
The Assembly also curated an online public programme comprising workshops, talks and panel discussions.
Overview of Public Programming:
All the details of our activations are available on the Jameel Arts Centre's website, the Jameel Arts Centre's Instagram account:
Multimedia Designer Dina Khatib commissioned Nasser Alzayani and Mariam Alzayani for Objective Memory, a free-writing workshop conducted in pairs of family members that aims to produce a continuous narrative exchange, negotiating both Episodic and Object memory.
Curator Daniel H. Rey commissioned artist Sree for We ART what we EAT. Or not? , inviting attendees to explore a kitchen ingredient as an object of artmaking and research.
Artist and writer Aliyah Alawadhi examines 'radical softness' and the tenets of personal and communal-well being in Adaptation and Self Care. She commissioned winner Nadim Choufi, Art Jameel Commissions: Digital , for the lecture-performance. The last time I looked at the stars, I felt the colors radiating inside me
Filmmaker and poet Arthur de Oliveira will lead the Uncreative Writing Workshop, inviting participants to interpret one of the Takeover's curatorial prompts through poetry.
Artist Zuhoor Al Sayegh will guide participants through a multi-sensorial online experience with a piece of textile in Text and Textile: I dreamt I wove a lilac sky.