Technology
Trending
Siemens Healthineers presents solutions supporting digital transformation of healthcare at Arab Health 2020
Atellica Solution laboratory system enables simplified workflows and easy capacity expansion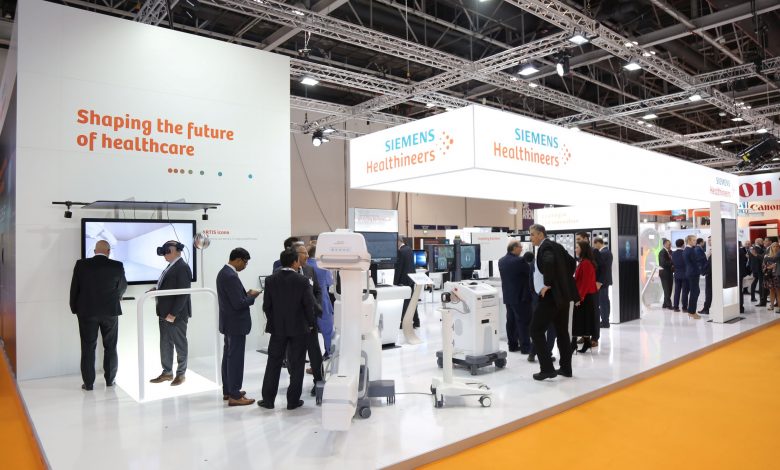 Follow Asdaf News on

Somatom X.cite CT scanner and its revolutionary user guidance system myExam Companion automatically adapt scanner protocols in line with patient data
Newsgate360 – Dubai: CT scanners with intelligent user guidance, AI-based software assistants for MRI and a lab system that revolutionizes workflows: Siemens Healthineers is showcasing its products and solutions according to the motto "Shaping the Future of Healthcare" at this year's Arab Health (January 27 – 30, 2020) in Dubai, UAE, focusing on digital transformation of imaging and laboratory testing while improving patient experience.
"The whole healthcare industry and provider landscape is going through a transformation that's being driven by digitalization and data-based clinical decision making: While the number of connected devices is growing exponentially, only a fraction of the acquired data is structured and qualified for further use and analysis. Therein lies a tremendous opportunity to tap into this unused data pool and create new insights and value. Our digital fingerprint and AI portfolio brings us together with our customers in a great position to benefit from these long-term trends to enhance the entire healthcare landscape and to provide benefit to the patient. With a portfolio of more than 45 AI-driven offerings powering our leading imaging, image-guided therapy and in-vitro diagnostics technologies combined with our long-standing presence in the Near and Middle East and in Africa, Siemens Healthineers is in an excellent position to become the trusted digitalization partner for the entire region",says Bernd Ohnesorge, President Europe, Middle East and Africa at Siemens Healthineers.
New Somatom X.cite CT scanner with revolutionary user guidance system
For the first time at Arab Health, Siemens Healthineers showcases the single-source CT scanner Somatom X.cite – the first CT scanner with the new intelligent user guidance system myExam Companion, which automatically adapts scanner protocols in line with patient data and guides users of all levels of experience through more sophisticated exams and helps them achieve consistent diagnostic results.
AI-based assistants for magnetic resonance imaging
To free radiologists from the burden of time-consuming routine tasks and improve quality of care during magnetic resonance imaging examinations of the brain and prostate, Siemens Healthineers has designed two brand-new software assistants based on artificial intelligence.
Cost-effective premium medical imaging services with Acuson Redwood
The Ultrasound system Acuson Redwood meets the growing demand for cost-effective premium medical imaging services.
Angiography systems that expand the reach of precision medicine
For the first time at Arab Health, Siemens Healthineers presents Artis icono, its latest family of high-precision angiography systems. Artis icono permits a wide range of minimally invasive procedures to be performed in a single interventional suite.
Atellica Solution can address current challenges and evolve as the laboratory grows
As labs focus on reducing cost burdens while meeting increasing testing demands, they need solutions that are flexible to adapt as their needs change. The lab system Atellica Solution can address both current challenges and evolve as the laboratory grows. Laboratories can use the platform to simplify test workflows and expand their capacities for testing patient samples with its modular design.
3rd party training sessions in PEPconnect
PEPconnect (Personalized Education Plan), an online platform providing thousands of learning modules on imaging and laboratory diagnostics, now offers access to additional education content to meet the holistic needs of the healthcare professional. With flexible technology, now everyone from the institution to the individual can have access to education in a single space, including product focused, clinical, and beyond.