News
Trending
Red Sea Mall opens its doors and resumes business again
The mall adopts the strictest measures to ensure the safety of its workers and visitors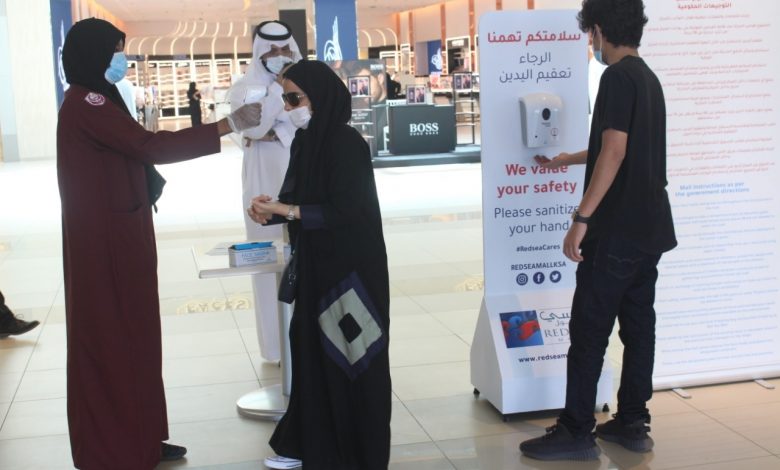 Follow Asdaf News on

Newsgate360 – Jeddah: The Red Sea Mall has reopened its doors for visitors and shoppers after the period of temporary lockdown due to the spread of the Covid-19 pandemic. This comes after the center has launched an all-out disinfection campaign affecting all its premises and facilities by a specialized company that followed the highest sanitization techniques according to the best international practices. This step comes in line with the Saudi Government's decision to allow shopping malls to resume business under stringent safety directives, while the Red Sea Mall's management has determined the opening hours of the center between 10:00 AM and 4:00 PM.
Red Sea Mall has been keen on following all procedures and preventive measures while receiving visitors, as the body temperature is measured for each new comer at the entrances of the Mall, in addition to requiring employees and visitors alike to wear masks and gloves during their presence inside the mall and sterilizing their hands at the entrance, as the Mall has deployed various hand sanitizers throughout the Center.
Furthermore, and in compliance with the Government's instructions, the Red Sea Mall will abide by a 30% capacity cap within the Center and in all the public spaces, as well as shops and stores. The Red Sea Mall's management has urged visitors to comply with the social distancing measures determined by two meters from other shoppers at all times, while following special instructions explained through the signage deployed in all the Mall premises to ensure everyone is abiding by the safe distancing requirements.
On another note, the management has required from the different outlets to encourage the adoption of smart payment methods (credit and debit cards) to avoid physical contact between employees and shoppers especially that the bank notes can carry many germs and can be an important source of infection.
In addition to that, the Red Sea Mall has spread a lot of awareness messages throughout the Center's premises to ensure that every person present at the Mall has the necessary knowledge about the prevention and safety measures to protect themselves and others from spreading the virus.
The Red Sea Mall reiterates its keenness on protecting the health of employees and visitors while working on applying all required measures related to safety and hygiene, thus ensuring a safe shopping experience to all its customers.