Variety
Trending
PepsiCo and SWMC sign MOU to enhance environmental sustainability in Saudi Arabia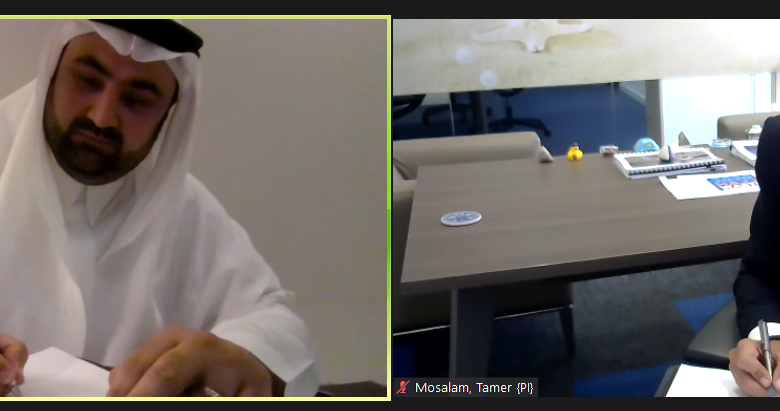 Follow Asdaf News on

Riyadh –
:
PepsiCo and the Saudi Waste Management Center (SWMC) have signed a MOU to launch a strategic partnership that will enhance sustainability in the Kingdom. The MOU highlights the two parties' role in promoting sustainability policies based on international best practices to support a circular economy. The agreement was signed by Dr. Abdullah F. Al Sebaei, CEO and Board Member of Saudi Waste Management Center, and Tamer Mosalam, Vice President, General Manager GCC and Levant Business Unit, at PepsiCo.
The first sustainability project in the partnership will see Aquafina (the brand of purified bottled water produced by PepsiCo) and the Saudi Waste Management Center introduce innovative solutions to facilitate a more environmentally friendly Hajj. To do this, the two parties will provide customized smart bins especially built for the event around Makkah's holy sites. The smart bins can segregate, and crush plastic bottles to minimize plastic waste. The machines will also operate through solar power and reduce carbon footprint.
Additionally, an Aquafina recycling awareness campaign will encourage pilgrims to actively participate in making sustainable choices. The results of the project will help inform and guide future projects in next year's Hajj when the Kingdom will once again welcome back millions of pilgrims to the Kingdom.
To produce the smart bins, PepsiCo continues to steadfastly deliver on its commitment to support small and medium enterprises (SMEs) during COVID-19. The company is working with Cycled to deliver customizable Aquafina-branded smart bins for this year's Hajj.
On this occasion, CEO of Saudi Waste Management Center Dr. Abdullah F. Al Sebaei praised the partnership. He said, "Our partnership with PepsiCo gives us an opportunity to generate more awareness on the importance of sustainable waste collection and develop a pro-active culture of recycling."
At the same time, Al Sebaei confirmed that the partnership is the first in a series of partnerships for Saudi Waste Management Center that are launching soon, all with the objective of enhancing the private sector's involvement in driving environmental awareness and developing innovative solutions to enable sustainability.
Vice President, General Manager GCC and Levant Business Unit, at PepsiCo, Tamer Mosalam said, "We are grateful for the opportunity to partner with the Ministry of Environment, Water and Agriculture, represented by Saudi National Waste Management Center. Hajj is a special moment for millions of people around the globe, and we are privileged to play a vital role in making a positive environmental impact at the event. The partnership is a key milestone for us as it marks PepsiCo's commitment to supporting vital sustainability projects in the Kingdom in line of Vision 2030."
The strategic vision of partnership aims to develop Saudi Arabia's circular economy through multiple initiatives based on four pillars: plastic collection and recycling projects, educational school activities, awareness campaigns and event sponsorship with associated activation. With multiple projects planned for each pillar over the next year, efforts by PepsiCo and the Saudi Waste Management Center will also contribute to Saudi Arabia's own environmental sustainability objectives as part of Vision 2030, which sets out to improve the efficiency of waste management, establishing recycling projects and reducing pollution.
A commitment to sustainability remains high on PepsiCo's agenda. The company's brand of purified bottled water Aquafina, headlined activities to advance recycling as an official partner of both the 2019 ABB FIA Formula E Championship in Diriyah, and the 2020 Dakar Rally in Saudi Arabia.
Globally, PepsiCo's sustainability goal is to ensure that no plastic goes to waste by leading the way in pioneering sound environmental practices and innovations in packaging. As part of PepsiCo's Winning with Purpose strategy, the company aims to reduce virgin plastic content across its beverage business, increase recycled content in its plastics packaging so that recycling rates are consistently improving.