News
Trending
People Analytics Summit discuss impact on businesses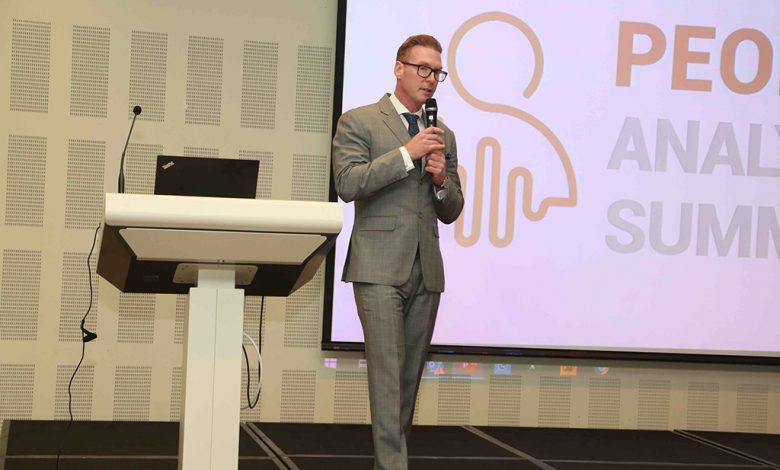 Follow Asdaf News on

Newsgate360 – Riyadh – The 3rd Annual People Analytics Summit took place recently in Riyadh and drew more than 50 of the most influential HR leaders from 35 entities.
The summit hosted a panel discussion featuring, Ahmed Aloula CBO Thiqah and Ahmed Al Humoud CHRO Extra, where intriguing insights were shared.
Alper Kulak Partner Maven Insights and Solutions said: "People analytics can enrich what we know about the employees and it can certainly help us to forecast the future on where we might land if we implement certain initiatives."
  
"The very first step of initiating people analytics in the organization is to identify what you have to fix in the talent related challenges." Kulak concluded
Richard Phelps Founder of Human times talked about the global trends in People Analytics and the major industry challenges and how these trends affect organizations in Saudi Arabia and the MENA region.
 Ibrahim Al Amer Deputy Minister for Shared Services, Ministry of Commerce and Investments talked about the significant ways people analytics might help organizations to achieve business goals and said: "Data has become the most important aspect in deciding directions of the business. HR departments have to step up and take that responsibility and develop reports that would help top management to take right decisions."
"Having the HR system and skilled people in analytics will build a baseline to initiate people analytics journey." Al Amer added
Ross Sparkman Head of Workforce Planning at LinkedIn explained how are global tech companies adapting to job market changes with the rise of People Analytics and how People Analytics is being used to make decisions on the macro and micro levels.
Steve Taylor Global Head of People Analytics at Deutsche Bank spoke about how senior management in Deutsche Bank recognized the need to establish a people analytics function in the organization and the main stages of establishing such function and its positive impact on the overall organization.
Anand Nigam Managing Director & Partner of 4SiGHT focused on how employee engagement has been at the core of HR strategies for the past 3 decades. And how companies generate insights and action plans by utilizing employee engagement surveys.
 
On how vision 2030 is encouraging organization to take analytics to the next level Phelps said: "It is very clear for me that vision 2030 is all about giving more performance and more engagement through people which is going to deliver on objectives of Vision 2030. People Analytics will help organizations to measure and to work out what they need to do people to get that performance.
  
Ahmad Al Jrad CHRO Saudi post: said: "I believe data analytics is a mindset and HR data is the key and critical input to the decision makers that affects not only the people but also the organization."
 
Abdullah al Yahyan People Analytics Director STC said: "Utilizing people analytics and predictive modeling on employee data will help to reduce costs and enhance productivity."
 
Al Humoud said: "In the absence of people analytics, we could lose lots of opportunities. In the future I feel that people analytics will create major shift in the mindset of the HR community." 
 
The one-day summit highlighted thought-provoking discussion and relationship-building. 
Maven Insights and Solutions organized the summit, in partnership with Gulf Elite, 4SiGHT, Esad Talent and Human Times.
---