News
Trending
Nissan KSA Unveils the New 2020 Sunny in an Unprecedented Virtual Launch
Guests experienced a 360-degree interactive virtual venue show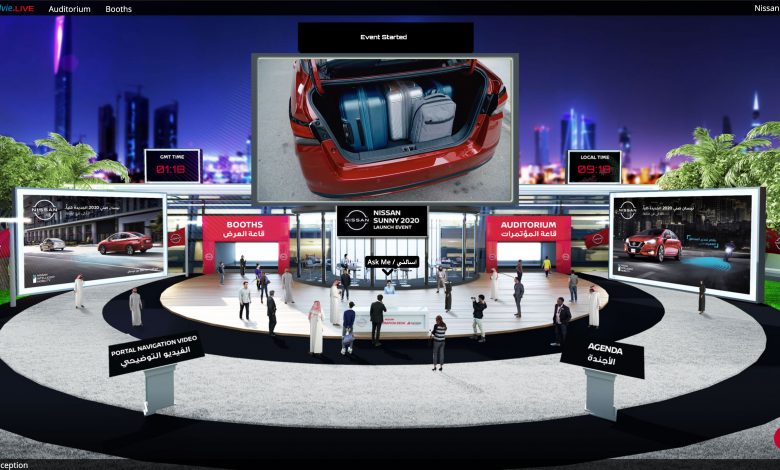 Follow Asdaf News on

Jeddah –
:
Nissan Saudi Arabia launched their brand new 2020 Sunny in an unparalleled virtual venue experience, as part of embracing digitization as the way forward in the Nissan Next approach. The company provided an exciting show and gave guests the freedom and flexibility to roam about the many areas of the virtual venue platform, as they would in an actual venue.
The launch took place in the virtual sphere, and the platform encompassed several interactive elements, from an auditorium where the live event was broadcast, to specialized booths, a reception desk and even a chatroom for Q&A and engagement with the audience. The event was hosted by Nissan KSA Managing Director, Bader El Houssami and General Manager of Corporate Communications, Hatoon Bushnaq, and Engineer Anees Jamjoom, Executive Vice President at Mohammad Yousuf Naghi Group, owners of Manahil International and Nissan KSA's specialized dealer in the Kingdom. Engineer Anees Jamjoom said a few words at the event, expressing his delight at launching the redefined Sunny in addition to the current generation of Sunny (Classic) across Manahil's network of clients and dealers in the Kingdom.
Commenting on the success of the virtual launch event, Bader El Houssami, Managing Director of Nissan Saudi Arabia, said: "We are proud to once again be setting the benchmark for creativity and innovation in the automotive sector in Saudi Arabia, by being the first to host a comprehensive digitally integrated virtual launch experience. The Nissan Next approach is now embedded into the identity of Nissan Saudi Arabia, as we continuously elevate our services through digitization in every aspect of our business, including our new car launches. The reimagined new 2020 Sunny is the first of many examples of how Nissan Saudi Arabia will continue redefining mobility innovation".
The launch of the new 2020 Nissan Sunny is the first of 8 new planned model launches in the Africa, Middle East and India region that were announced in Nissan's Africa, Middle East, and India Mid-Term Business Plan over the next 2 years. The new Nissan logo was also revealed for the first time at the local launch event. The redefined 2020 Sunny is consistent with the futuristic design approach taken with all upcoming launches and models in the region, as is in the DNA of the Nissan Next approach. The new Sunny features technology that keeps customers a step ahead, with Nissan Intelligent Mobility that helps keep customers safe and connects them to their world like never before.