News
Trending
Ithra Reveals Ana Mohafeth Campaign for 90th Saudi National Day
Ithra, hosts 'Identity…Country', a panel discussion open to the public on September 23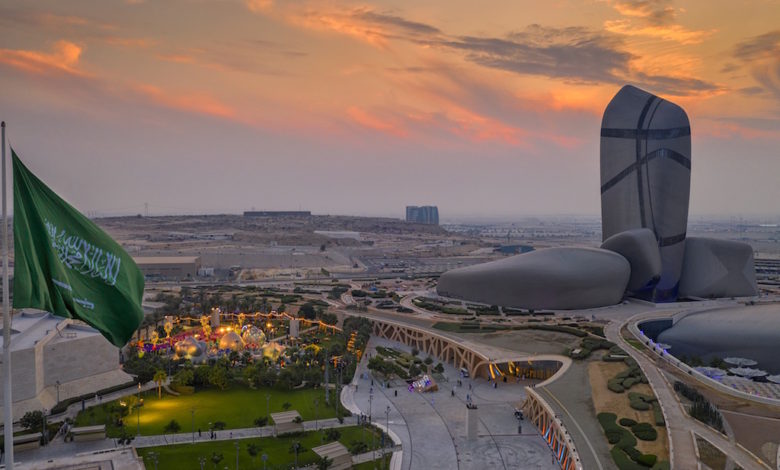 Follow Asdaf News on

DHAHRAN –


:
Ithra, the King Abdulaziz Center for World Culture, celebrates Saudi Arabia's 90th National Day on September 23, 2020, with Ana Mohafeth, a new campaign sparking conversation around the country.
Ana Mohafeth, which translates to I'm Conservative, is a dynamic conversation-starting campaign featuring images representative of modernity presented in settings more traditionally associated with the Kingdom of Saudi Arabia. This juxtaposition highlights the impact of globalization on the country's unique culture.
The campaign generated discussion on social media platforms on the perception of modernization within the Saudi context, and the role identity plays in the Kingdom's development. It culminates in a panel discussion on September 23 on what determines our identity and language, and how that relates to a global identity. Tariq Alkhawaji, the head of Ithra's Library, will host Dr. Saeed Al Surayhi and Dr. Abdullah Al Washimi in the majlis between academics, think tanks and representatives of the youth and media. Members of the public are invited to join the conversation via a live Zoom conference (http://ithra.zoom.us/j/82724775655). They can also submit questions during the session.
Embracing a new way of thinking reflects the country's ambitious Vision 2030 goals, in which Ithra plays a key role. Created as a creative and cultural destination aiming to ignite cultural curiosity, explore knowledge and inspire creativity, the Center is excited to foster debate around the Kingdom's national identity. "Change is constant, and it is a pursuit Saudi Arabia is currently engaged with on an unprecedented scale," said Hussain Hanbazazah, Director of Ithra. "There is a palpable sense of excitement as the Kingdom opens up to the rest of the world, sharing its rich culture far beyond its borders. But as the country embraces the next stage in its evolution, does it risk losing its unique national identity? This is a question we are grappling with on a national level, and Ithra is excited to be initiating this discussion on our platform as well as participating in the debate as part of our National Day activities.
"Cultural exchange is essential, and it forms part of Ithra's strategic objectives. We have to balance the need to preserve our national way of life with the risk of homogenization and contributing to the broader international dialogue," he said.
The Center offers a range of events as part of its 90th Saudi National Day celebrations, including the Kingdom of Cultures Exhibit, which takes visitors through Saudi Arabia's varied landscapes to meet its diverse people and experience its rich cultural legacy and will run for 90 days.
For more information on Ithra's regular programs and special National Day events, visit www.ithra.com.