News
It Looks Like Pete Buttigieg Has Caught Up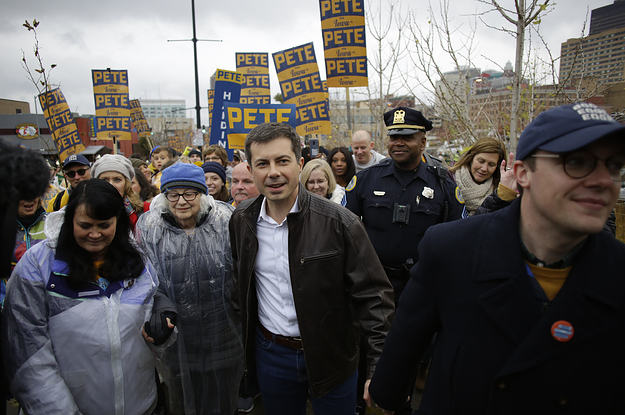 Follow Asdaf News on

DES MOINES — Pete Buttigieg marched a throng of supporters — a group that started with more than 2,000, said one local police official — through the rainy streets of downtown Des Moines and into Wells Fargo Arena on Friday for Democrats' biggest political event of the season.
On the way, they passed the city's convention center, where Joe Biden addressed a much smaller crowd inside a ballroom that was at least a quarter empty before he led them to the Liberty & Justice Celebration over an enclosed bridge connected to the arena.
It was like that this weekend in the first caucus state: Buttigieg going one way, Biden another.
The 37-year-old mayor of South Bend, Indiana, has acknowledged he needs to lure moderate and independent voters away from the 76-year-old former vice president to have any chance at being their party's nominee for president. Biden was the polling leader in Iowa from this spring through the summer, with Buttigieg more often than not a distant fourth.
Most recent Iowa polling now shows a shift. A New York Times/Siena College survey that landed hours before Friday's event showed Buttigieg edging Biden for third, but in a tight four-way race with Sens. Elizabeth Warren of Massachusetts and Bernie Sanders of Vermont.
Buttigieg advisers spent the days leading up to the Liberty & Justice gala — known as the LJ, formerly known as the Jefferson-Jackson Dinner, and remembered for how it propelled Barack Obama in 2007 — building hype that their candidate would have an Obama moment. Buttigieg's crowds showed a strong organization, both in Iowa and nationally, as many supporters came from elsewhere for the pre-LJ festivities. A Buttigieg spokesperson told BuzzFeed News the campaign did not organize the out-of-state travel and only gave LJ tickets to Iowans and some headquarters staff.
"We are seeing enthusiasm for Pete continue to grow throughout Iowa, and that was no more evident than this weekend in Des Moines," the spokesperson, Chris Meagher, said via email. "Thousands of Iowans joined us at our pre-dinner rally, at the LJ dinner. And hundreds more joined us for a volunteer voter summit Saturday. On stage Friday, Pete was the only candidate Friday who delivered a speech with a big, sweeping vision about an aspirational America."
Harold Schaitberger, president of the International Association of Firefighters and a key Biden ally, discounted Buttigieg as a threat to Biden, comparing him to Kamala Harris, the California senator who briefly surged in polls over the summer but now is scaling back her campaign.
"I mean, I recognize that right now — and I mean this with the greatest respect — he's the flavor of the moment," Schaitberger told reporters Saturday in Cedar Rapids, where Biden and Buttigieg spoke at a fish fry for Rep. Abby Finkenauer. "We've had other flavors of the moment, you know? And some of them have shut down their New Hampshire operations."