Variety
Trending
Hyatt and Tourism Development Fund Collaboration
Creating Destinations in Saudi Arabia with a Focus on Hospitality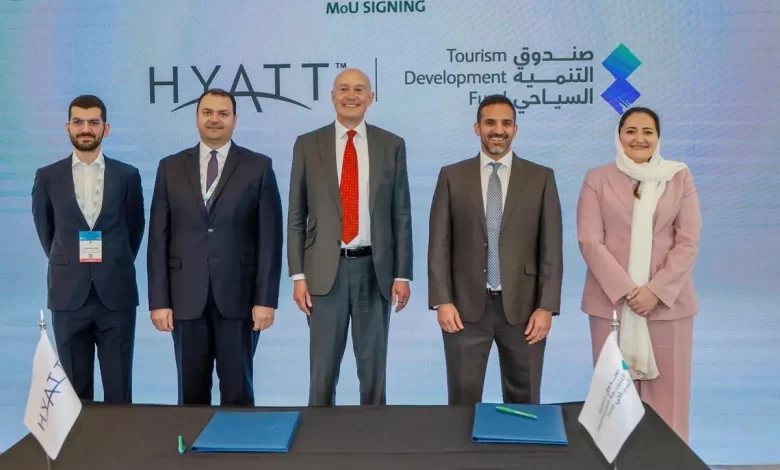 Follow Asdaf News on

Riyadh – Asdaf News:
The Tourism Development Fund (TDF) has announced the signing of a Memorandum of Understanding with a subsidiary of Hyatt Hotels Corporation to develop upscale hotels throughout the Kingdom of Saudi Arabia, adding to its list of partners.
The partnership intends to create a number of locations driven by hospitality that will improve Saudi Arabia's tourist product. These locations might include resorts on the beach or in the city, as well as lodges in the mountains, the desert, or on farms. The current trademarks of Hyatt, such as Alila Resorts, which provide a true wellness destination experience, or other Hyatt brands, such as Park Hyatt, Hyatt Centric, Grand Hyatt, and any others that the parties mutually agree upon, will be used for the development of these new properties.
The development of these hotels would be part of the Kingdom's National Tourism Strategy and in line with Saudi Vision 2030.
CEO of the Tourism Development Fund Qusai Al-Fakhri, said, "We are joining forces with many legacy brands in the tourism, hospitality, and business travel segments as we continue to thoughtfully expand our roster of collaborators. This collaboration with Hyatt will help us to attract tourists and ensure that they receive a comfortable, high-quality experience in the Kingdom's top tourism destinations."
Hyatt has one of the world's largest portfolios of hotels and resorts, focused on the high-end travellers in each segment that it serves, and is continually growing its brand footprint. It has established an industry-leading luxury, lifestyle, and leisure portfolio across Europe, the Middle East, and Africa, which is significantly contributing to its global expansion.
Regional Vice President, Development – Middle East and Africa at Hyatt Ludwig Bouldoukian, said, "Saudi Arabia is the largest emerging market in the Middle East and has made significant advances across sectors to springboard its economy. The country has been recognized as one of the world's fastest growing tourism destinations and we see this as a great opportunity to expand Hyatt's brand footprint while providing exquisite service and care to local and international high-end travellers."
Since 2020, a year after Saudi Arabia opened its doors to international tourists, TDF has been the primary vehicle for promoting tourism investment in the country, with the objective of attracting one hundred million tourists by 2030. The fund intends to provide financial resources and expertise to entrepreneurs worldwide looking to invest in the ten key destinations across Saudi Arabia that offer huge prospects across the tourism value chain.