Life Style
Technology
Trending
HUAWEI WATCH GT 2e – Your Perfect Health Companion While Staying at Home
Pre order starting from the 23rd of April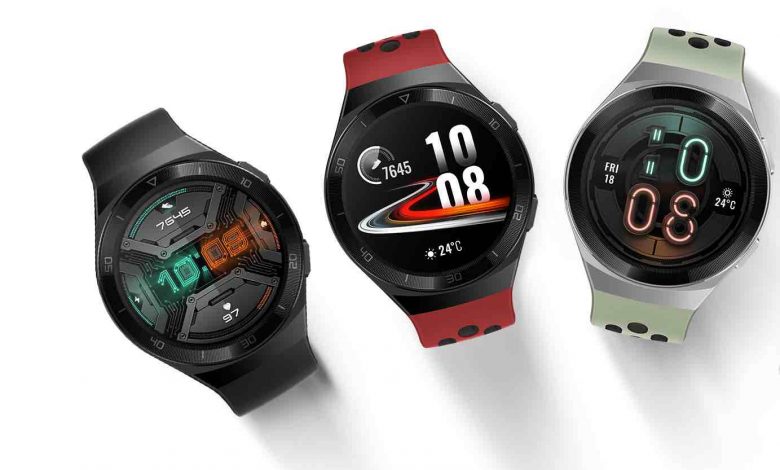 Follow Asdaf News on

Newsgate360 – Riyadh: Staying at home is a time to cherish your family ties, explore some of your untouched passions, but most importantly keeping track and taking good care of yourself – health wise. You don't really need a gym or a personal trainer for staying in shape. The HUAWEI WATCH GT 2e is no ordinary smart watch, equipped with a battery that can last for 2-weeks on the go, a 1.39-inch AMOLED display with a stainless steel body in addition to numerous workout modes and many health-tracking features.
Long-life Battery – Up To 2 weeks!
Sometimes when we wear smartwatches, we often forget they need to be charged. With HUAWEI WATCH GT 2e when you are working-out and have it paired with a Bluetooth speaker blasting your favourite workout jams you will have peace of mind knowing the battery can sustain long work-out sessions, thanks to the Kirin A1 chip that comes with the watch. Huawei's first self-developed chipset for wearable products, which ensures low-power computing to maintain battery life for up to 2weeks.
Functional with a Sporty Look
The only thing better than a smartwatch is a functional and stylish smartwatch! HUAWEI WATCH GT 2e comes with 1.39-inch AMOLED display coated with a stainless steel body for a stylish touch and it features an integrated strap for a more streamlined, functional, modern and sporty look. So whether you are running on your treadmill or squatting HUAWEI WATCH GT 2e will always be fitted and nicely wrapped around your wrist.
Do not Lose Track of all your Workouts
We often link working-out with gyms and outdoors and unconsciously abandon the fact that we can stay fit and healthy while being at home. HUAWEI WATCH GT 2e has the ability to track a wide range of physical activities including 15 professional workout modes, both indoor and outdoor, and 85 custom workouts in categories such as extreme, leisure, aquatics, fitness, ball games, winter sports, rock climbing, parkour, skateboarding, surfing, tennis, baseball and even aerobic exercises such as "b-boying" and breakdancing. It can also detect six different workouts, including outdoor running, outdoor walking, indoor walking, indoor running, elliptical and rower automatically. Regardless of the type of workout, you do in your home HUAWEI Watch GT 2e will track it all, and send you a comprehensive analysis along with tips on how to improve – this watch truly has you covered!
Keeping Tabs on the Status of your Health
Staying at home: Some of us eat more, some eat less, some sleep more, some sleep less. One thing is for sure, sticking to your normal pattern is going to be quite a challenge. However, it doesn't really have to be a difficult challenge, because the HUAWEI WATCH GT 2e health monitoring features will give you peace of mind, it will also alert you if you're abnormally doing something more or less.
The new self-developed TruSeenTM 3.5 heart rate monitoring technology, accurate heart rate is tracked and combined with AI smart heart rate algorithm, for accurate and fast heart rate monitoring. This works in real-time 24 hours a day and even alerts when the heart rate is too high or too low for more than 10 minutes.
Sleeping well is also important. The HUAWEI TruSleepTM 2.0 technology helps to measure your sleep quality ensuring you had a good night's sleep. Your sleep quality is measured by real-time heart rate tracking, breathing during sleep and big data analytics, which is then compiled into eight sleep quality reports with item analysis, including sleep duration at night, deep sleep proportion, light sleep proportion, rapid eye movement sleep, deep sleep duration, and also provides suggestions about improving sleep quality.
HUAWEI TruRelaxTM technology also provides 24/7 pressure monitoring, which allows to maintain a relaxed state of mind at all times, complete with breathing exercises to calm you down. The HUAWEI Watch GT 2e is also capable of monitoring blood oxygen saturation (SpO2) levels. These levels indicate concentration of oxygen in your blood.
All your Tunes on your Wrist
The HUAWEI Watch GT 2e has a large storage that can save up to 500 songs. So wherever you are or whatever you may be doing your favourite track is just a touch away! This smartwatch also supports music control, so you don't have to pick up your phone during workout. Switch songs, adjust the volume and even select a playback mode, such as Play in order, Shuffle, Repeat track, and Repeat list.
 Swim or Bath with the HUAWEI WATCH GT 2e
Swimming is very good if you truly want to keep in shape, assuming you have a swimming pool at home. There is no need removing your watch before diving in, because the HUAWEI Watch GT 2e has a 5ATM water resistance and will function perfectly fine after your swim. It will also track how well you swim and how many calories you burn during swimming.
With HUAWEI WATCH GT 2e at your disposal, you can rest assured your fitness levels and health status are followed properly and reported promptly.
 Availability and Price
HUAWEI WATCH GT 2e will be available for pre order in Saudi Arabia starting from April 23rd at a price of 599 SAR with a valuable gift includes HUAWEI Smart Scale and HUAWEI Sport Headphones Lite at Huawei E-shop, and several authorized retailers (online) in Saudi Arabia.