News
Trending
HONEYWELL, SAUDIA AEROSPACE ENGINEERING INDUSTRIES LEAD THE WAY IN MIDDLE EAST AIRCRAFT MAINTENANCE
Honeywell demonstrates continued commitment to Saudi Vision 2030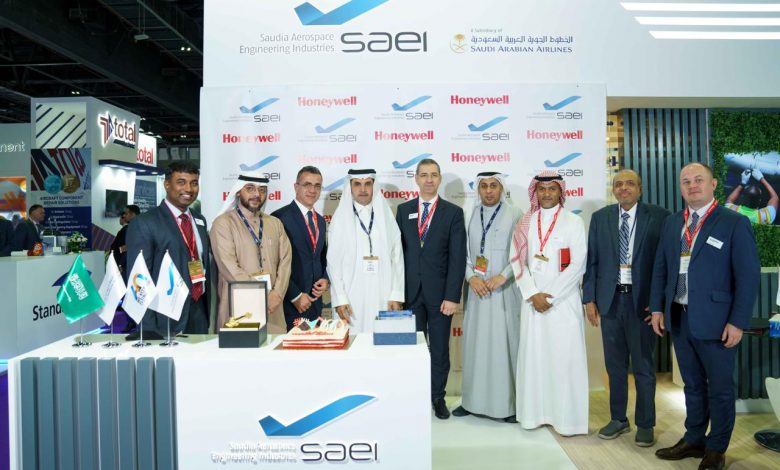 Follow Asdaf News on

Newsgate360 – Jeddah: Saudia Aerospace Engineering Industries (SAEI), a Honeywell (NYSE: HON) certified service centre, has completed more than 100 auxiliary power unit (APU) repairs from its Jet Propulsion Center in Jeddah, Saudi Arabia. SAEI is the only Honeywell certified service centre in the Middle East region that provides maintenance, repair and overhaul (MRO) services on Honeywell's GTCP 331-500 and 331-350 APU models.
With SAEI, Boeing B777 and Airbus A330 operations with Honeywell APUs receive MRO services in the Middle East. This means that the operators do not have to leave the region for repairs, which helps to eliminate logistical inconvenience, reduces downtime, saves costs and improves operational efficiency.
This capability strongly positions SAEI in achieving the Saudi Vision 2030, part of which aims to localize more than 50 percent of military equipment spending by 2030 and includes covering MRO services for fixed and rotary-wing military aircraft.
Honeywell is the largest global manufacturer of gas turbine engines. Its first APU took to the skies in 1950, and the company has built more than 100,000 since. More than 36,000 are in service today across more than 150 regional, executive, commercial and military applications, including both fixed wing and rotary wing.
SAEI began its collaboration with Honeywell in 2013 as part of Saudia Group's SV2020 Transformation Strategy, which aims to elevate the company's business units into leading organizations by 2020. With completion of over 100 APU repairs, SAEI has met its business objectives set under SV2020 Transformation Strategy and has renewed focus to realize Saudi Vision 2030.
You can learn more about Honeywell's and SAEI's maintenance solutions for APUs at the MRO Middle East 2020 conference, taking place at the Dubai World Trade Centre February 25-26. Please visit Saudi Aerospace Engineering Industries at booth #1200 or Honeywell at booth #6.