Technology
Trending
HCT & Oracle Partner To Train Students in AI & Emerging Technologies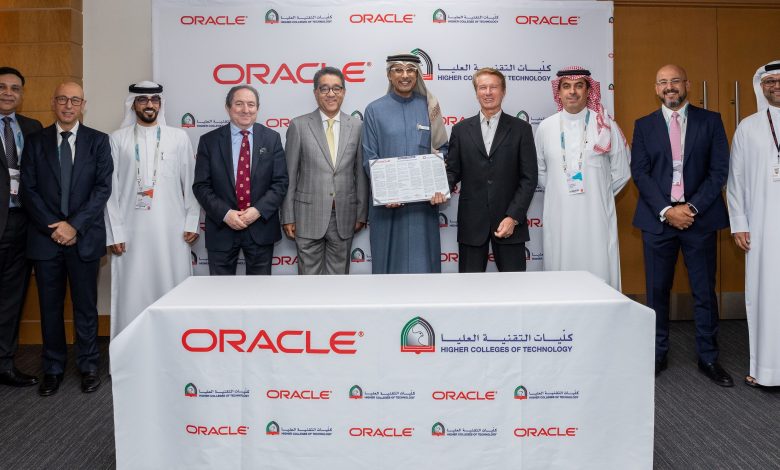 Follow Asdaf News on

Newsgate360 – DUBAI: The Higher Colleges of Technology (HCT), the UAE's largest applied higher education institution, will partner with Oracle in a ground-breaking initiative, to educate and train students in the field of Artificial Intelligence ("AI") and emerging technologies, after a Memorandum of Understanding was signed by the parties.
The agreement was signed by Dr. Abdullatif Al Shamsi, HCT President & CEO in the presence of Dr. Mohammed Baka, CEO of the Centre of Applied Research and Training (CERT), Mr. Arun Khehar, Senior Vice President – Business Applications, Middle East, Africa and India, and Mr. Abdul Rahman Al Thehaiban, Senior Vice President, Technology for ORACLE in the Middle East and Africa.
Dr. Abdullatif Al Shamsi, HCT President and CEO, said the agreement aims to enhance cooperation with Oracle, which is at the forefront of AI and emerging technologies, and complements previous, successful MoUs between HCT/CERT and Oracle which saw 500 Emirati students across HCT campuses trained in emerging technologies including AI, Machine Learning, Blockchain and Internet of Things (IoT).
He added that Oracle will become a Technology Partner for the "AI Skills Academy" and impart training to government sector employees in innovation technologies, as well as facilitate boot camps for 1,000 HCT students during the term of the agreement.
Dr. Al Shamsi affirmed HCT's keenness to benefit from Oracle's support in this strategic AI Skills Academy initiative, which he said is aimed at advancing the UAE's digital transformation strategies and creating innovative work environments, in line with the UAE Artificial Intelligence strategy and the UAE Centennial 2071.
As part of the agreement students will also receive training on key solutions and technologies, in addition to Blockchain and the Internet of Things, in line with the HCT endeavors to empower "Technical Leaders" and "Graduating Companies".
Dr. Mohammed Baka, CEO of the Centre of Applied Research and Training (CERT) – the commercial and training arm of HCT – said he was pleased with the collaboration, which will significantly contribute to the advancement of digital transformation strategies, by implementing innovative technologies relevant to the 4th Industrial Revolution.
"The digital economy is here and it is imperative to start training our next gen workforce in latest cloud technologies for them to succeed in a hyper connected environment", said Abdul Rahman Al Thehaiban, Senior Vice President, Technology – MEA and CEE. "At Oracle, we are committed to support the UAE Government achieve its strategic socio-economic vision with latest cloud led digital technologies. Oracle has already trained 500 Emirati students across HCT campuses and with this initiative we are now extending our learning program to the UAE Government employees for supporting the country's e-governance vision."