Variety
Trending
Ginger Chicken Masala
From Indian Cuisine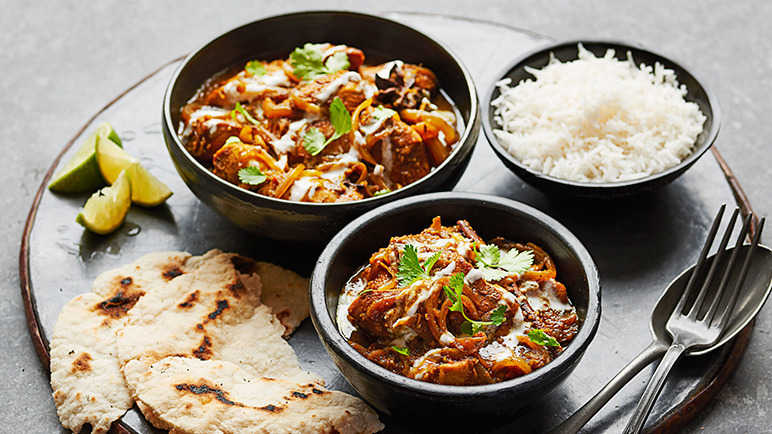 Follow Asdaf News on

Indian cuisine is known almost everywhere; in Arab region, Europe, The United States and Asia. It is known for its diversity, use of spices and chili pepper.
The Indian cuisine ranges from one region to another across India.
It is an old cuisine that goes back 8000 years ago and gained its popularity through the years.
The Indian cuisine main spices are cumin, turmeric, coriander, cardamom, black cardamom, curry leaves, cinnamon, black mustard seeds, fenugreek and chili pepper. In addition to rice, whole-wheat flour, legumes and pulses.
Today we will present one of the famous Indian dishes:
Ginger Chicken Masala
Ingredients
4 chicken breasts cut into cubes
4 tbsp finely chopped ginger
4 curry leaves
1 tsp salt
4 tsp grated coconut
3 tsp cumin seeds
100 gm finely chopped onion
1 tsp red chili powder
50 ml vegetable oil
1 tsp black pepper
1 tsp fennel seeds
How to Make
– Mix and grind black pepper, cumin seeds, fennel seeds and grated coconut with little water to make a smooth paste.
– Heat oil and sauté the onions till they turn slightly golden; add the curry leaves, ginger, red chili powder and salt.
– Now add chicken pieces and the ground masala paste, add 2 cups of water and simmer until the chicken is cooked.
– To serve; garnish chicken with fresh coriander leaves and present with rice or chapatti (a kind of flat bread).