Technology
Trending
Acer Enhances its Spin Series with New Slimmer Designs and Adds Ultraslim Notebooks to its Swift Series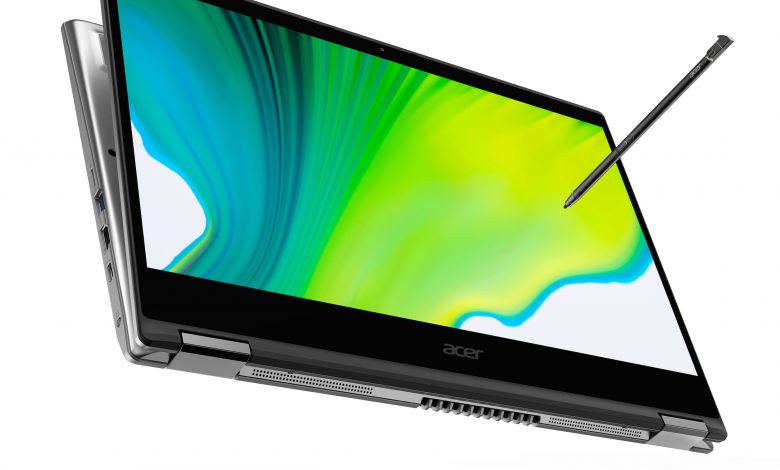 Follow Asdaf News on

Newsgate360 – Dubai: Acer debuted the new Spin 5and Spin 3 in its popular convertible notebook as well as Swift 3 models in its ultra-portable notebook series. Professionals and students will appreciate the flexible design of the Spin series that allows them to effortlessly sketch, take notes, create content and give presentations throughout their day, all with one easy twist. The new Swift 3 series make a perfect companion for people who work on the go, with sleek metal chassis, high screen-to-body ratio and long-lasting batteries.
"The new Acer Spin 5 and Spin 3 are excellent choices for anyone looking for a single system that can handle work, school, entertainment and their hobbies," said James Lin, General Manager, Commercial & Detachable Notebooks, IT Products Business, Acer Inc. "The combination of thinner and lighter form factors, thin-bezel touch displays and the latest in Active Stylus technology make the new Spin 5 and Spin 3 convertibles the ideal choices for anyone who wants to get a lot done in a variety of modes."

Spin 5 and Spin 3
The new Spin 5 and Spin 3 feature slimmer designs that make their convertible form factors more enjoyable to use with four usage modes: tablet, notebook, display or tent. Durable 360-degree hinges allow smooth transitions between modes, so professionals and students can effortlessly change tasks. An optional backlit keyboard extends productivity to low-light environments.
Measuring only 0.59 inches (14.9 mm) thin, the Spin 5 (SP513-54N) features an eye-catching 13.5-inch 2K touch display surrounded by slim bezels that are only 7.78 mm narrow, giving it an 80% screen-to-body ratio. Plus, the Spin 5's magnesium aluminum chassis and palm rest make it durable and lightweight — only 2.65 lbs (1.2 kg).
Offering a large 14-inch Full HD display, the new Spin 3 (SP314-54N) has a traditional 16:9 aspect ratio and thin 7.82 mm bezels that provide a 78% screen-to-body ratio. Weighing 3.31 pounds (1.5 kg) and measuring 0.67 inches (16.9 mm) thin, the sleek and stylish aluminum chassis fits comfortably into a brief case or book bag.
Both the Spin 5 and Spin 3 come standard with a fast-charging Acer Active Stylus using Wacom AES (active electrostatic) 1.0 technology that gives users a fast and accurate writing experience. The AES technology replicates actual ink and paper with 4096 pressure levels, so writing, drawing and all pen interactions are precise and realistic.
Powered by up to latest 10th Gen Intel® Core™ processors, the Acer Spin 5 and Spin 3 deliver solid performance up to 15 hours1 for the Spin 5 and up to 12 hours for the Spin 31. Both new Spin models support fast-charging, providing up to 4 hours of use, on just a 30-minute charge.
Super-fast dual-band Intel® Wi-Fi 6 (Gig+) AX201 (802.11ax) connects at speeds up to 3 times faster than 802.11ac and offers improved connectivity, particularly in device-dense areas such as workplaces, airports and homes.
Acer Swift 3 (SF313-52/G), A Powerhouse for Productivity On the Go
Measuring in at 0.63 inches (15.95 mm) thin and 2.62 pounds (1.19 kg), cased in an elegant metal chassis, the Swift 3 (SF313-52/G) is easy to slip in a bag and travel with. It features a narrow-bezel display that offers a high 83.65% screen-to-body ratio and the screen's 3:2 aspect ratio gives 18% more room, in the form of vertical height, to read on. Further enhancing the display which supports 100% of the sRGB color space, Acer Color Intelligence™ and Acer ExaColor technology bring images and videos to life with eye-popping colors on the 13.5-inch screen.
Co-engineered with Intel as part of Intel's innovation program codenamed "Project Athena," the Swift 3 (SF313-52/G) passed rigorous testing to achieve the program's experience targets and hardware specifications, ensuring it consistently delivers the responsiveness, instant wake, and battery life that ambitious people need to focus from anywhere.
The Swift 3 (SF313-52/G) comes with up to 10th Gen Intel® Core™ i7-1065G7 processors, the latest NVIDIA® graphics, and a long-lasting battery that offers users up to 16 hours of productivity. It also supports fast-charging, providing up to 4 hours of use on just a 30-minute charge. An illuminated keyboard2 lets users keep typing in dark environments, and the notebook supports Wake On Voice (WoV), enabling users' interaction with Cortana while the device is in Modern Standby mode.
Acer Swift 3 (SF314-42), Featuring Next Generation AMD Ryzen Processors
The 14-inch Acer Swift 3 (SF314-42) is a modern device that seeks to strike a balance between style, power, and efficiency. The latest generation is just 2.6 lbs (1.2 kg) light and 0.65 inches (16.55 mm) thin and comes in a lightweight metal chassis. The screen features a high screen-to-body ratio with ultra-narrow bezels.
In addition to its stylish design, AMD Ryzen™ 4000 series processors bring disruptive performance powered by innovative 7 nm process technology and "Zen 2" core architecture. The Wi-Fi 6 (802.11ax) and up to a 512 GB PCle SSD help everything on the device run lightning-fast.
The Swift 3 (SF314-42) also supports secure and fast logins via Windows Hello, and Wake on Voice, allowing users to interact with Cortana when the screen is off.
Price and Availability
The Acer Spin 5 will be available in EMEA in April, starting at EUR 999.-.
The Acer Spin 3 will be available in EMEA in February, starting at EUR 649.
The Acer Swift 3 will be available in EMEA in February, starting at EUR 699.
The Acer Swift 3 [SF314-42] is available in in UAE, starting at AED 2,000
Exact specifications, prices, and availability will vary by region. To learn more about availability, product specifications and prices in specific markets, please contact your nearest Acer office via www.acer.com.