Technology
Trending
1 Million SAR Sales Reached in 30 minutes Huawei Announces the Big Success of the "Huawei Summer Carnival"
The First Interactive Digital Event for Consumers in the Kingdom of Saudi Arabia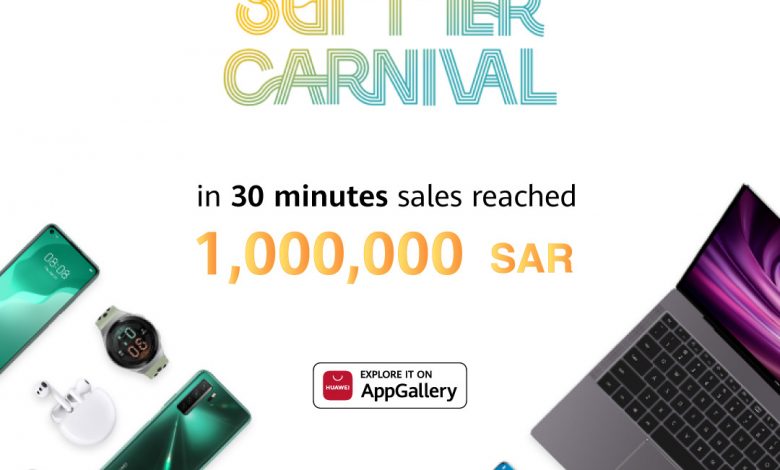 Follow Asdaf News on

Riyadh –
:
As Blessed Eid Al-Adha approaches, the best way to make the most of this time is to stay in touch and enjoy the latest Huawei products.
As part of its commitment to engaging with local consumers and providing new experiences, Huawei Tech Investment Saudi Arabia Company brought its first online Stream "Huawei Summer Carnival" in Saudi Arabia. Where the stream was broadcast on the official Huawei Arab channel on YouTube and on the account of Huawei on Twitter and Facebook at 9 pm on Sunday, July 19, where Huawei gave the opportunity to the consumers during the stream to take advantage of the wonderful offers, which included discounts of up to 80% for a limited time period, Special discounts, free prizes and more.
"This first of its kind "Carnival" event in Saudi Arabia is part of Huawei's commitment to provide consumers in the country access to the most innovative technologies and products at amazing prices", said Mr. Bill Yu, Vice President, Huawei Tech Investment Saudi Arabia Company. He added: " At Huawei, customer satisfaction and loyalty are at the forefront of all that we have to offer. We are delighted that our consumers participated in our first ever online sale event on Monday evening. We held this online sale event to support our users during these challenging times with unprecedented discounts reaching up to 80% off".
Mr. Yu continued: "By reaching a record of 1 Million SAR in sales in only the first 30 minutes, this is a true testament to how popular online events are becoming with consumers. Not only did shoppers receive offers on products and personal usage, but they were able to do so from the comfort of their homes".
While consumers were able to take advantage of the amazing offers and deals while they were in their homes, they could also interact with the broadcast guest, their favourite Tech blogger – Tech Expert Abdullah Alsabe.
During HUAWEI Summer Carnival stream, KSA consumers were be able to enjoy:
Mega special discounts every 10 minutes Including the king of phones HUAWEI P40 Pro and the HUAWEI Sound X Speaker at a price of 1299 SAR instead of 6198 SAR and many other products included in the fast and flash discounts.
Free prizes every 10 minutes: During the broadcast, several viewers who participated using the Summer Carnival hashtag on YouTube, Twitter, and Facebook were able to win many devices.
Extra discount on the prices of the current discounted devices, which lasts until midnight of July 20.