News
Technology
Trending
Twitter's new Topics browser launches in Arabic
Those whose Twitter language settings are in Arabic will now be able to follow Arabic Topics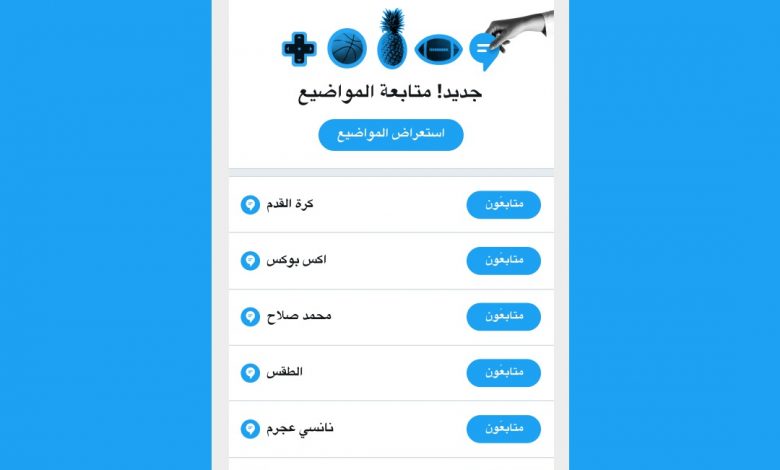 Follow Asdaf News on

Newsgate360 – Riyadh: Three months ago, Twitter launched Topics to make it easier to find the most interesting conversations happening on Twitter about the things people love. People can now follow conversations about a topic similar to how they'd follow an account with one single tap.
Today, the Topics selector is launching in Arabic, Japanese, Korean, Portuguese and Spanish in addition to English. This allows people to go into the Topics tab and select Topics to follow based on the language settings of their Twitter application.. Topics that are currently in Arabic include sports (football, tennis, wrestling, combat sports), music (genres, musicians), actors, gaming among others.
 How Topics are chosen
Right now, there are roughly 1,000 Topics that can be followed via the Topic browser, which will then show people Tweets about those Topics in their Home timeline. And Twitter is adding new Topics almost every week.
Twitter adds new Topics based on the volume and health of conversations happening on Twitter. It starts by looking at the volume of conversation on Twitter: how much people are Tweeting, Retweeting, replying, and liking Tweets about that Topic. The more conversation, the more likely it will be evaluated for inclusion in its next batch of available Topics. Topics reflect the broader, lasting conversations people have about the events, people, and things they discuss. Once Twitter has identified a new Topic, it then shifts its focus to identifying the most relevant Tweets.
Finding the most relevant Tweets on a Topic
To find the most relevant Tweets, Twitter starts by identifying the people on the platform who are most interested in a given Topic using machine learning. This could mean they Tweet a lot about the Topic or interact a lot with Tweets about the Topic. From there, Twitter finds the Tweets that are most interesting to those people, using additional algorithms that look at many signals from those fan accounts including what types of content they engage with or specific accounts that are most relevant. Its systems check to confirm these Tweets are relevant to the Topic by looking at a series of related keywords.
Keeping Topics healthy
A healthy conversation about Topics is one where people want and feel safe to participate. Twitter has implemented a number of protections so that the conversations included in a Topic should be healthy and free from abuse. This includes working to not recommend Tweets for a Topic if the engagement is manipulated or spammy. Twitter looks at a number of underlying signals, including how others interact with both the Tweet and the author — things like reports, blocks, and whether people have dismissed similar recommendations by clicking "show less often" or muting closely-related keywords. These are just some of the signals it uses when ranking and filtering the group of Tweets until it has a set it is confident recommending for that Topic. For clarity: Tweets that criticize, satirize, or disagree within a Topic are a natural part of a healthy conversation and are eligible for inclusion. These protections are on top of all of the health protections Twitter has already put in place for other parts of the platform.
In addition to the processes described above, there are quality assurance checks with a globally distributed team of people to confirm Topics are accurately highlighting relevant and healthy conversations. If Topics are unfollowed frequently or Tweets within Topics are reported often, these could be signals that those Topic Tweets might not be pertinent and healthy. If this is happening, Twitter may pause the Topic temporarily.
Personalizing Topics
When someone follows a Topic, the Tweets they see about that Topic in their timeline are personalized. Their past activity — like their Tweets and Tweets they've liked, replied to, or Retweeted — are used to identify the Tweets they'll find most interesting. Also, if they engage more with one Topic, like Dogs, versus another Topic, like Cats, Twitter will show them more of the Dog Topic.
In order to keep tweaking its systems to make Topics better, people can give feedback on Topic Tweets by tapping the down arrow on the Tweet and choosing "Show less often."