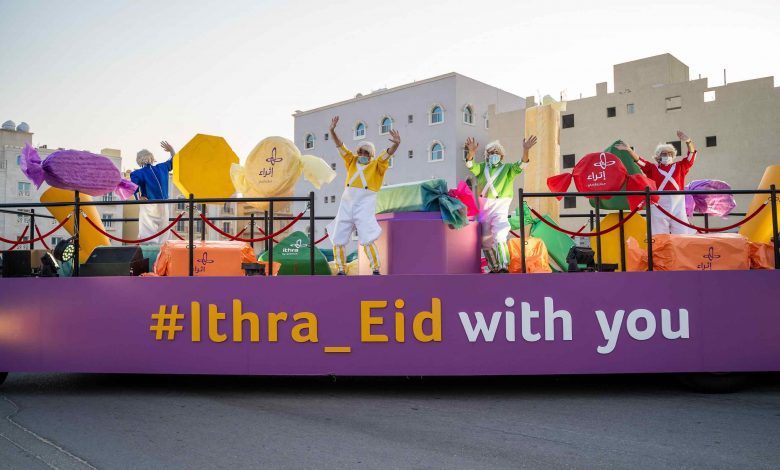 Follow Asdaf News on

Newsgate360 – Riyadh: Ithra by Aramco – Saudi Arabia's leading culture and creative center – brought joy to thousands of families spending Eid Al Fitr isolated in lockdown by taking a colourful parade to the streets of five cities in the Eastern Province (Khobar, Dammam, Dhahran, Qatif and Sihat), reaching over 20,000 homes and 100,000 residents in 32 districts of the Eastern Province.
Eid, which celebrates the end of Ramadan and a month of fasting, is usually marked with gatherings of family and friends, plus prayers and acts of charity. However, COVID-19 and social distancing interrupted traditional celebrations and called for creative ways to make the occasion special.
This year the team at Ithra – a subsidiary of Saudi Aramco – decided to take the annual Muslim festival to the people, organizing a celebratory parade that families could enjoy together but from the safety of their own homes and doorsteps.
The parade featured colorfully decorated wagons carrying bands, musicians and fun performers, including traditional Arabic songs and dances. For four nights this week it weaved through the streets of 32 districts, being welcomed by cheers and greetings from people standing on their windows and the doorsteps. Each Wagon represented a different element of Saudi culture:
An Ardha (Traditional Saudi dance) Wagon– with eight performers from the Saudi National Ardha Group
A Theater Wagon– offering solo, duo and band performances of Sahrqi style (Eastern Province music) with a western twist 
The Fisherman Wagon– five (5) members performing the fishermen arch show atop a carnival float and singing traditional songs for their audience. The show represents an old tradition where locals used boats for pearl diving before the discovery of oil in the Eastern Province
The Candy Wagon– represented the exchange of food and candy that happens during Eid Al Fitr (celebration of breaking fast), the performers on this wagon danced and cheered for the crowd with the delightful Eid celebratory songs (welcome Eid song).
The team at Ithra, also known as the King Abdulaziz Center for World Culture, chose to run the parade "to spread Eid joy at a time when it is much needed, uniting the hearts of the nation, and providing collective enjoyment through a wonderful initiative that respects current restrictions".
The parade is part of Ithra's wider, immediate response to COVID-19:
– COVID-19 Journal (https://www.ithra.com/en/daily-journal) is an online platform for the public to share their thoughts during lockdown, which has already attracted over 1,000 submissions and includes a nationwide map showing how people feel across different parts of the country during the pandemic
– Ithra Goes Virtual  (https://www.ithra.com/en/special-programs/ithra-connect-season/) is Ithra's Digital Platform launched on March 25th. It includes over 30 Online Programs and has achieved an incredible 800% increase in engagement and participation in workshops, and an overall 350% participation increase across all Ithra programs in April 2020 as compared to same month in 2019.