Technology
Trending
"Aseafni" App is Available now on HUAWEI AppGallery Provides E-Services and Information for Dealing with Emergencies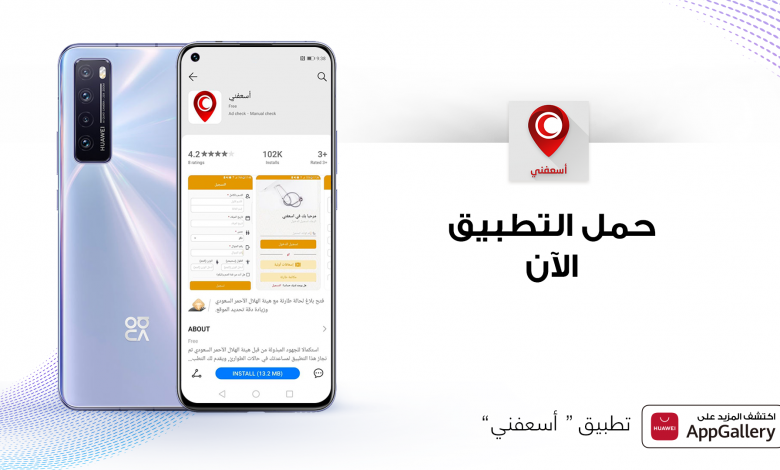 Follow Asdaf News on

Riyadh –
:
The HUAWEI AppGallery is helping Saudi Huawei users to protect their health and support the country's health authorities with a selection of apps that are helping in the fight against the pandemic.
These essential apps, available from the HUAWEI AppGallery, provide a range of services to help users to protect themselves, get the latest government advices and updates, and access information and related services and testing.
Among the featured apps are "Aseafni" App which is the official app of the Saudi Arabia Red Crescent Society, which provides e-services and information for dealing with emergencies.
The app includes an emergency communication and location service, which can be used to contact the Saudi Red Crescent and alert other medical authorities and nearby users by SMS. Alerts can also be issued using encrypted distress messages using the smartphone to flash lights and sounds. The app can be used by people with hearing issues to submit reports, and the app also lets users locate medical facilities and get directions, and find out more about volunteering with the Saudi Red Crescent.
The HUAWEI AppGallery is the official platform for Huawei smart devices, which features an expanding range of applications for users in Saudi Arabia. The HUAWEI AppGallery includes content across a range of different categories, including leading international content, the best apps created especially for Saudi Arabia, and apps that can leverage the advanced capabilities of Huawei smart devices.
Every app in the HUAWEI AppGallery is verified by Huawei to ensure that it is compliant with security and data protection standards, so users can be sure that their data is being protected while using the apps, and that they are getting best possible quality experience.